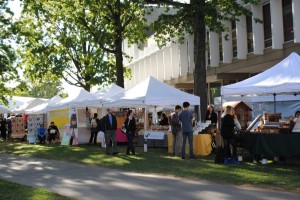 Friday afternoons this September through October mark the start of the first ever Cambridge Open Market on the newly renovated Plaza at Harvard University, bringing arts, crafts, and specialty foods from the local Boston area, but also the greater world, to the Cambridge and Harvard community.
The market officially launched September 6, and will continue every Friday afternoon from 11:30 a.m. to 5:30 p.m. through October 25—and, if successful in its "pilot season," will extend to October through May of next year, according to Market Manager Ali Horeanopolus.
"I've been through a lot of starter markets, and this one has been really well-received. There's a lot of traffic already, people are super interested and really enthusiastic about it. They want to see it continue, which is awesome. It's such a community space where people can come, hang out, listen to music, and now go shopping," Horeanopolus said.
The market began with the creators of the SoWa, South of Washington, Open Market, in collaboration with Harvard University's Common Spaces Program.
"We've had our eyes on Cambridge for three years now, but had difficulty in finding a space large enough to house our large number of vendors. We were thrilled with the news, and jumped on board right away," said Director of SoWa Open Market Chris Masci, in a Boston Magazine article. "We love the hipster, hippy, intellectual, world vibe Cambridge has. The market will reflect that eclectic flavor with some awesome new talent and SoWa regulars," Masci said in the same article.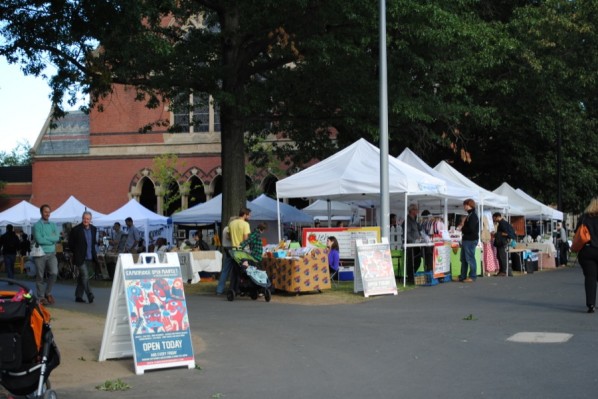 The Market features roughly 60 small business vendors each Friday, with over 120 in its larger pool, including local sellers, as well as sellers on a international scale, many of whom have done previous work with SoWa.
"I differentiate myself from other photographers here in the sense that most photographers are very local, whereas my images come from all over the world," said vendor Paul Nguyen, lead photographer at Paul Nguyen Photography in Waltham, MA. "I photograph landscapes in places that are exotic. So there is a lot of scenery that people have not seen," he said, and added he has traveled to New Zealand, India, the Caribbean, Hawaii, and the west coast of the U.S.
While the market showcases primarily arts and crafts, it also exhibits specialty foods.
"I was a chef in France in culinary school, and I used to make these in the restaurants," said vendor Chris Spivak, who recently signed with Whole Foods for his fresh food vinegar business, Mangé, which is based in Somerville, Mass. "It's a base product—you can build to it, you can add to it. I like making a product that people can use in their own way. It's only a year old and people come up with ways to use it every time I use it in a show. But this [show in particular] looks more like a craft market, rather than a food market, people come here looking for crafts rather than specialty foods."
Other vendors include, but are not limited to: Sweet Lydia's, What's Nu, Jehu Hot Sauce, Leetie Lovendale, Lovesville, SlantShack Jerky, Wiggly Butt Designs, Melsy's Illustrations, Ringgg by 9 Things, and Botanical Spirits.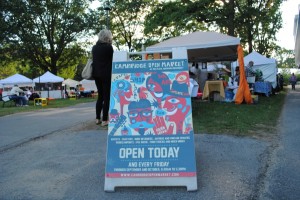 "It's such a mixed crowd. There are students who are on their way to classes, so they just kind of stop by and check things out. There is administration and faculty who work in the buildings here and come down. But then, at the same time, Harvard Square is a huge tourist location, so a lot of people are coming right from the Square, stopping by, seeing Harvard Yard, and then stopping by to buy something handmade," Horeanopolus said.
"We came here after class to check out the market. So far, it's been interesting. I love coming to markets like these with cool, handmade goods. Plus, it's a beautiful day, so it's a nice way to spend a Friday afternoon," said Boston University sophomore, Bryce Rackham.
"It's such a great opportunity for the community to come out, said vendor Natalie Anderson, lead designer at Rare Bird, a handmade leather bag and accessories company based in Boston. "Cambridge is so dynamic, and it's great seeing such a mix of students. There are people from all over the world. So it's a great showcase for both the University and the people who make and sell things around here," she said.