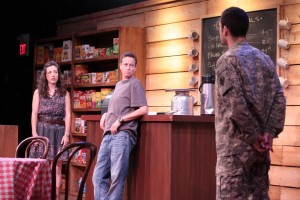 A mix of cold and warm lights focuses on Cy Burns, center stage. Cy wears loose-fitting clothing, has short, greying hair, and a tough face. She breaks the fourth wall to confess unrequited love, which, combined with the lighting, creates an unreal feeling in the play's first moments.
"Burning," written by Ginger Lazarus and directed by Steven Bogart, opened on September 26th at the Boston Playwright's Theatre, and runs until October 20th. In a modern reinvention of Edmond Rostand's play "Cyrano de Bergerac," "Burning" examines the harsh world of the "Don't Ask, Don't Tell" mentality and its consequences.
Lazarus is honest and to the point: "Burning" is fraught with pain and no character is spared it. It is an ugly world that affects every one of them.
Cy Burns, played by Mal Malme, is a discharged Army officer who both asks hard questions and tells the truth.
Generally accepted clichés when commenting on a strong performance are usually "tour de force" and "riveting," but it takes much more to describe the earth-shattering power with which Malme takes on her character. Cy's strength is brought to life by Malme's every movement, as is her pain at both the injustice she sees around her and her unrequited love for Rose Bishop, a talkative painter from the city, living for a while in the small Western town the play takes place in.
For all the power of Cy's strength, however, it is her moments of weakness that make Malme's performance so staggering. After having been confronted by her former superior officer, there is a tiny moment in which Cy reaches behind her to rest on the counter in her store, and she falters, not finding it. A crack has shown in Cy's walls, and, in a way, it is the most beautifully tragic moment of the play.
The different layers of problems present in "Burning" are precisely what make the play so dynamic. There is simultaneously the injustice in the treatment of gay soldiers by the Army, Cy's feelings for Rose, Rose's complicated relationship with soldier Colonel Cole Noyes, and the treatment of local gay men and women by the soldiers from the nearby Army base.
It is ultimately the battle between truth and lies that makes the story of the play what it is, however. When Cy abandons her rule of always telling the truth, it ruins not only Rose's relationship with Cole but also Cy and Rose's friendship and ultimately their lives. The play is brought full circle as Cy confesses her feelings to Rose with the same words she used to profess them to the audience at the beginning.
The combined work of Ginger Lazarus, Steven Bogart, and the cast of incredibly talented actors brings "Burning" to life and, in the words of the Boston Playwright's Theatre's website: "If you ever hesitated to speak your love, you won't want to wait another minute."
"Burning" runs from September 26th to October 20th at the Boston Playwright's Theatre, 949 Commonwealth Ave. For more information visit: http://www.bu.edu/bpt/