Protest not! The writer of this column is very aware that it is now technically fall. However, Boston's mercurial weather god has declared that the present week shall be one of sunshine and temperatures upwards of 70°F. Spend a moment or two shaking your head in utter confusion at this impromptu heat wave, but spend the rest of the week enjoying it as it's supposed to be enjoyed: outside!
The city of Boston has a myriad of charming spots at which one can sit and take in the sun whilst enjoying the atmosphere of this fun-sized city. If you're not in the mood for the quiet of a park, here are some places wherein you can be around fellow humans, but still have your personal bubble intact.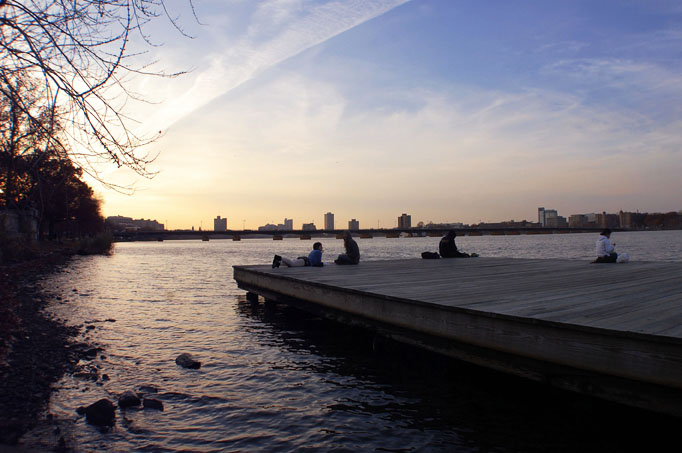 Charles River Esplanade: Yes, you know all about the esplanade. Why this writer even bothers mentioning it, you cannot fathom. Consider this a friendly reminder of its existence, and that there is a lot more to it beyond that one big dock near Danielsen. The esplanade can be a little daunting in its length, but 3 miles makes for a nice walk or jog on a pleasant evening. And the farther one ventures down the esplanade, the prettier it gets. So find the tree that's grown sideways, take a seat on one of its branches, and watch the sunset.
Boston Public Library (700 Boylston St.): A library sounds like the worst place to be on a beautiful day, but the BPL makes the experience enjoyable with its gorgeous courtyard. Set around a fountain, it was designed to closely resemble a sixteenth-century Palazzo in Rome. Chairs and tables litter the perimeter, and the spots on the ground by the courtyard's large pillars are just as nice. The Courtyard Restaurant situated in the BPL is a cute, albeit pricey, spot for lunch; for us cheapskates, the Map Room Café is located right next to it and offers soups, sandwiches, and salads along with coffee and tea. All in all, undoubtedly the loveliest study spot in the city.
Copley Square: If you have a thing for fountains, Copley Square, right outside the BPL, is at once central and serene. It's quite a picturesque spot as it's surrounded by a number of important architectural landmarks such as the abovementioned BPL, as well as the Trinity Church and the Old South Church. And, be this a good or bad thing, the retail delights of Newbury Street are just a block away.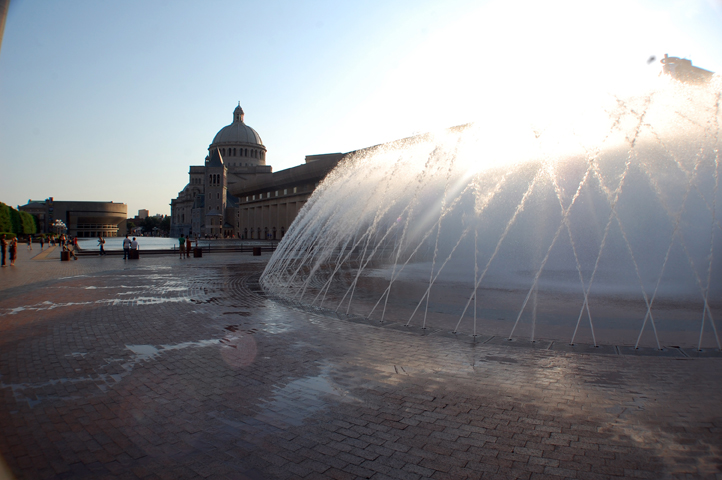 Christian Science Plaza Reflecting Pool (210 Massachusetts Ave.): Sit in the shadow of the domed church and look out at the 670-foot-long reflecting pool. It's hard not to feel calm when doing so. Despite its central Back Bay location, and its popularity as a tourist attraction, an atmosphere of peace pervades the plaza, which is flanked with trees and greenery.
Haymarket (Downtown, Haymarket T Stop): In need of food, but hate spending $3 on a tomato? That's a bit of an exaggeration, but it's true that grocery shopping can, very easily, get expensive. Haymarket is the solution to all produce problems. The open-air grocery market takes place every Friday and Saturday from 6 a.m. to 7 p.m. near the North End. It's basically an outlet market for vegetables and fruits where tomatoes cost $1/lb, and a box of strawberries costs the same. Always carry cash and get your street smart on, because you could end up saving a lot of money, depending on how carefully you peruse the stalls.
SoWA Open Market (460 Harrison Ave.): Last but not least, SoWA is an essential summertime experience for every resident of Boston. Located in the South End, SoWA takes place every Sunday from 10 a.m. to 4 p.m., May through October. It is comprised of an arts/crafts market, a farmer's market, and a vintage market. Needless to say it's hard to get bored here. SoWA is also the weekly destination for Boston's food trucks. So head over for a perfect end-of-weekend experience in shopping, eating, and dog-watching!
The conclusions that can be drawn from the above is that sunny days are best spent sitting by bodies of water, because who needs air conditioners, right? (Cue disbelieving looks.)
Bad jokes aside, these places are best enjoyed on warm days, and some can only be enjoyed on warm days. And as winter dawns on us, we tend to forget that Boston is capable of anything other than being cold. So get your sunglasses on, buy some produce, and eat it all sitting by the water!