Just because the leaves are changing and the temperature is cooling down does not mean we cannot appreciate the tropical taste of coconut. This week, I bring you warm summer greetings from the tropical island fruit.
Different parts of the coconut can be consumed in a variety of ways, from the oil or the milk to just the coconut meat itself. Coconut oil is one of the healthiest oils to use because, unlike with canola oil and other types, its omega-3s do not get transformed into trans-fat during a deodorization process.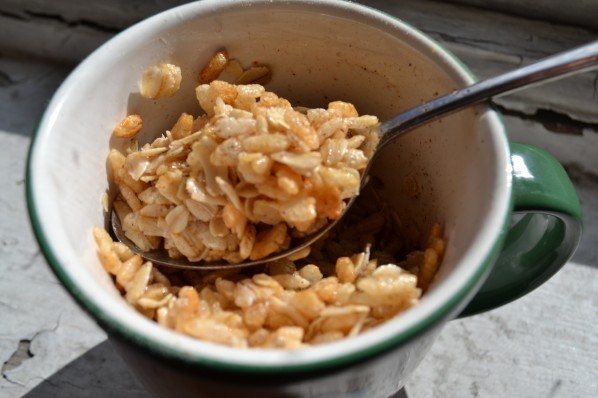 Because of its creamy texture, coconut is a well-known substitute for dairy products. Many nondairy ice creams use coconut as the base. Coconut milk can also be substituted for real milk, which you will see in one of the recipes below.
Something I did not know until doing research for this post is that coconut juice contains high levels of electrolytes, which we lose during exercise. So if you come back from a strenuous day at the gym, grab some coconut juice, not to be confused with coconut milk, and gulp it down.
In case you are not up-to-date on your coconut facts, here is a quick glossary:
coconut meat: the actual white coconut that comes inside a hardened brown shell
coconut cream: the liquid that comes from processing the coconut meat
coconut milk: made from grated coconut meat and water
coconut juice: the liquid found inside the coconut when it is cracked open (also called coconut water)
coconut oil: fatty oil released from coconut meat
coconut flakes: chopped up bits of coconut meat
coconut flour: flour made from processing coconut flakes into a fine meal
For the recipes below, you will only have to worry about the coconut milk and oil. I suggest playing around with the other varieties as well–it's never too cold outside for coconut (or coconut ice cream).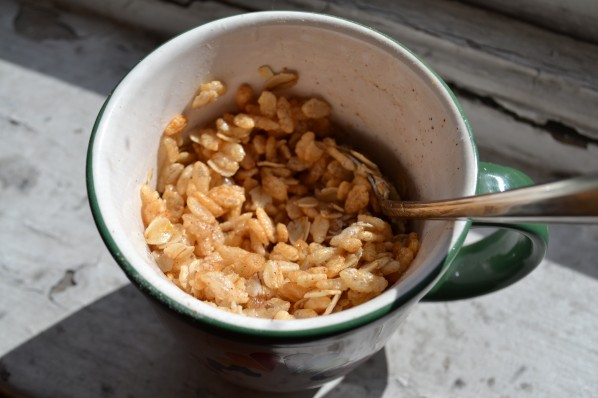 Breakfast
Coconut Rice Crispy Treat Cereal
Total time: 5 minutes, serves 1
Ingredients
1/2 cup rolled oats
1/2 cup rice crisp cereal
1 tablespoon coconut oil
1/8 teaspoon cinnamon
Directions
Pour oats and rice crisps into a mug or bowl. Take a tablespoon of coconut oil and place it on top of the oats and rice crisps. Depending on the room temperature, the oil will either be in liquid form or solid form. Since I made this recipe recently, in the fall, my coconut oil was solid. Either way, it will work. Place the entire mixture into the microwave and heat it for 1 minute. Take it out and mix in the cinnamon.
It's not quite the consistency of a Rice Krispie Treat, but it still reminds me of the sticky snack. You can think of it as a healthy version in cereal form.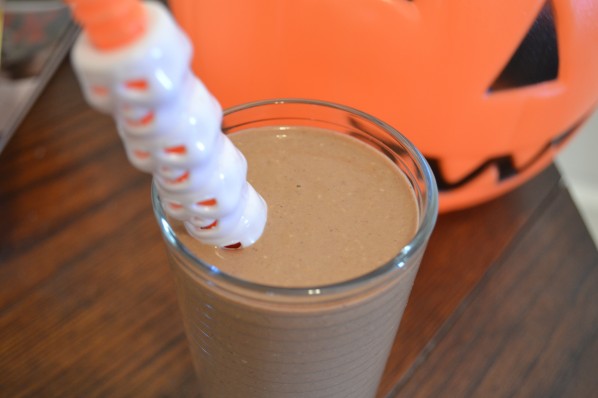 Lunch
Coco-Choco Shake
Total time: 5 minutes, serves 1
Ingredients
1/2 frozen banana
1 cup coconut milk
1 heaping tablespoon peanut butter
1 tablespoon cocoa powder
1/4 cup oats
1/8 teaspoon cinnamon
Directions
Blend all ingredients together in a blender. A Magic Bullet works really well for this because it's a single serving. If you're increasing the serving size, a regular blender will work just fine.
This drink has a light coconut taste and the chocolate gives it a little extra bitterness to combat the sweet coconut flavor. If you want to make an Almond Joy shake, replace the peanut butter with almond butter. The chocolate/almond/coconut combo cannot be beat.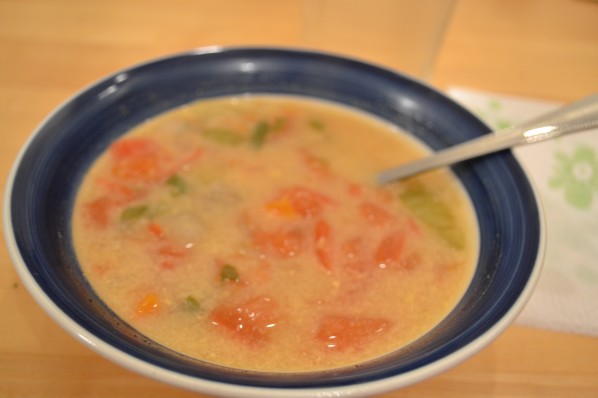 Dinner
Thai Tom Kha Coconut Soup adapted from The Everything Vegan Cookbook 
Total time: 40 minutes, serves 4
Ingredients
14 oz of coconut milk (from can or carton)
2 cups vegetable broth
1 tablespoon soy sauce
3 cloves garlic, minced
5 slices fresh ginger
1 tablespoon lime juice
1/2 teaspoon red pepper flakes, or to taste
1 onion, chopped
2 tomatoes, chopped
1 carrot, sliced thin
1/2 cup sliced mushrooms, any kind
1/4 cup chopped fresh parsley
Directions
Combine coconut milk and vegetable broth over medium-low heat. Add soy sauce, garlic, ginger, lime juice, and red pepper flakes. Heat, but do not boil. When broth is hot, add onion, tomatoes, carrot, mushrooms, and parsley. Cover and cook on low heat for 10-15 minutes.
The original recipe includes 2 chilies, but when I included those, it was a little too spicy. If you want to add some spice, I would suggest one chili. If you're feeling really daring, add two, but have the water ready.