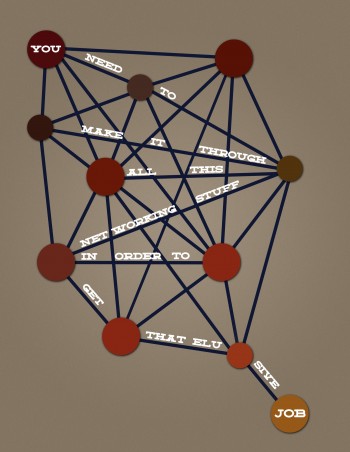 "It's not what you know, it's who you know": a simple sentence that carries with it an awful lot of potential frustration. Working hard to qualify for an internship only to find out its been handed to the CEO's best friend's daughter is never a fun moment. Fighting tooth and nail to make it to the final round of interviews and hearing the boss's cousin scored the position isn't the greatest, either. The truth, however, is that there's something to be said for being well-connected. "It's not what you know, it's who you know and how you worked to meet them," is a better way of putting it.
The process of securing post-grad employment can never begin too soon. Networking during undergrad can seem an often daunting and sometimes awkward process. With a bit of social tact and the tools of our time, networking during undergrad is manageable, painless, and hopefully fruitful.
When it comes to making meaningful connections, the best place to start is right here on campus. Many of Boston University's part-time faculty work actively in their respective fields, some of them even holding full-time jobs in addition to their teaching duties. Professors such as these are common in professionally oriented schools like COM, SMG, and even CFA. Don't shy away from dropping by frequently during these professors' office hours. Even if you don't have questions pertaining to class, stopping in for valuable career advice may transform your relationship from academic to professional come the end of the semester. Of course, that's not saying your professor is going to offer you a job upon graduation – but they may be able to point you in the direction of someone who can.
While connections with professors can be professionally fruitful, the connections you make with classmates are also important. A network of peers with similar career interests may one day provide you with a job opportunity. Helpful advice: don't hit up the schmuck on Facebook all class long. Those students who also foster their career interests outside the classroom are the ones to connect with.
At BU, we're lucky enough to have our own Center for Career Development. The CCD advises to "visit early and often." In much the same way, you should begin networking "early and often." As part of the CCD's "3 Steps to Success" program, they advise students to create elevator speeches – prepared pitches to "sell yourself" during impromptu networking opportunities. Along with their useful skills workshops, the CCD provides ample opportunities throughout the year for students to put these skills to good use. This year, the CCD has sponsored several career fairs. Area businesses table at these fairs, business cards in hand, waiting for students eager to network. The next career fair is scheduled for October 17 of this coming fall.
While nothing beats face-to-face networking with peers, professors, and prospective employers, the Internet is also an ideal platform for making connections. Many Boston University students will move back home after graduation and have to search for work in a city different than Boston. Still other students come to BU with a goal – move to LA or New York after graduation. Unfortunately all that "bright lights, big city" isn't so glamorous when you've uprooted your life but can't find employment. Padding a big city job hunt with ample connections makes the process a far less vulnerable and dim one. This is where the Internet comes in. Using LinkedIn is the obvious choice. There's also Facebook and Twitter. Following people affiliated with your career of choice and tweeting questions  at them gives them the opportunity to reply quickly. You're granted the opportunity to get your name on their timeline and in their mind. Target people who work at the location of an organization you'd like to work at. Don't be afraid to e-mail seeking advice, but always play the student card. In this four-year chunk of pseudo-reality we like to call our undergraduate education, we get to be the fawning fans of those people whose jobs we'd like. An e-mail seeking insight is a stroke of their ego. However, once these four years are up, our inquiries can be seen as annoying acts of job fishing. Play your golden student card while you can.
Making connections is great, but it's only half the battle. Once an internship has been completed or an e-mail correspondence concluded, don't let them forget your name. Check back in occasionally. What you do, who you know, how you know them – they're all important pieces of the post-grad career acquisition puzzle. Most of the basics of establishing and maintaining career connections are self explanatory, but it's the taking action that calls for gusto. But the image of a rat-infested hole-in-the-wall apartment with a couple grand monthly rent and an empty fridge should be motivation enough for all the undergrad big city dreamers to network, network, network.