All photos by Tara Jayakar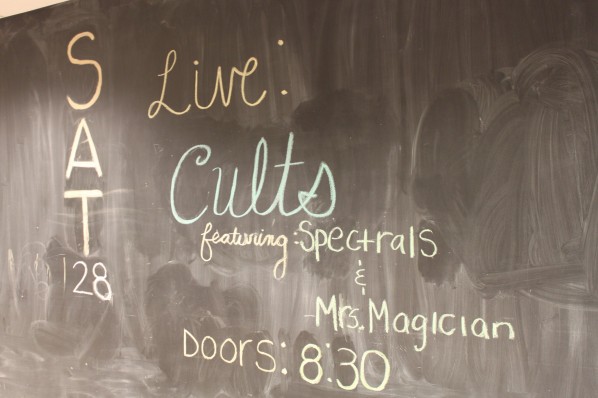 As we've said before, shows at BU Central are vastly under-attended. It seems to be the kind of place where if you're in, you're in and if you're not… well, you're missing out.
Saturday's show was Cults, and they were fantastic. The stark change between the mostly white album cover and sunshine associated with Cults and the darkness of the BU Central show only highlighted how complex the band is, bringing out the underside of a band so inextricably woven into the summer air.
"I'm surprised," said CAS Senior Becca Antonopolis between acts. "There's no one here."
Saturday's show was Antonopolis's first concert at BU Central in her four years at the university. Antonopolis explained her absence through the theory that, unless a student is plugged in to the basement's online presence, the only way to hear about shows is through word of mouth.
Which isn't to say that the online aspect isn't useful. Students queuing outside the venue before the doors opened seemed to find the online advertising BU Central does very effective, with most of them finding out about the show through BU Central's e-mails and tweets.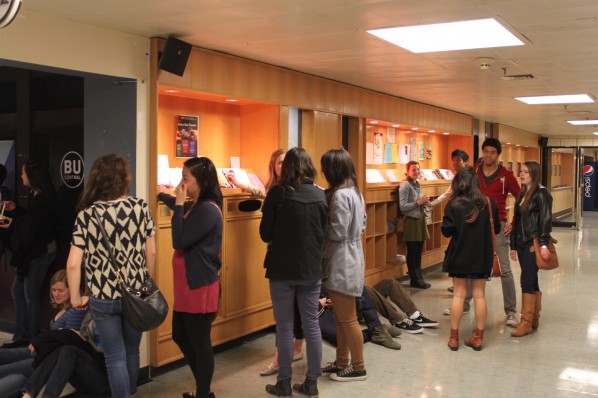 "There are so many different ways that they can reach you" said COM freshman Lindsey Mann.
Kevin Velasquez has been going to shows at BU Central for a few years, citing Tokyo Police Club and the Smith Westerns as the two most recent. "They're really good with advertising on campus so I always know what's going on," he said. He did, however, agree with the same sentiments expressed by Antonopolis – students need to already be in the know to keep updated on BU Central's happenings.
"I feel like maybe I'm a little more pro-active about finding events" said Velasquez.
And it seems to be that the pro-active students are the ones having the most fun.
Cults's self-titled album, Cults, was released at the perfect time – summer months meant summer music and that's exactly what Cults is: airy, beachy, singularly west-coast dream pop with some fifties throwback mixed in.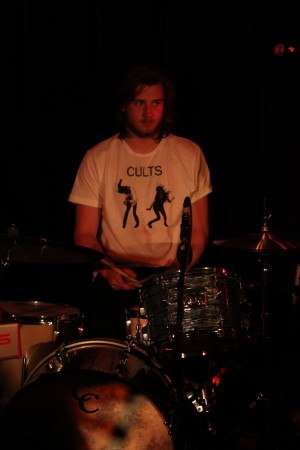 Which is why seeing them in a dark basement with only surreal projections and deep red stage lights to illuminate the band was so awesome – it introduced the audience to a whole other side of Cults purely through visual elements. The at times disco trance lighting brought out Madeline Follin's young alto, whereas on the album it sounds like an airy mezzo-soprano. Brian Oblivion's shredding guitar parts were hauntingly gorgeous as he played in semi-darkness, lost in the swirling polka-dot lights, particularly on the closing song "Oh My God," where on the album it only adds to the airy feel.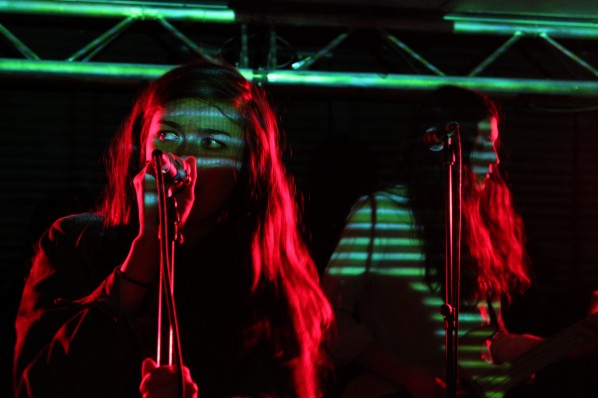 Even though BU Central's new sound system has a way of pumping the bass and making the lyrics inaudible, the show also brought out the darkness in Cults's lyrics, which can get lost in its sing-alongable melodies. "You Know What I Mean" was the perfect example, with the disco lights going absolutely crazy at the chorus with Folin just belting/yelling "'Cause I am afraid of the light / Yeah you know what I mean / And I can't sleep alone at night/ Yeah you know what I mean!" stomping on the ground and pounding her fist at the air like a kid having a tantrum. This mania played beautifully with the mellow pinpoint lights projecting on the band when she pleads "please come and save me/ tell me what's wrong with my brain 'cause I seem to've lost it" swaying and moving all the while. And they're just really nice people who seemed genuinely happy to be there, exampled by Folin's huge smiles between songs and Oblivion's sweet banter.
"I really hope you guys feel like you made the right decision coming here tonight" said Oblivion with a laugh before launching into "Oh My God."
All of this passion, and three of the band members had strep. Holy hell.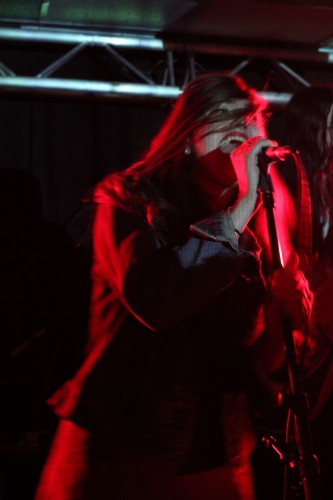 So in the wake of this revelatory show, why on earth was the 350 person capacity BU Central a little more than half-full?
"I think a lot of it is the stigma that people don't want to come to school events" said BU Central Manager Jake Cox (SMG '14)
Even as I asked students how they came to know about the show while we were waiting for the doors to open, Cox announced that they were sending around a clipboard asking students to suggest acts for next year and also write down how they found out about the night's performance.
"I feel like a lot of people are over-saturated already" said Cox about the basement's online advertising. Cox also said the solution would be to expand to a more physical ad campaign on campus to nudge the student body into being more pro-active.
"We have a lot to offer" said Cox. "We want to make this more of a community space."
Cults' Setlist:
Intro
"Abducted"
"The Curse"
"Never Heal Myself"
"Most Wanted"
"You Know What I Mean"
"Bumper"
"Never Saw the Point"
"Rave On"
"Everybody Knows" (Leonard Cohen cover)
"Walk at Night"
"Go Outside"
"Oh My God"