There are forty-one members of the Boston University Board of Trustees. Thirty-two are men. Nine are women. Thirty-two are university alumni.
None of them are students.
This is not the case everywhere.  More and more, colleges and universities are including student voices where the big decisions are made. A 2010 survey by the Association of Governing Boards of Universities and Colleges found that 21 percent of private institutions include a student on their board. At public universities, the number jumps up to 70 percent. At half of those universities, the student is a voting member.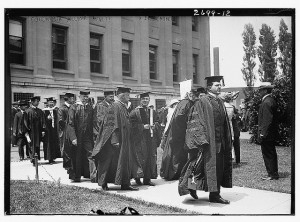 The University of Massachusetts is included in the lucky half. There are five schools within the UMass system, and each is granted one student seat on the Board of Trustees. Two of those seats are voting seats; the schools rotate annually for their student's chance to vote. Massachusetts State college students enjoy similar rights.
On the state's Board of Higher Education, there are three student members as well, one of them voting. While this is not a perfect system—the student to nonstudent ratio is 1:12—it's still progress.
So Massachusetts is fairly progressive when it comes to hearing the voices of students and has the structure to prove it. The Board oversees several aspects of higher education in the state from financial planning to financial aid, and from academic policy to academic programs.
But what about schools like Boston University, where such programs are lagging or nonexistent?
Last November, the Center for American Progress put together "Including More Students in Higher Education Policymaking," an analysis and list of suggestions for change in policy in such cases.
The report offers a list of suggestions for doing so in addition to student representation, namely strong campus newspapers and grassroots movements by on-campus groups.
Boston University in particular has a long history of both of those things: since the days of Silber, student publications have taken an interest in University policy and the decision-making processes. And there is no shortage of student activist interest on-campus.
The Quad chatted with Julie Morgan, a policy analyst for post-secondary education at the Center for American Progress and one of the authors of the report, about what private schools like Boston University–and public schools as well–can do to amplify the voice of students and student government on campus.
In your report, you discuss public universities' options to work with university officials in the decision-making process (being non-voting members of boards, for instance.) Have you ever heard of that being implemented at private universities?
Public school students must deal with the reality that the state legislature often has more control over the cost of tuition than the school's administration. But they also may have more formal rights to be involved in the governing process. At private universities, the administration has more control over tuition policies and the university's direction. But they also have more leeway to keep students out of the conversation, if they so choose. At private schools, students must appeal directly to the administration to get representation on decision-making bodies. And the best way to make that appeal is to show that representation is something that is of broad concern to the student body.
Where do you think students are more likely to be heard by their administrations: public schools, or private schools?
I think it depends more on the individual students' ability to recognize and use the opportunities available to them. We've seen students at private schools be just as effective of advocates as those at public schools because they understand well how to make their voices heard.
What sorts of pressure do you think student-body governments could be putting on University administrations, but are not?
I think student body governments could be better at working across college campuses on the issues that matter to them. Some of the problems that students face these days can be solved on campus, but others–like affordability, quality and availability of classes, and rising student loan debt–require a stronger voice for students at the national and state level.
When talking to a lot of my peers about student governments I will occasionally hear students say that they believe student government to be not only useless, but a figurehead that is just used by the administration. Have you ever found that to be the case? Do you think that administrations actually have an interest in doing that?
I think that's a common perception, and it really varies by campus. One of the main characteristics of a strong student government is an independent budget. When student governments are dependent upon the administration for their funding, it can have a chilling effect on their ability to represent the students' interests to the administration. I don't know about whether administrations are actually using the student governments to accomplish their interests. I think it's probably more complicated than that–administration officials may view participation in student government as part of the learning experience, and so they may work more closely with the student government to guide that experience.