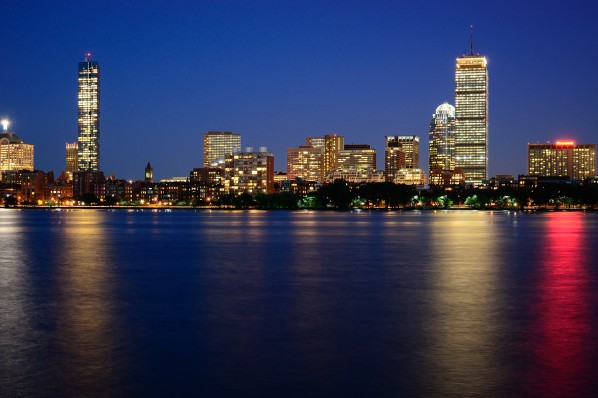 Every weekend night, people emerge from their caves to seek out their chosen forms of entertainment for the next few hours. They seek out clubs, bars, apartments, or other party-appropriate locations and spend the night flitting from one such place to another. For those of us who are still under 21, however, things aren't so easy. It's hard to find a good time when it seems like everything to do at night in Boston involves alcohol. And early-to-bed Boston, with its self-imposed 11 p.m. curfew, isn't exactly overflowing with things for us to do after hours.
Not on the surface, anyway. If you know where to look or like to explore, any underage wanderer will discover Boston's nocturnal culture. After some searching, experiencing, and uncovering of my own, here's a list that has something for everyone in the way of food, music, and dancing for those of us who'd like a little variety in our Saturday nights.
Feed Your Midnight Chocolate Cravings
Who knew that Max Brenner Chocolate Shop was open until 2 a.m. every night? For those of you who need an introduction, Max Brenner is an Israeli chocolate shop chain that doubles as a restaurant. Stepping in is like stepping into a chic version of Willy Wonka's factory, with its huge vat of melted chocolate out front to greet guests. The menu features a wide range of delectable chocolate-based drinks and desserts. I personally would recommend the fondues (yes, there is more than one type). While a little on the pricey side, it's the perfect late night spot to satisfy your sweet tooth. Max Brenner's Boston location is on Boylston Street, so it's a relatively easy place to get to.
Classics and Weird Movies After Midnight
It's a well-known fact that the Coolidge Corner Theater screens a very interesting selection of movies. From current box office babies to cult classics (ahem, The Room) and foreign cinema, it really covers all its bases. However, its "@fter Midnite" program on Friday and Saturday nights really deserves more credit. Self-described as "Late-night, weekend programming for the cool insomniac crowd, including horrifying, weird, camp, avant-garde, tripped-out movies, interactive and cult niche live performances," it's the perfect fix for insomniac movie buffs who want to broaden their movie-going experience. It's also the perfect place for people-watchers because some of the movies (ahem, The Room) are bound to attract a colorful crowd!
Speaking of Cult Classics and Colorful Crowds…
Something that should be experienced at least once in everyone's lifetime is a screening of The Rocky Horror Picture Show. Fortunately, the Full Body Cast over in Harvard Square ensures this with their weekly Saturday night Rocky Horror Floor Show, complete with goodie bags of things to throw at the screen! The screening happens at the AMC Lowes Harvard Square after midnight. Be warned, this is not for the faint of heart.
Dance Anthems of the '80s
Sometimes all you want is a night of dancing–good old-fashioned dancing, that is. And for those who haven't warmed up to the bass-heavy music of the more popular clubs, never fear! TT the Bear's Place is here. Well, it's actually in Cambridge behind the Middle East, but you get the point. Aside from having performances seven nights a week, this small musical venue also hosts HEROES, an '80s themed dance party every Saturday night from 10PM to 2AM. The event is 18+ with a relatively inexpensive cover charge and the sounds of Bowie, The Smiths, and all that good stuff.
And if You DO Like That Bass-Heavy Stuff…
The Phoenix Landing Bar over in Central Square has your number. Every Thursday night they host Elements, their drum 'n' bass night that has been running non-stop for 13+ years. Underground electronic music fans can get a taste of Boston's scene, and pay no cover charge if they arrive before 9:30PM! The event is 19+ (awkward, yes) and is bound to draw in an eclectic crowd.
Hookah in Habibi
If all you really want is to sit back and relax, Habibi's Hookah Lounge, down on Commonwealth Ave, is the perfect place. With its offering of 33 hookah flavors and selection of tea and Moroccan food, it's the perfect place to kick back with friends and make believe you're in the Middle East. And who doesn't like good hummus, anyway?
4 a.m. Bacon
That's right. The South Street Diner over in the South End is open 24 hours. Originally opened to cater to factory workers in the '40s, it has now become the final destination of the night for club goers and insomniacs alike. It serves up everything from breakfast to dinner, which students can get at a discounted rate Monday through Thursday. Fun fact: you might have seen it (and other BU locations) in the movie 21.
This is just a fraction of everything there is to do in Boston. While it's true that the 21+ set have it easier, all hope is not lost! Whether you choose to scope out one of the above locations or decide to buy frozen fruit from Shaw's and eat it on the Esplanade (I have it on good authority that this is life-changing), there is always something to do in this fun city of ours.