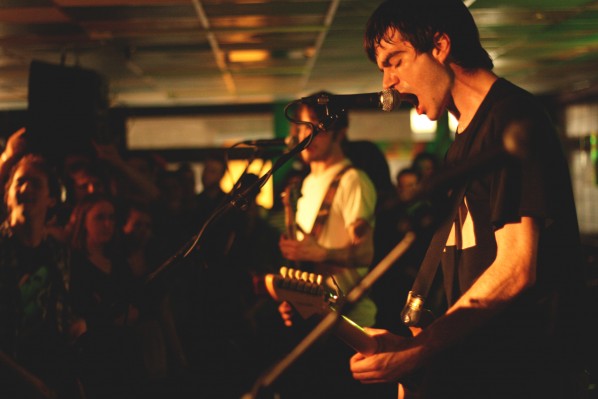 Last Friday night I went to see Titus Andronicus play for free at BU Central. I arrived early, since I knew that previous BU Central shows like The Arctic Monkeys The Antlers and Young the Giant! had attracted pretty large crowds, and I have a mild-to-severe phobia of standing at the ends of lines (what if they don't lead anywhere!?). To my surprise, when I showed up there was only a small group of highschoolers waiting and feeling very out of place. By the time the doors opened, there was a line only about thirty people long. I bring all this up, dear reader, to reinforce an assumption: you didn't go see Titus Andronicus play for free at the GSU.
Why wouldn't you go see Titus Andronicus play at the GSU?! Come on! It was an awesome show! Remember those highschoolers I mentioned? They started a mosh pit—I punched a dude in the face (sorry again, bro)! Plus, it was free. If I ranked all of my life experiences by fun per dollar, this show would be so far up the list it's crazybeans. You honestly have no excuse not to have gone. I am not only ashamed for yourself, but for everyone at this dumb school. BU Central should have been packed like a can of sardines, but instead it was like all the sardines escaped from the canning factory because they hate having fun.
What does our beautiful student body have against good ol' rock and roll? Sure, there are plenty of excuses, but let me assure all you chumps who didn't show up: rock and roll is the best and you are not. Pat Stickles (@titus_ndronicus), the band's frontman, was chock full of enthusiasm, even though just showing up got him tons of adulation. Anthemic fan favorites spiraled into extended jams as the cool kids who did show up threw themselves around in a fit of fun. The band screamed and so did the audience, giving their set a fantastic, self-perpetuating energy.
I'm done blaming you. I'm moving on. The show was awesome even though you weren't there. I did have the silent wish that the band's tour openers, Diarrhea Planet (@DiarrheaPlanet) and Screaming Females (@screamales), had shown up (after all, how awesome a name is Diarrhea Planet?!), but I can let that slide. It's pretty cool that BU Central could book these guys, and even cooler that they agreed. Even though we were only their tour's warm-up gig, Titus treated the small group of fans at BU Central to an awesome time. Actually, I was pleasantly surprised that BU didn't break up the rowdy audience (thanks, guys). We're actually pretty lucky here on campus: some of the people in charge see our collective stress and encourage us to have a good time, regardless of how loudly our ears are ringing or how coarse our voices are afterwards.