The Gleecap is a column dedicated to recap and review the zany antics that occur in each episode of the television show Glee. Blog posts will be released each Wednesday following an episode. Beware, there will be spoilers.

It was a canine catastrophe.
Over the course of one hour, mayhem broke out across the country as every single dog burst out onto the streets in a desperate attempt to flee from some initially unnamed menace. Humans everywhere were left bewildered; there were bulldogs on buses, Airedales on airplanes, Bichon Frises on bicycles, Shar Peis on subways and mutts on the MBTA.
After some careful investigation by the authorities, there was only one possible explanation: Glee did disco.
The male falsetto from Glee's latest episode reached an earsplitting pitch that sent the hearing-sensitive doggie populace into Marathon Monday levels of mass hysteria.
Story Overview
Sensing that the end of the year is truly near, Mr. Schuester realizes, with the aid of a creepy diorama, that some of his New Directions students are lacking in direction regarding their future. So what does he do? You guessed it, he turns to song. But not just any genre of song, disco.
After "winning" a rigged dance competition, Finn, Mercedes and Santana learn that they are the students Mr. Schuester is most worried about. All three angrily stumble off into their own self-realization storylines.
Mercedes, whilst performing Disco Inferno, is secretly video taped by Sam who then takes the video and puts on Youtube without permission. After seeing the Internet's usual dose of love and support, she's inspired again to fight for her dreams.
Running with the theme of exposed videos, Brittany sets the Interweb on fire with her sex tape with Santana, which she uploaded to help make Santana famous. After loads of emotional consequences nothing, the viewers also find out that Brittany sent in an application for Santana to college, where she was eventually accepted. Because that's how college applications work.
Finn, after a conversation each with Puck, Schuester and Rachel, decides he wants to be an actor in NYC.
I'm just going to leave that there.
Lastly, there was one final storyline where Kurt and Mercedes assist their lovechild Wade, a transgender student in overcoming adversity within Vocal Adrenaline. Thanks to the encouragement from a fine pair of footwear, Wade transforms into her drag alter ego "Unique" and slays the performance and a hyper-critical Jessie St. James alike.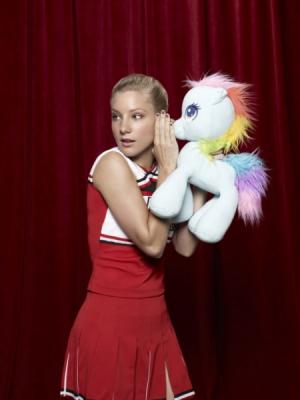 Characters
Brittany — We all know Brittany has been portrayed as being a little bit slow and dull at times but publicly releasing a sex tape? What?
Generally speaking, an episode with eight songs will be a bit short on character moments. Mr. Schue was a concerned teacher, Finn was confused and awkward, Mercedes…sang, and everything else was par for the course.
Songs
"You Should Be Dancing" by the Bee Gees: My first note for this song was "not a fan of the falsetto." Poor, ignorant boob I was. Overall, the singing was pretty mediocre. The dancing was exciting but not nearly enough to carry a performance to open the episode.
"Night Fever" by the Bee Gees: Mr. Schuester, as evidenced by his old performance of "Fix You," has a nice falsetto. Unfortunately, I have absolutely no idea where that falsetto went because this performance was horrendous. Any entertainment value came from the musical portion of the song and Sue's dancing.
"Disco Inferno" by The Trammps: Thank the disco gods for ear palette cleanse that is Mercedes Jones. Her gale-force pipes bleached the area of its previous vocal atrocities, and the performance had enough kinetic energy to send McKinley High School into space. Mercedes and her backup ladies worked that dance floor classroom.
"If I Can't Have You" by Yvonne Elliman: Santana Lopez. Not-falsetto. A classic song. Nothing should go wrong, but, unfortunately, it did. Santana should only do songs laced in barbed wire. Whether it's Adele or Amy Winehouse, her songs should exude pain, bitterness or, at the very least, sass. This song had none of the above, and it came out boring.
"How Deep Is Your Love" by the Bee Gees: The problem with Rachel Berry is that she has sung approximately 1.3 zillon (22 actually) solo songs on this show. The bar is set high and this performance wasn't bad, but it wasn't her normal level of impressive. She does, however, handle the Bee Gees better than the guys do.
"Boogie Shoes" by KC and the Sunshine Band: Wade, played by Alex Newell of The Glee Project, proved his implicit heritage to Mercedes in this viciously talented performance. In fact, he proved that he's even more of a powerhouse than Mercedes. Between the city-leveling power vocals, the energetic choruses, and the madcap dancing in heels, Wade put every other of the show's performances to shame.
"More Than a Woman" by the Bee Gees: Let's be honest here, every single person gets a little bit afraid when Finn's about to bust out a solo. Last night, the fear was justified considering Finn probably has the worst falsetto of that entire glee club. At least the backup vocals were pleasant.
"Stayin' Alive" by the Bee Gees: By this eighth song, the show became a serious hostage situation. Part of what makes the Bee Gees unique is how insanely difficult their songs are to pull off. No reviewer likes besmirching classics like "Stayin' Alive," but man was this vocally strenuous. Again, at least the dancing was fun.
One-Liners
"Two dudes in one bed is like, confirmed gay." – Noah "Puck" Puckerman
"She gets an idea once every couple of years and, lucky for us, this was a pretty good one." – Sue Sylvester referring to Brittany.
Overall Score
In addition to vocal performances on the verge on being criminal, the entire episode lacked anything organic and felt like one large laundry list of chores the Glee writers needed to accomplish despite glaring plot problems.
Introduce the last The Glee Project winner? Check.
Deal with Santana's future, throw in Lord Tubbington and close with cute Brittana moment? Check.
Deal with Mercedes' future and incorporate the Sam storyline? Check.
Deal with Finn's manic future plans in a way that gets both Rachel and him happily in NYC? Check.
Sing a zillion songs? Check.
Just a few episodes ago, Santana yelled at Schuester for wasting her education and then, suddenly, she has no college plans? Over the course of three seasons, why did Finn never once show an interest in acting? Why was public violation through sex tape exposure so lightly dealt with? Where the heck is Mercedes' ex-flame Shane?
This episode lacked spirit, soul and was inorganic and forced. Ultimately, the experience proved that disco truly is dead. Because the show savagely murdered it.
"Saturday Night Glee-ver:" D