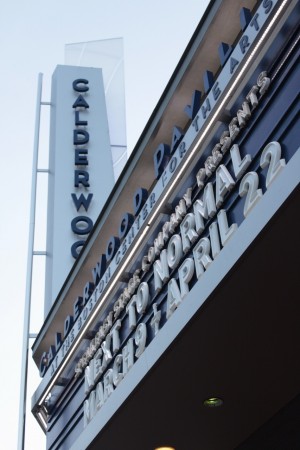 In Next to Normal, a Pulitzer Prize-winning rock-musical presented by the SpeakEasy Stage Company playing at the Roberts Theatre through April 22, suburban life is horrible despite every effort to make it seem otherwise. This central struggle of the production is spelled out again and again throughout the musical's two-and-a-half hours — like in one early number where the leading family sings about preparing dinner. Their gleefully unsubtle chorus speaks to life in general: "It's gonna be good, gonna be good," the four belt out, "gonna be, gonna be, gonna be, gonna be, gonna be / good good good good good good good good!"
As the audience learns, however, life in their suburban home is far from good. The mother, Diana (Kerry A. Dowling), suffers from bipolar disorder; her teenage daughter, Natalie (Sarah Drake), is a nervous perfectionist who abuses her mother's medication; the father, Dan (Timothy John Smith), is in denial about his depression, and so he behaves oafish and hedonistic; and their son (Michael Tacconi) is (minor spoiler here) actually the mother's delusional hallucination — he has been dead for sixteen years.
In theory, the Broadway-style musical is a perfect medium for a story about glamorous facades and intense inner strife. Unfortunately, composer Tom Kitt's rock-ballad score and creator Brian Yorkey's plain script tend to glaze the play's intense emotional core, but the work is never camp enough to have satirical value. That is to say, Next to Normal takes itself a little too seriously. Power-pop ballads about mental illness and the absurdity of suburban life? It could be genius if it wasn't all so terribly heartfelt. In fact, with its tinge of Broadway sap, Next to Normal obscures the emotions of a family going crazy and the social forces pulling it apart.
But despite the unremarkable source material, the SpeakEasy cast exhibits genuine wit and poignancy in their performance. In her portrayal of a cheery housewife crippled by her own, fragmented mind, Dowling steals the show by being doubly charming and haunting. Drake's take on the nervous, hyper-intelligent high-schooler has just the right amount of snark without being Juno-annoying. Chris Caron, who plays two psychiatrists in the play and looks a bit like Michael Ian Black, is very funny and sharp too — although he has a habit of hiding his face from the audience.
On the whole, the five cast members are incredibly in sync. Diana's delusions about the death of her son manifests itself into a very convincing and tragic relationship with Tacconi, who plays Diana's hallucination. Many scenes admittedly make you roll your eyes; Natalie's relationship with her stoner boyfriend Henry (Michael Levesque) tries too hard to sound cool and contemporary but, again, the unsubtle script is to blame — not the wonderful young actors.
The set design is striking: It is merely a dark, slanted platform with ten white panels to act as walls. Abstract patterns and videos are projected onto the background to illustrate different spaces and despite such simplicity, each scene change is fluid and convincing. It's a testament to some excellent choreography in a difficult, cozy space. And no doubt, the 200-seat theater has an intimacy which makes the play's glimpses of heartache and devastation palpable. At an emotional climax in one of the final numbers, for instance, Dan shatters an important family heirloom. The music stops, and the silence over the theater packs a tremendous punch. Funnily enough it's here, when no one is saying anything at all, that the psychological strain of a broken family feels most real.
When the singing resumes, however, we are reminded of the limitations of the musical as an art form. That is, by virtue of its "larger than life" motivations — its aim to dramatize and sensationalize — the Broadway-style musical will always be kind of cursed to manipulate rather than subtly challenge its audience. (For me, it is always a stretch to be moved by colloquial conversations that suddenly break into song.) This is one reason why the French writer and filmmaker Jean Cocteau once proclaimed, part jokingly, that "the theater is always corrupt." With Next to Normal, which injects musings on mental illness with a wearisome rock soundtrack, Cocteau's assertion is understandable. Thankfully, this local production radiates with moments of originality and pathos that help avoid trappings of the form.
Next to Normal has been extended through this week until April 22. Call the box office at 617 266-0800, or buy tickets online at http://www.bostontheatrescene.com/season/production.aspx?ID=10733&src=t .