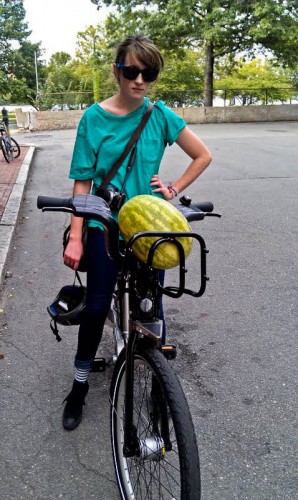 Mayor-for-life Menino has famously declared that the "car is no longer king in Boston," making a more bike-friendly city a focal point of his administration. In late July, Menino and the Boston cycling community took a huge leap forward with the launch of the Hubway bikeshare system. With over 600 bicycles at 60 stations across the city, Hubway's kiosk-to-kiosk model has already found enthusiastic responses from Bostonians (including yours truly).
Here's a program overview: $85 gets you a year membership (three seasons, really, as the whole system is pulled off the streets in winter), or get short-term 24-hour or three-day passes for $6 and $12, respectively. This subscription gets you bike access (either by Zipcar-like Hubway key with the annual membership or with an unlocking code for shorter subscriptions) and the first 30 minutes of riding at no fee. Remember that Hubway is a point-to-point system—the idea is to take out a bike at your origin then drop it off at a kiosk at your destination, and reverse the process for the return trip. The cost of keeping a bike past the initial half hour rises steeply: $2 for 30 minutes to an hour, $6 for an hour to 90 min, $30 for three hours, up to $100 for 24 hours. So the system is not for lollygaggers or meandering pleasure riders looking to take a bike for the afternoon. Instead, you might bounce around downtown from one kiosk to the next, as the total number of 30 minute rides within a given timeframe is limited only by your tenacity and lung capacity. [The be-smartphoned can locate nearby Hubway kiosks on a great app by Spotcycle, which also provides real-time availability data in terms of bikes and empty spots to drop off your steed.]
Kiosks of note to the BU crowd include: Beacon Street and Mass Ave (a small perk for the Danielsen exiles), Kenmore Square, BU Central (in front of CAS), South Campus (at Buswell and Park), Agganis Arena and Packard's Corner. Doubtless there will be some hiccups as the city floods again with students and classes resume—expect, of course, a run on bikes further from campus and competition for empty docks in prime spots like Agganis and BU Central. But as Boston and BU adjust to having this innovative system as a viable alternative to the notoriously late/crowded/spastic MBTA, infrastructure will hopefully expand in accordance with demand and usage patterns. To offset drastic fluxes in bike and dock availability, teams also circulate the system to drop off or pick up bikes from unbalanced stations.
Let's talk hardware. Administrators of Hubway have pronounced their beasts indestructible and impervious to theft: unlike road bikes the frame is cumbersome and solid, and the locking system has been field tested to the hilt in Bixi, Hubway's sister bike sharing program in Montreal. Sure, you give up something in the way of agility and speed for such sturdiness, but Hubway is looking to avoid problems of bike destruction or theft that have hampered sharing programs in the past. The bike is also made of custom parts so that they cannot be profitably stripped for parts. Since Hubway is meant to serve the masses the seats are clearly full adjustable. Again, as a least common denominator of a vehicle, a Hubway is not built for speed —three gears are all you'll get, but (from experience) they'll get you up the hill to FitRec just fine as well as making for a fine jaunt around the Esplanade. Night rides are lit by built-in headlight and pedal lights that glow automatically while the bike is in motion. A modest front basket (which can fit a modest watermelon with finagling) rounds out the bike's amenities.
For an extra $20 Hubway will ship a helmet along with your membership key, as well. Subsidized helmets ($8 a pop) are also available at select retailers near Hubway kiosks. Ride happy!