Over the summer, I began to notice a trend springing up. This craze has always been around, but it was getting more visible. It was on television, it was all over the blogosphere, and now it has taken to the streets of Boston. That's right, I'm talking about food trucks. Although they have always been around, Boston has never been deeply entrenched in the movement, mainly for the lack of sites. Thanks to city legislation changes that allowed for an increase in sites for food vending this summer,  a rotation of trucks is taking post in the Boston University area.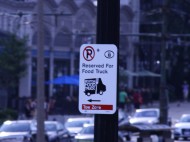 There are two points on campus where they can set up shop: in front of Morse Auditorium and off the BU Bridge.  The trucks represent a variety of different culinary styles and build on the lexicon of different eateries that can be found in the area. Said trucks are:
Lincoln Street Coffee – This truck is an extension of the coffeehouse in Newton Highlands, MA, and keeps to the spirit of the coffeehouse. It can be found at BU in the morning, which will be very handy for  early risers and a cash cow for the owners. Aside from the fresh coffee and espresso, there are delectable, made to order fruit smoothies.
Schedule: 7am-10am Mon, Tue, Wed, Thurs, Fri at Morse Auditorium. Follow them on Twitter @lincolnstcoffee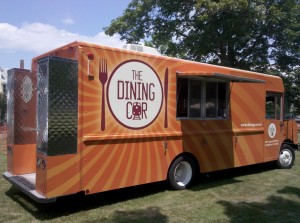 Dining Car – The bright orange truck is a true restaurant on wheels; the Dining Car's menu is always changing. There was an sweet ans spicy Andalusian Pork sandwich, amazing shoestring fries, served with persillade, and a French sauce made with butter, parsley, garlic, and lemon. This is also one of the more pricey trucks as the entrees alone cost seven dollars.
Schedule: 11am – 3pm Mon, Wed, Fri at Morse Auditorium.
Clover – This is the one of the two vegetarian options found on campus that even carnivores are sure to love. The chickpea fritter tastes almost like falafel, and the barbeque seitan (seitan is a wheat gluten meat substitute) was hearty and filling. It also tastes like barbeque chicken, which made it a little easier to eat.
Schedule: 11am – 3pm Mon, Tue, Wed, Thurs, Fri at BU Bridge
Follow them on twitter @cloverfoodtruck
Roxy's Grilled Cheese– One of two grilled cheese trucks, the bright yellow truck has a variety of ways of dressing up the classic sandwich. From adding bacon mushrooms to braised short ribs and strawberry rhubarb jam, this truck also uses a diverse selection of cheeses, including fontina and brie. The green muenster is made up of muenster cheese, guacamole, and bacon, which doesn't sound appetizing, but it is. The cheese and guacamole balance against each other very well, while the bacon is very crispy and goes well with the muenster.
Schedule: 4pm-7pm Fri, Sat at BU Bridge
Follow them on twitter @roxysgrilledchz
Kickass Cupcakes– This desert truck is an extension of the Somerville bakery, and is absolutely as kickass as the name suggests. While it includes consistently changing limited editions, the standard menu is still interesting: the cookie dough is made up of chocolate chip cookie dough in a vanilla cupcake and vanilla buttercream frosting with chocolate sauce, making it buttery soft and creamy. It also features a cupcake of the day.
Schedule: 11am – 3pm Sat, Sun at Morse Auditorium.
Follow them on twitter @kickasscupcakes
Cupcakory– Cupcakory sticks to a simple menu while providing vegan and gluten-free options for its customers. All the cupcakes have a butter soft, moist taste to them, which makes them unbelievably delicious. Over the course of the summer, I have bought around three-dozen of the cupcakes. The double chocolate may sound boring, but is savory with a dark chocolate buttercream frosting.
Schedule: 11am – 3pm Tue, Thurs at Morse Auditorium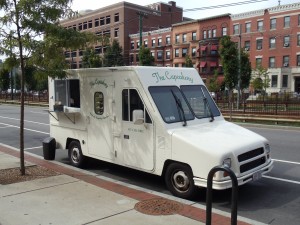 Follow them on twitter @Cupcakory
The Froyo Truck– In some ways, think of this truck as Pinkberry on wheels. The frozen yogurt is offered with fresh fruit (mango, strawberries, etc.) but what sets it apart from the eatery chain is the Belgian waffles, made fresh to order, which also comes with fresh fruit and makes for a wonderful mid-day snack.
Schedule: 4pm-7pm Mon, Tue, Wed, Thurs at BU Bridge
Follow them on twitter @thefroyotruck
Grilled Cheese Nation -Unlike Roxy's Grilled Cheese, this truck is vegetarian. In addition, all cheeses, bread, and vegetables are organic and locally grown, a step taken to follow the truck's slogan of "Elevating grilled cheese to a fine art." The "Boston Common", made with Vermont cheddar and Pain de Mie bread, is one such sandwich incarnating the slogan, and is delicious with a shot of tomato soup.
Schedule: 4pm-9pm Sat at Morse Auditorium.
Follow them on twitter @GCNBoston
Bon Me-The Vietnamese cuisine truck is modest, but genius. Sticking to just three bases – rice, sandwiches, and noodles – one can add either chicken, pork, tofu and shitake mushrooms, or a choice of sauces & vegetables. Although it sounds simple, the food is beautiful. A chicken noodle salad is an attack on the taste buds, with spicy and sweet hitting you at once. It is hands down a filling and appetizing way to end the day.
Schedule: 4pm-7pm Mon, Tue, Wed, Thurs, Fri at Morse Aud.
Follow them on twitter @bonme