Unlike tobacco or cocaine, coffee is one of those cultural addictions that has withstood the test of time and the furrowed brow of the FDA. It is the lifeblood of our generation and many of the generations before it; it is common ground between the rushed, sleep-deprived, hungover college student and her grandmother.
There is no question that coffee is an integral part of the collegiate lifestyle, and especially at city campuses like Boston University, it flows more heavily than the waters of the River Charles in April. Massachusetts has been called Dunkin Nation, and there are obscene amounts of Starbuck's locations in this city, too; but for anyone aversive to large coffee chains, worry not: Boston has got plenty of locations for caffinophiles to try.
On Campus
Blue State Coffee is a New England chain based in Providence, RI, opened up a location on BU's campus recently; since then, it has become a west campus staple. Its cool ambiance and smooth, jazzy atmosphere make this a different sort of cafe experience. The location next to Paradise Rock Club and Goodwill is perfect for many an Allstonian hipster, or musician looking for a cup of coffee before an evening gig.
Espresso Royale, tucked away between Nub Pob and CVS in central campus, this is a quintessential cozy coffee shop if there was one. Paintings by local artists line the walls; the air smells of fresh pastry and coffee, and sounds like casual conversation. The espresso drinks are delicious and the menu is varied; the bagels, imported from Bagel Rising, have been called the best in the city on more than one occasion. So pick one of the mismatched tables (the one modeled after "Rocko's Modern Life" is a personal favorite) and hunker down at this campus classic for an afternoon of relaxation or cramming.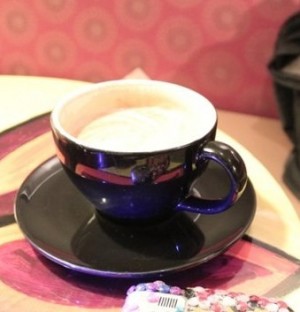 Nearby
Berklee's Pavement Coffeehouse is the sister of Espresso Royale. Located by the corner of Mass Ave and Boyleston, the shop's demographic skews a bit older, largely young professionals and cool oldeer guys from the music school. With high ceilings, booths, comfy chairs and lots of open space, this coffee shop is the perfect combination of intimate and airy. The baristas are always friendly and quick with suggestions for the coffee-clueless.
On Newbury Street, there is a second Espresso Royale for the hopelessly addicted to ambiance. This location is underground and cozy, but with much of the same menu. Down the street is Wired Puppy, a newer cafe that won Boston Magazine's Best of Boston Coffee award in 2010. Its menu features plenty of drinks for the coffee lover and his/her caffeine-resistant friend; the apple cider and is delicious. There isn't much sitting space, just a cozy nook, but it's the perfect place to pick up a cup of coffee and go before a long fall walk down Newbury Street.
Trident Booksellers and Cafe is another classic. This Newbury Street staple is a true gem; the menu is a bit pricey, but the books are dirt cheap, and there's a great variety. The shop itself is open until midnight, and the booths make it the perfect location for any late-night date or study session. Beyond just the food and beverages, the shop also hosts frequent cooking demonstrations and poetry slams.
Worth the Hike
But beyond the one-mile radius from campus, there are still more coffee shops to discover. Over in Cambridge, there is Clear Conscience Cafe and 1369 Coffeehouse; Clear Conscience, often styled C3, is located in Central Square right by Club Passim and TT the Bear's. 1369 is in Inman Square. Its a little on the pricier side and accepts cash only, but it has a great specialty drink menu.
Thinking Cup,  Equal Exchange, Voltage Coffee and Art and Polcari's Coffee have all been rated highly on Yelp. The Refuge Cafe is set to open in Allston on the corner of Brighton and Harvard Avenues. It will take the place of the former Allston Cafe, and though it might not replace this now-closed classic in our hearts, it will hopefully fill the gap with the promises of sandwiches and beer.