What better way to offset a gloomy day than with a steaming bowl of soup and a melt-in-your-mouth cheesy sandwich.
With finals on the way and projects taking over this week, it is hard to find time to relax, let alone cook a meal. But you would be surprised how much more productive you can be after a short break that ultimately leads to a content tummy.
The following recipe for soup can substitute the traditional can of Campbell's Tomato Soup that many consider a staple. Great for a quick dish; paired with a sandwich or salad, the soup turns into a balanced meal.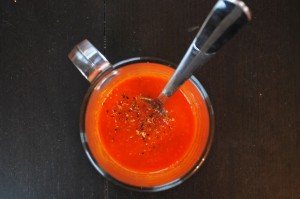 Spicy Tomato Soup (adapted from Gourmet Quick Kitchen)
1 28-oz. cans whole tomatoes in juice
½ large onion, coarsely chopped
1 teaspoon finely chopped shallot
1 teaspoon ginger paste
1 ½ tablespoon olive oil
¼ tsp. cumin
1 ¼ cup chicken broth
½ tablespoon sugar
1 teaspoon salt
Drain tomatoes, but reserve juice. Puree tomatoes in blender with half of the juice from the can.
In a large pot, heat oil over medium heat. Cook onions, shallot, and ginger, stirring frequently, until onion is soft, about 8 minutes. Add cumin and cook, stirring, for about 1 minute.
Stir in pureed tomatoes, chicken broth, sugar and salt. Simmer soup uncovered, stirring occasionally for 20 minutes.
Carefully transfer soup to blender and blend until smooth. Drain soup through colander to remove seeds and season if necessary. Reheat over medium heat.
Grilled Cheese (adapted from How To Cook Everything)
2 slices wheat bread
1/2 tablespoon butter
2-3 oz. sharp cheddar cheese, sliced
Heat butter in skillet over medium heat. Meanwhile, make sandwich by placing slices of cheese between bread.
Once butter is melted, put the sandwich on the skillet and cover with a plate. Place an object on top of the plate to weigh it down, such as a heavy pot lid or a can.
Cook until the bottom of the bread is browned lightly, about 2 to 3 minutes. Turn sandwich over and repeat. Serve.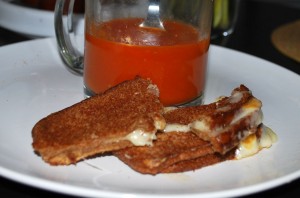 There are other, more sophisticated, additions to the basic grilled cheese sandwich. If you have more time on your hands, give these gourmet variations a try:
Grilled cheese and caramelized onions: add caramelized onions to the sandwich before placing in the skillet.
Grilled cheese with grilled mushrooms and pancetta: grill mushrooms and pancetta in olive oil, seasoning with salt and pepper, in separate pan before adding them to the sandwich.
Grilled cheese and tomato sandwich: add a couple slices of tomato and dried basil before placing sandwich in skillet.
Easy croque-monsieur: substitute Gruyere cheese for cheddar and add a couple slices of ham.