After reading this year's Time 100 list of the world's most influential people, I had qualms with several of the selections and the snubs. To sum it up, how do you have Justin Bieber and no Kanye West? How about Prince William and Kate Middleton over Dmitry Medvedev?
But instead about worrying about it, I decided to compile a short list of people who should be influential over the next year.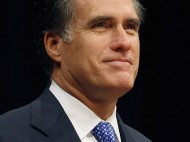 The Republican Party Presidential Candidate- Even though this one's identity isn't clear yet, the race so far is actually interesting. We all know that Sarah Palin's name is in the mix, but there are many other faces in the picture. Gay rights activist Fred Kager, former New Mexico governor Gary Johnson, New Yorker Jimmy McMillan and others are among the declared candidates. With more to come, the race for this seat is on.
Woods Staton- As the CEO of Arcos Dorados, he oversees the majority of McDonald's restaurants in South and Latin America. Now, this wouldn't matter much, except through his stock in the publicly traded company, the Colombian executive is now a billionaire. In turn, he is someone to be admired for his success and work ethic.
Silvio Berlusconi- The Italian Prime Minister and entrepreneur has been a constant in world news, not only for his words, but for his antics too. Berlusconi is currently embroiled in a(nother) scandal, this one including parties and prostitution. Although scandal is a part of politics, this could have a damaging effect on the Prime Minister's chance at re-election. All the while, his soccer team, AC Milan, is on the rise, leading the race for the championship, so at least he has something to smile about for now.
Derrick Rose- The guy is probably one of the best athletes in the world. He works for it and is obviously built for it (watch ESPN's Sport Science segment to see what I mean). In addition, as the NBA's newly crowned MVP, all he needs is a championship. Bringing the Larry O'Brien trophy back to Chicago will transform him from hometown boy to a basketball icon. It might also quiet comparisons to a certain icon, as well.
Frank Ocean- Whereas Tyler, the Creator is the leader/madman of alternative hip-hop group Odd Future, his bandmate Ocean is a hidden cornucopia of musical talent. The singer-songwriter from New Orleans has yet to catch a major break, though the R&B artist has signed onto Def Jam. His mixtape nostalgia,ULTRA is one of the best releases in the early part of this year, thanks mainly in part to mature lyrics coupled with soulful beats that is reminiscent of Marvin Gaye and Prince. Ocean has been seen working with industry heavyweights, like Nas and Beyonce. In essence, give him your ears, and you'll be delighted (just listen to "Strawberry Swing", which samples the Coldplay song of the same title).