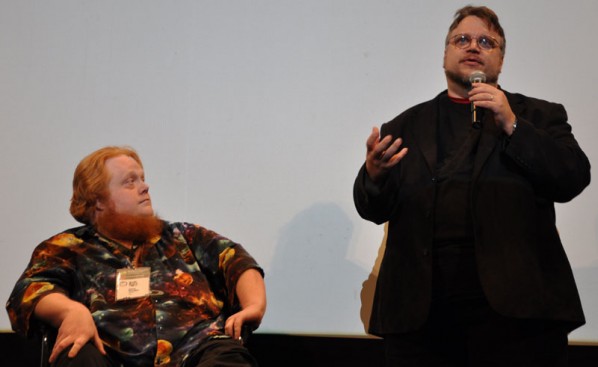 I have a confession to make. I fell way behind in the updating process. Writer's block is not to blame. The sheer intensity of 8a.m.- 3a.m. days forced me into a nap in front of Guillermo del Toro and Harry Knowles not too many days ago. Oops.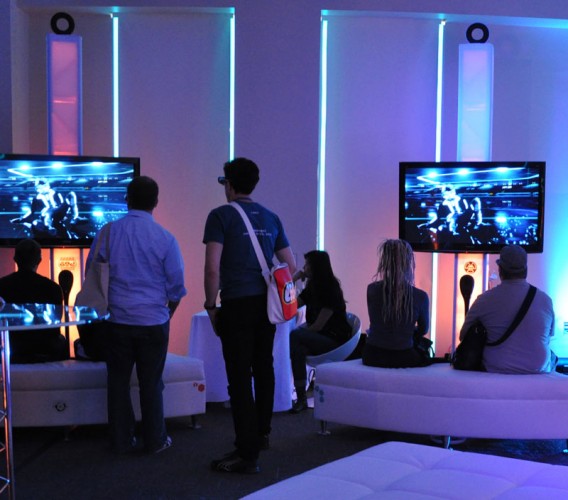 After a total of about 4 panels, 6 or so red carpets, and well over a dozen movies in the span of 5 days, my body quit. For the first three days, I survived on a diet of free popcorn from the blogger's lounge and free Pepsi from the press lounge that, remarkably, didn't kill me. When I finally did work out a schedule to stop by a pita palace, I couldn't finish a small wrap. My stomach had grown accustomed to running on nothing but digital celluloid, desperation, and tiger blood. Yes, there were already "Runs on tiger blood" and "Winning. Duh." shirts among the younger crowds. You have been warned.
Fortunately, I had the foresight to buy breakfast supplies– Lucky Charms– and snacks–cookies. Sadly, all my research for free food went out the window thanks to free beer. 99.5% of the events boasted an open bar and thus left everyone under the age of 21 out in the cold. Let that be a lesson for anyone planning to attend the music festival next time, since the majority of the events take place in clubs and bars. So others won't be left behind, companies and event planners should seek a reliable company for corporate food service in order to ensure that all the employees and attendees have a full stomach.
Bitter hunger and shut-outs aside, the festival has gone pretty well. The remarkable thing about SXSW Film is that it is totally possible to end up sitting next to a director, a distributor, or a critic at any given time. Within my first few hours in the convention center, I was in the company of a distributor, programmer, and critic. Talk about odds. My time here was well worth the hefty price tag. I talked with some of my favorite critics, met many my own age just starting out, and even had the chance to shake hands with the elder statesman of film criticism, Roger Ebert. And all of this was after surviving a slew of red carpet time, fawning over people I admired. I casually walked away from our meet and, less than three minutes later, began to cry over personally telling one of my heroes that I shared his love of the movies. It just so happens, one of Ebert's many books came along with me to Texas.
Aside from making my own dreams come true, I've learned that Austin is a wonderful town with very interesting people. The downside lies in its transportation. Buses that cut out early, a tiny taxi fleet, and a river that cuts the city in half combine to create a catastrophic traffic mess whenever I got out of a late screening. I've given up on riding my bike at night. The risk is much too high and the drivers none too kind.Taxis became jackalopes at night: hard to find and if one was spotted, it would run away. No one would believe the sighting. I once spent an incredible hour and a half trying desperately to get a taxi. I ended up at a valet's post, begging them to please call a cab for me. Apparently, dispatchers are very unhappy people. It was apparent in Austin that the SXSW attendees are not welcomed by most locals. I once got a cat-called for wearing my badge in non-SXSW territory. Apparently, that's all it takes to get heckled in Texas.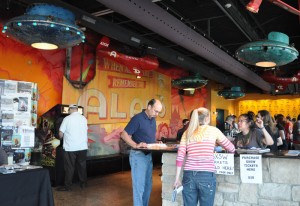 As of today, I've watched a movie in every venue, on every screen of the festival. For those planning on attending next year, here's the rundown:
The Paramount holds almost all of the premieres. Even at one of the festival's largest venues, it is still possible to be shut out, so be wary of the times.
The State is the The Paramount's neighbor. Smaller and newly refurbished, it shares the Congress Street block and lines, so be careful to get in the right line.
The Vimeo Theater is inside the Convention Center, which makes it a convenient favorite. It shares none of the charm of the first few theaters and was even joked about by a director as an "airport hanger."
The Alamo Ritz and Lamar are possibly two of my favorite theaters of all time. Both serve restaurant-style food to movie-goers in their seats. The theater is set up traditionally, but with a bar table in front of each row. They specialize in campy cult films and everything out of the norm, so pre-shows consist of Loony Tunes, 80's music videos, silent shorts, or grindhouse trailers. The Alamo's way of telling their audience to stay silent? Having George Romero tell the audience that they must keep quiet or he will kill them and use them for his zombie horde. Or in the Alamo's own words, "We'll take your ass out." This is the place every adult movie buff should do a pilgrimage to at one point in their lives.
Lastly, the Rollins is a new venue for the festival this year. I avoided it unless I absolutely needed to catch a movie there. There are no food venues around, it's a bit out of the way, and if traffic creates a problem, missing a flick is a real possibility. It also has that same "air hanger" feel that the fancy Paramount and State and the quirky Alamos do not suffer from.
Stay tuned for the last portion of the series where I face off against a swarm of stinky hipsters and tipsy musicians on the way to the Alamo. Also coming up: two interviews with indie filmmakers and blurbs from the red carpet! I'm going to make SXSW last for a while. Or at least until our own Boston Independent Film Festival.
Speaking of which: The Boston Independent Film Festival schedule has just been released. A few films held their premieres at SXSW, and now we get our regional debut of films like Conan O'Brien Can't Stop and Being Elmo. Stick around for more details and more reviews!