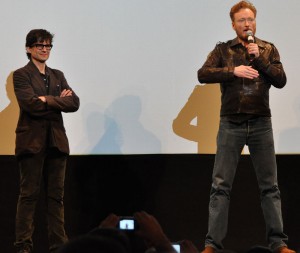 I bring tidings of great joy: Conan O'Brien is coming back to theaters. Movie theaters that is.
As I exited a previous screening, I ran into Rodman Flender, the cheerful director of the documentary Conan O'Brien Can't Stop. After a quick exchange, he informed me that the doc had been picked up and will be opening up nationwide.
So unofficially, Conan's on tour again. All for the low price of a movie ticket.
The trouble started and cameras began to roll at the announcement that longtime TV host Jay Leno wanted his Tonight Show throne back from the Brookline native. After difficult legal proceedings, Conan was forbidden for months to appear on television or any other kind of media. But O'Brien rolled with the punches, and hit the road on a comedy tour to get out his anger and to re-connect with his fans.
I don't want to make it seem like this is a serious intimate portrait of an artist, but essentially, it is. Conan O'Brien Can't Stop details his bitter low points  in the aftermath of the Tonight Show loss, his frustration with the proceedings, and  just how much work goes into a tour of his scale. There are also the "aw"-inducing moments like when O'Brien pillow fights with his kids or video chats with them after a long time on the road, only to have the connection freeze.
Conan himself is as entertaining as ever, just by playing his hyperactive, quick-draw wit as a natural. The audience gets to see the O'Brien not usually in front of the camera. He bad mouths over-zealous fans, loathes the nomadic lifestyle of touring, and falls into occasional spat with his manager. The audience also sees the tired O'Brien and the overworked, anxious comedian. This episode in O'Brien's life was a struggle, fortunately captured in all of its glory on film.
Documentary-wise, this is a very well made film. Conan O'Brien Can't Stop leaves out a decent portion of O'Brien's upbringing and career, but it is not a biopic. This is clearly a concert show, and the feeling is kept throughout the film. The camera never lingers for too long, and the both the bright colors of the show's lights and the low-lit backstage holding areas are captured brilliantly. The camera at times gives the feeling being hand held, but that adds a further layer to the 'lax vibe of the film. We are invited in to watch the circus surrounding the arenas and the madness of onstage live performance.
A solid performance from both director and subject and excellently shot and edited, Conan O'Brien Can't Stop is the chronicle of one comedian's struggle to walk away from his dream job and make his own. Each step of the creative and marketing branches is shown. The bountiful energy that Conan O'Brien exudes is more than apparent in the spirit of this flick. Prepare once more for the coming of SNL's red-headed former head writer; Conan O'Brien will be in your town soon enough: A