The wait is over. After five years, the Strokes are back in full force. Their fourth studio album "Angles," released today, signals a new chapter in the saga of one of the decade's most talked about bands. The release has been a little less than momentous– possibly because the whole album has been streaming from their website for over a week– but finally the album is available for purchase. While maintaining their confident swagger and relaxed sensibilities, the Strokes are moving forward to new sounds, sounds that this fan can't get enough of.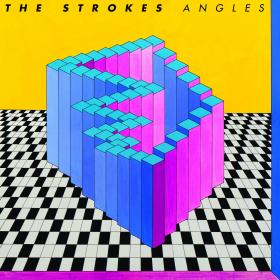 The Strokes have been subjected to both universal praise and harsh criticism since they released "Is This It"  in 2001. One of the first indie rock bands on the New York City scope, the Strokes led the garage rock revival of the 21st century and have influenced such popular bands as Arctic Monkeys and the Libertines. Their sound combines 70s rock–think the Velvet Underground and the Cars–with commanding guitars and Julian Casablancas's gritty voice. No other band has been so lauded with the woefully overused adjective "cool." After their third album, the band took a break, and four out of five released their own impressive work independently from the band. Until last year, no one knew whether or not the Strokes were over. Music lovers everywhere should thank the rock gods that they were able to get together and make music again.
And what music it its. Although the album is short in length, it makes for its brevity with quality. The album's opener "Machu Picchu" has a south of the border feel. When Julian sings, "I am putting your patience to the test," it feels like he is speaking directly to all the fans who have been waiting so long for a new album. "Under Cover of Darkness," which was released as a single in February, has inspired many to compare it to their early work– and for good reason. The song has everything typical of the Strokes, but is conducted with more skill and experience. Guitarists Nick Valensi and Albert Hammond Jr. churn out chirpy tunes with a deep bass while drummer Fabrizio Moretti's familiar steady thump keeps them company.
However, this album is unique. Unlike previous albums, all the bad members were involved in writing and composing songs. Bassist Nikolai Fraiture penned the darker sounding, "You're So Right," while the others joined forces with Julian. Each song has its own special feel. "Gratisfication" has, as Julian himself said, a "Boston chorus sound," while "Games" features more electronics than their signature guitars.
Five years is a long time to wait for something new from a much loved band. Fans waited for it because, love it or hate it, the Strokes just have that cool factor. They don't care what people think about them, and that attitude shines through their music. "Angles" shows it best. The Strokes keep their sound while moving forward.