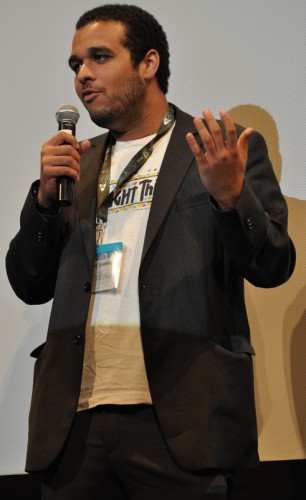 The teen dramedy genre received a new entry with blacktino, the first feature-length film by Trouble Maker Studios alum, Aaron Burns. Part biographic, but mostly fabricated, blacktino chronicles the high school struggles of a half-Black, half-Latino geek who just wants to fit in and not be picked on. His friends include a cookie-cutter alleged lesbian, a strong-headed girl and an over-sexed Asian suffering from muscular dystrophy. This is a different kind of Brat Pack flick.
The very interesting story addresses the issues of mixed-race couples and their children, racial and ethnic boundaries, stereotypes, gender construction, sexuality, identity formation, the concept of popularity, peer pressure, deadbeat dads, poverty, homelessness, violence, drugs, death, religion, domestic violence, and nerd culture. It's certainly not the typical teen telenovela. Director Burns also wrote and edited his premiere work. The piece had plenty of home turf advantage, as many of the scenes take place in and around the city of Austin.
But as intricate as the movie becomes, there is a major shortcoming. Unfortunately, I was vastly distracted by Austin Marshall, the leading actor, and not in a good sense. Lines were thrown around inconsequentially, zingers were delivered in a monotone, and anger was portrayed as saying things too fast to be enunciated. What could have been an emotionally deep and profound performance was left cold and unmoving. I held back an urge to yell out and ask him to act. The other amateur actors worked fine and the adult leads performed as expected. This left Marshall, the underdeveloped real teen, to feel even more out of place. Awkward.
But there is a perk to being a part of Robert Rodriguez's Troublemaker Studio family. Burns had contacts with many of Rodriguez's reoccurring actors, and many returned their favors by making a cameo in blacktino. Be on the look out for Danny Trejo and Michelle Rodriguez. Perhaps the best surprise was the all-grown up Spy Kid Daryl Sabara playing a hyperactive waiter.
In the end, it's hard to take a stand on blacktino. It has a great story, but an excruciatingly inept lead usually spells the end for a picture. The cameos and discussions that take part in the film are mere toppings compared to the script that also stages a musical version of true American history, including marginalized groups. It's a mix of many ideas, genres, and debatable content that combine to make a vivid stew of conflict. Plus the director's film making chops are on clear display with colorful and imaginative interludes of music video-like dream sequences. Those were clearly a few of the highlights of a movie that could have been trimmed thirty minutes off the run time.
Pure comedic gold lies at the heart of blacktino. I almost hope that Burns remakes this film with a legitimate actor in the lead who can shoulder the adult responsibilities of surviving struggles far beyond the realms of playground concerns.
blacktino is an interesting watch especially for those interested in group dynamics and identity politics. Yes, it's a movie for nerds, but it's also for anyone has ever felt excluded by groups: B-