This is a chronicle of all my experiences as a first time festival-goer: my first stay at a hostel, the do and do-not-do guide for Austin, and how to survive without really trying. The movie stuff, from previews to red carpets to film reviews, will be in a separate column, Reel Straight SXSW.
Getting there
Packing is a skill I'm still learning. I claimed I would pack four days in advance. Of course, I ended up filling my suitcases four hours in advance. A minor medical emergency involving a cotton swab and a decent amount of running around, I ended up in a taxi with friends at around 4:45 a.m.
A helpful travel tip: beware of traveling with oddly-shaped luggage. I was harrassed by no less than three employees who had an issue with my rolling carry-on.  All was well once I gave in to the two angry ticket takers who demanded to check my luggage.
Fine, I thought. At that point I just wanted to leave.
A short nap and a few hundred miles later, I was back on terrestrial realms in Dallas, Texas. I had another marathon around the terminals when American Airlines posted conflicting gates for my connection. Fortunately, I made it on right as it was boarding. I also made it back into a nap.
Finally in Austin, I could tell they take pride in their "weird" title. Their airport looked more like a contemporary museum of art, and even many of the mailboxes were hand-painted. An friend's aunt took me to an adorable cafe with its own garden and chicken coop. Before you turn away from the farmer's market-restaurant hybrid, the fried chicken with bread crumbs and pecans was worth the pilgrimage. Fastfoward through some picturesque laps around the city, supply shopping, and a quick walk-in to a clinic, and I finally ended up in my hostel.
Simply put, if you've never stayed in a hostel, you should. It's an experience you need to have before you become a stuffed shirt and get used to ordering room service at the Four Seasons. The first tip I have is always be prepared to handle people at all times of the day. The vibe is reminiscent of your freshman dorm, except instead of one or two roommates you may share a large room with 12-15 others. Privacy is not a part of the package. Hopefully, because of these close quarters, the people around you are nice. I lucked out; my fellow hostel residents are overtly nice. Sure, there a a few strangers, but what dorm didn't have their quirky residents? Also, the notion that hostels are 24-hour party palaces did not prove to be the case. Lights were out by 1a.m. and the majority of the guests are middle-aged or older.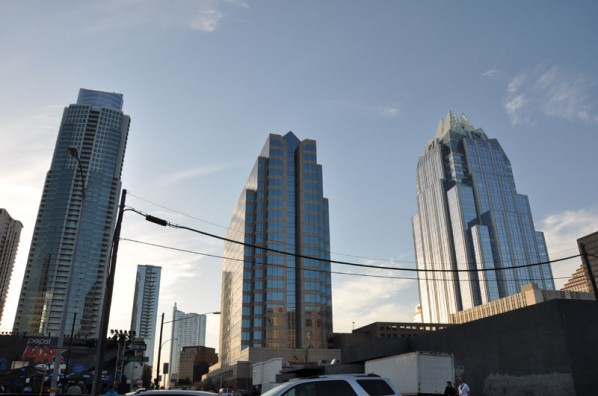 I sought out a fellow biker who could tell me the rules for biking in Austin. This would be wise to do in any city as bike lanes seem to only exist in Boston. Well, that's not entirely true. There are bike lanes in Austin too, but they clearly belong to cars. Sidewalks are the actual bike lanes, but even then you are to keep aware of traffic. As excited as I was to bike through hilly Austin I decided to concede the darker half of my waking hours to speeding vehicles. I also calculated by the number of cops already stationed at bars and free beer tents that drunk driving seems to be an unintentional hazard.
Also, may I remark on what a cruel and unusual world makes all parties and food giveaways strictly for the 21 and older set? I feel marginalized, and it is infuriating when I can't get cupcakes because beer is given away under the same roof. Or BBQ, or tacos, or paella, or any decent food I could have had, had I been a month older.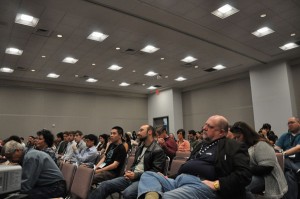 But back to the events at hand. I was up 7 a.m., out by 8 a.m. and in line to get in front of the line (via the SXXpress pass available to all badge-holders) by 8:30a.m. I got tickets to the screening I wanted and was on my photo-taking way when a man stopped me and asked me what I was doing there. He turned out to be a filmmaker, who introduced me to friends of his and a 2.5 hour conversation quickly followed. From my Isreali hostel roommate to New York cultural critics, half the experience of large scale events like these are the people you meet in the line. I'm finishing this post for you in the swanky press lounge teeming with press folks guarding their power outlets. The first panel is in a few moments, and I'm off running once more. Till then!
One final note: I would like to take the time to thank everyone who donated to the Quad. Without you, this trip would have been excruciatingly more difficult. Also, to everyone who couldn't give, but gave their support, I thank you too. Your support means so much to me. And, of course, to our readers, may you enjoy the ride front the front lines.
Also be sure to follow our BU Quad SXSW page for the latest and greatest out of the festival.