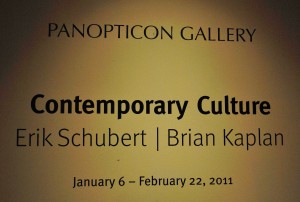 This month, the Panopticon Gallery at the Hotel Commonwealth is featuring the art exhibit "Contemporary Culture:  Photographs by Erik Schubert and Brian Kaplan."  These two photographers have a history with Massachusetts and make for a fitting display together.  Erik Schubert is familiar with the Massachusetts landscape, having earned his MFA from the Massachusetts College of Fine Art and Design.  However, his photography focuses on Western landscapes instead, exposing the changes to nature by urbanization.  The theme of urbanization is one that Schubert shares with Kaplan, who also has ties to Massachusetts, having worked for several years as an assistant at the Boston Globe.  Kaplan's work is far more contemporary than Schubert's, though, and displays nothing but the urban, at least in the gallery at the Panopticon.
The gallery that the Panopticon has set up extends down several long hallways and through a luxurious room featuring a third artist, Ernest C. Withers.  The main exhibit, "Contemporary Culture," features Schubert and Kaplan's works.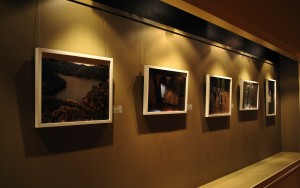 The exhibit opens with Kaplan's ultra-contemporary black and white photographs.  His work shows many different scenes of urban culture, like a blank white billboard standing out against a dark night sky and an abandon garage at night.  The exhibit then transitions into Schubert's work, which is in heavy contrast to Kaplan's.  Kaplan's work features only urban landscapes, no humans.  Schubert's, however, is full of color and the changing countryside as urban civilization takes over the natural.  Full of color and spotted with people, the two artists couldn't be more different, despite having a similar theme.  The gallery ends in a luxurious looking back room featuring art by Ernest C. Withers.  His photographs are far older than Schubert's and Kaplan's, dating back to the 1950s and '60s and prominently feature African American culture, including the Civil Rights Movement.  Amongst his photos include images of Martin Luther King, Jr.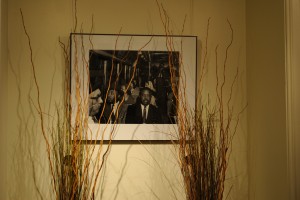 Together, these three artists make up a unique viewing experience at the Panopticon Gallery.  While it is a relatively small body of work on display, the exhibit is free and open to the public.
Erik Schubert and Brian Kaplan's work will be on display through February 22, 2011.  For more information see the gallery website.