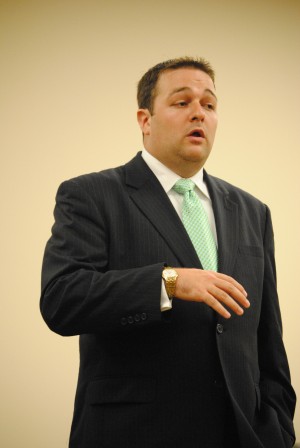 On Tuesday, October 5th, Massachusetts State Representative Louis Kafka's Senior Legislative Aide Edward "Ted" Philips visited the BU campus to discuss the new health care policy in the state of Massachusetts.  The local legislator was invited to speak at resident hall Student Village II in the study lounge by faculty in residence, Karen Jacobs, a professor in occupational therapy programs at BU.  Representative Kafka was originally scheduled to speak on campus, but was not able to make it due to a family emergency.  In his place, Ted Philips spoke extensively about the new health care policy which has received a great deal of media attention after being passed by the federal government earlier this year.
The health care policy in the state of Massachusetts was changed in 2006 and  became a comprehensive reform.  Previous mandates on health care were seen as unconstitutional since the government cannot force an individual to maintain a health care policy.  However, because many individuals chose not to maintain some form of health insurance in the state of Massachusetts, health care premiums on policies were increased significantly to balance out those who were not maintaining plans.  As a result, taxes had to be raised, or constituents without health insurance needed to pick up a policy.  The new reform that the state of Massachusetts passed, and which Representative Kafka and Ted Philips worked on, served as model for the national health care reform that recently went into effect.  The new reform also changed the policy so that individuals on their parents' health care plan will remain on the plan until age 26.  Previously, college students only had six weeks after graduation to find a job with health insurance to maintain continuous coverage.
Mr. Philips also discussed some of the other legislation in which Representative Kafka's office takes part.  One law that was recently passed was one which prohibited texting while driving.  The law was altered by other districts in Massachusetts so that only texting while driving was banned, ensuring that making phone calls would still be allowed.  Philips discussed some of the ramifications of passing the law, namely that law enforcement officers are having trouble distinguishing between a person texting and a person entering a phone number into his or her cell phone to make a call.  It looks as though the law will be modified to accommodate these difficulties, possibly outlawing any use of cell phones while driving in the state of Massachusetts in the future.
Mr. Philips also discussed the new Anti-Bullying legislation, which he claimed is the "toughest in America".  He went on to discuss the Death with Dignity law which is still being written, which would follow states like Oregon which allow for patient euthanasia for the terminally ill and incurable.  It has been met with a great deal of controversy and similar laws have only been passed in a few states.  Discussion about this law will resume after the congressional election in November.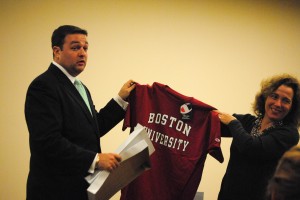 With the congressional election fast approaching, every qualified citizen is encouraged to vote.  Whether it be through absentee ballot, a popular form of voting on campus, or by going to your local precinct to cast a vote, be sure to get out and voice your political opinion.  Mr. Philips reminded everyone present that each BU student is considered a resident of Massachusetts and can thus influence its legislation.
Kafka is a Democrat from the 8th Norfolk District in Massachusetts and is up for re-election this year.  He is currently running unopposed and is slated to maintain his position in the upcoming election in November.