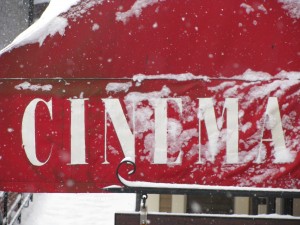 It used to be that going out to the movies was a nice, inexpensive way for you and your friends to hang out or an affordable getaway with that special someone. But thanks to soaring prices and ho-hum movie options, you're more likely to have fun just staying home with a well chosen Netfilx option. Fear not, for the Boston movie scene has more to offer than just what's playing down the block: and for a student-friendly price. I have done a bit of searching around the area, and have found a few resorts of affordable movies. Give the places a chance and find a whole new movie going experience far greater than staying in the dorm room.
Coolidge Corner: Easily accessible by T, at first glance the theater looks like nothing more than a poor old nickelodeon with an antique neon sign to boot. But once you're inside, you almost feel like you're stepping into a bygone era. From the old fashioned concession stand, vintage posters, and art deco touches, almost everything seems different from the regular movie theaters you've seen before. If you're fortunate enough to see a movie in screen one, the main theater, you'll get a movie-going experience from the heyday of Hollywood. Once inside screen one, you know you're not in your hometown Cineplex. The seats are plushy cushions in the old-fashioned theater rows. At the front of the theater, the big screen is grounded by a stage, used by the occasional performers or lecturers that may accompany your picture. Just try not to stare at the gorgeous proscenium arch with art deco gold figures framing the scene. However, don't be disheartened if you're not in the main theater, all the screens are good and the seats are equally comfy. This theater gets my vote for best overall experience. I also highly recommend their special midnight series of cult films and themed sing-a-longs hosted in the main theater.  Look up the listing the week of; the theater has been known to make last minute changes and additions.  In order to save a bit for popcorn and drinks, try the student pricing available on Thursday screenings. Find out more about the theater here.
The Brattle Theater-If there's one word that describes the Brattle, it's" local." Along with Coolidge, this Cambridge theater holds its own film festivals and supports local talent quite fervently. To find the unassuming 1 Brattle St. door, go down the staircase and past the optician's office and follow the smell of fresh popcorn. Hooray for year-round student discount! Once you past the concession stand, climb a staircase covered in posters up to the theater. There are plenty of seats and even a balcony with stadium seating.  This theater has a stage as well, and is used by the director of programming to introduce the film or for the occasional celebrity question and answer segment. The management loves to plan extensive reparatory series and complete works of a director or actor. Check their schedule online or their handy printed guide for upcoming shows and series.  Be sure to look out for their film education series held once a month, as these screenings are completely free. To find out about the history of The Brattle, click here .
Harvard Film Archive- No food, no drink, no talking, no late entrances, and no use of recording devices: This is a purely academic theater. You are here to watch the movie you paid for and hopefully, a speaker involved with the film. More often than not, the Archive screens the original theatrical releases on film and feature a speaker that worked on the film. Being an academic theater gives the HFA one of the biggest selections of obscure and out of print movies. It's a great way to experience the works of acclaimed directors like John Ford or Peter Bogdanovich and find new works of foreign directors that have yet to gain international fame.  Though they don't announce it, look at the calendar on their website to find not only the big features and speakers, but also for some free screening of cinematic classics like "Battleship Potemkin" and recent short films. Alex Suarez of Berklee College of Music remembers his trip to the Archive to see Gordon Willis talk about his work on the movie "Manhattan": "It was fascinating to hear Gordon Willis' perspective on cinematography and how surprisingly concise he was in describing why he chose certain shots that he is famous for." This is possibly one of the few theaters in Boston where you can meet and greet your movie heroes. I also recommend mapping this gem out before you go, since it can be hard to find if you are not familiar with Harvard's Campus.
MIT Lecture Series Committee- Strange name aside, this is the "theater" I attend the most. Nestled in the labyrinth of Building 26 in Classroom 100, the MIT LSC is one of MIT's best kept secrets. The MIT LSC is usually held in a plain classroom with old fashioned wooden desks and chairs and a very formidable looking projection room. As much as it doesn't look like a theater, it makes up quite nicely with prices on tickets and concessions. Some showings are sponsored and free, but most regular showings cost $4. At the front of the class/screen, there is a table set up with all sorts of candy for $2 or less and fresh popcorn and sodas for a dollar or two a piece. The selection of films range from popular picks like "The Blues Brothers," and classic Hollywood like Billy Wilder's "One, Two, Three" to current Hollywood flicks like "The Hurt Locker." LSC adds new foreign and independent titles to their schedule even before they hit mainstream audiences. However, it is not just the cheap prices and good movie options that have students coming back week after week. According to MIT junior and avid LSC advocate Michael Lin, it is the camaraderie of his fellow movie goers that adds to the environment.
"I love that the LSC lets you experience movies in a communal setting without all of the tension and unwritten rules of being around complete strangers as in a formal movie theater. My best memory of LSC was at the Sci-Fi Marathon two years ago. We were at the halfway point of the marathon, and they were showing all sorts of trailers from other science fiction films in between two films – I think "Galaxy Quest" and "Sunshine." Anyway, what looks like another trailers comes up, complete with deep-voiced narration over a starry background. Suddenly, the stars rearrange, and the voice changes – it turns out to be a guy's wedding proposal to his girlfriend. She said yes, if memory serves. Runner-up goes to the showing of "Mamma Mia!," which was a special version that had subtitles so that the entire theater could sing along. A perfect example of the sense of movies as a shared experience that LSC allows for and encourages – as far as I'm concerned, that's the best way to watch a movie, with other people."
Check their website for new and updated listings.
Want to suggest a movie venue I missed? Please do so! I am always looking for new places to watch a good movie with company.