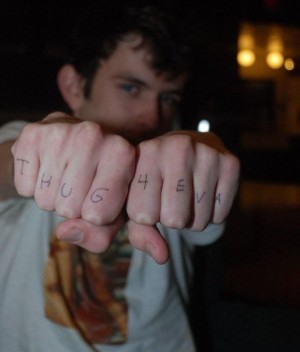 When Julian Glander (COM '12) submitted his short story The Woods, we were at first struck by its effective parody of talking animal stories. Then we were downright horrified by what happened to that simple little parody. By the end, we wanted to find the man who wrote it and congratulate him for taking something so innocent and making it so horrible. We did end up finding Glander, and were able to interview him about his art and his story. As it turns out, the Scranton, PA resident ("Its just like [The Office], but there's a big meth problem.") is not only a writer, but a designer, musician, and all-around creative. His interview is below, and his short story starts on page two.
The Quad: How did you get into writing?
Julian Glander: Everyone writes stories as a kid, you know? You have to write them for school. And I always thought that the most fun thing about school was writing those stories. When I came to BU, I found a few creative writing classes, and started taking those, and it was a great way to get back into writing.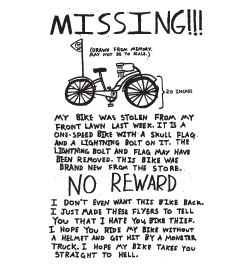 How about graphic design? I actually have a few friends who own your Threadless t-shirt.
That's my claim to fame right now, the 'Missing Bike' one. It was on the top of Digg.com, and it sold out on Threadless a bunch of times. It's actually based on a true story: I thought I had had my bike stolen, but what happened was it was towed by BU because I locked it to that fence that says, 'no bikes.' So I got it back, but by that time the shirt was a mega huge hit.
How did you get the idea for 'The Woods'?
I was just thinking about talking animals and being different…just the whole idea of that. I've always loved animals, and I always write about animals. So I started with that idea and thought, 'what's the most interesting thing that can happen next?'
Did you draw on anything for inspiration?
When you were a kid, did you used to read the "Goosebump" novels?
Of course.
Well, the only thing I would read for a while was the "Goosebump" novels, because I liked how they had a creepiness to them but also comedy. So I wanted to capture that on maybe a more sophisticated level in this story.
You say you like writing about animals and nature. Is there any kind of moral to that we should take from this story, that we should respect nature, or something like that?
No, no, none of that. The idea is it's a story with no moral, and if anything, it's that if you're in the wrong place at the wrong time, you're just going to get your shit wrecked by a bunch of crazy animals.
I just want people to come away from it and say, 'wow, that was a good read, I want to see what else this kid's written.' I'm not trying to change anyone's life or turn them into a vegetarian or anything. That's not my job.
Julian's story "The Woods" follows on page two. You can visit his website at JulianGlander.com.