You may ask yourself, "What on Earth is in Seaport, other than the tail end of the Financial District?" Our answer: plenty. Seaport is less beholden to historical monuments than other parts of Boston. You'll find good food, museums and, of course, the sea. Sometimes, it's easy to forget that Boston is on the water, but here's a place you can remember that.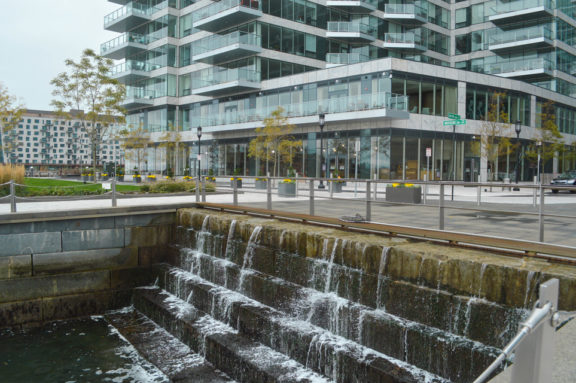 On the Harborwalk. Photo by Carolyn Komatsoulis.
Harborwalk and Fan Pier Park
Our first stop was the Harbor Walk, which is a trail that leads around the Boston Harbor and over to Fan Pier Park, a lovely spot that is very serious about its no pets rule. In the cold of October, it was great weather to walk by the ocean (but not be in it).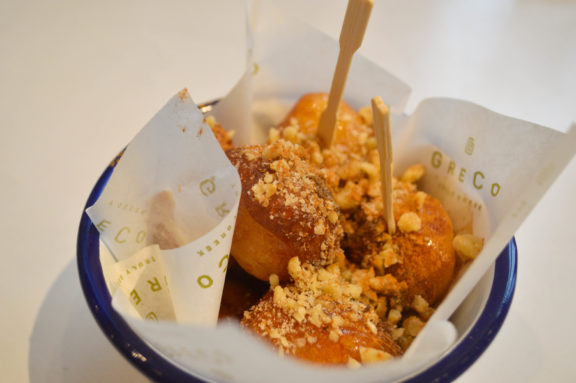 Dessert at GreCo. Photo by Carolyn Komatsoulis.
GreCo
Next, we ended up at GreCo, a Greek restaurant. Getting dessert at noon was fabulous, and the succulents on the tables made the atmosphere charming. Seaport mainly has chain restaurants, but this was a good choice regardless.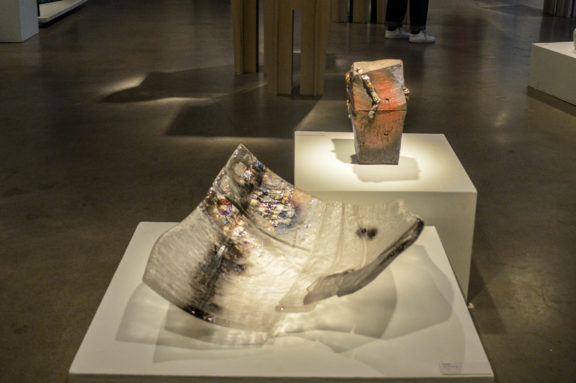 Artwork at the Society of Arts + Crafts. Photo by Carolyn Komatsoulis.
Society of Arts + Crafts
The Society of Arts + Crafts is a small series of exhibits, currently showcasing fine arts and crafts from the Japanese group Kogei-Kyoto. Featuring both traditional and contemporary work, this museum is definitely worth a look.
Massachusetts Fallen Heroes Memorial
Marked by a 50-foot tall obelisk and situated at the northern end of Seaport, the Massachusetts Fallen Heroes Memorial was dedicated in May 2016. It honors the men and women who lost their lives for the U.S. since September 11, 2001. Starting in 2010, veterans, Gold Star families, firefighters, police officers and citizens campaigned for the memorial.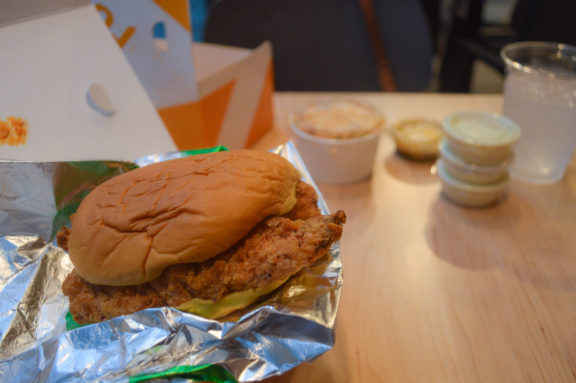 Fried chicken sandwich at Fuku. Photo by Carolyn Komatsoulis.
Fuku
Fuku is a fried chicken restaurant, where you can order a sandwich or chicken pieces with sides. Drawing from both American and Asian influences, Fuku is a great place to get hot food on a cold day.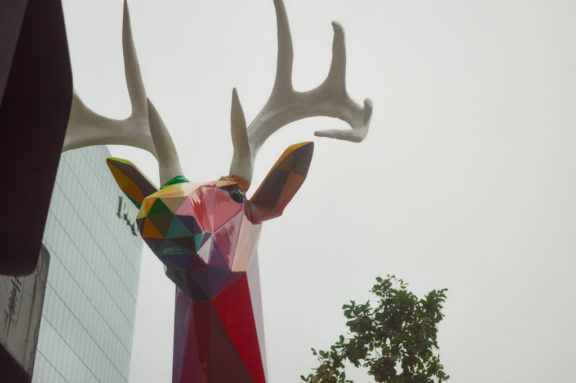 Multicolored deer sculpture near the Society of Arts + Crafts. Photo by Carolyn Komatsoulis.
Of course, there are other attractions in Seaport, such as the Institute of Contemporary Art or the Showplace ICON movie theater. Particularly—before it gets too cold—Seaport is an unlikely area of Boston to explore.