Kate Weiser is a junior studying public relations and journalism in COM. She is from Mamaroneck, New York.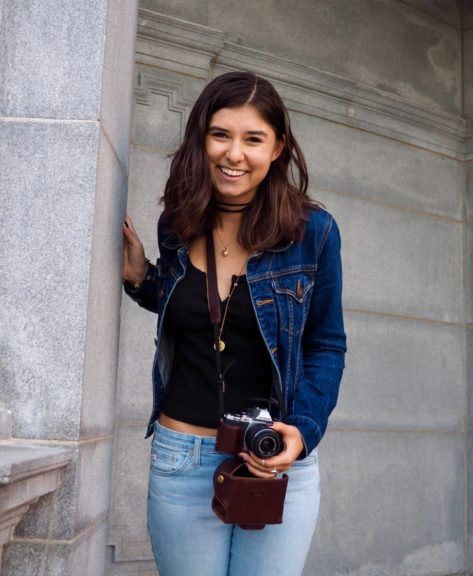 Kate Weiser is known for her bucketlistboston Instagram account and for her love of the city, but originally, she is from a less urban hometown, Mamaroneck, where she has lived her whole life.
"I like it 'cause it's very green and spacious. I could grow up learning how to ride a bicycle and how to drive," she said. "My mom actually grew up a quarter of a mile from where I grew up. So my grandparents are there, my dad lived in the town over, so everyone's close by. My whole family is there. It's beautiful."
Somehow though, she ended up in a city.
"I grew up 35 minutes outside of Manhattan. My dad works there, I grew up going there on the weekends and for family days," she said. "I love cities. I love having lots of people and places to explore and all that so I knew I wanted to go to a school in the city and I wanted it to be in a big school, so that right there narrowed it down.
"New York was too close to home," she said. "Boston was the next closest place"
During her second semester in Boston, she created an Instagram account, bucketlistboston, for all her photos of the city. Each post is a number on her bucket list of things people should do in Boston.
"I originally was just exploring for myself and then January of freshman year, so after a whole semester of just exploring for myself, I decided to create an Instagram for all of my Boston pictures because at that point I had gathered a bunch," she said.
Prior to coming to Boston, Weiser did not spend much time on her own, but college changed that for her.

"I hated being alone. I'm an extrovert. If I were home in high school and my dad was going to get a haircut and he was the last person in the house I would go with him to his haircut because I didn't want to be alone."
"October of freshman year, I was sitting in a room on a Saturday, and I hadn't really made good friends yet and I didn't have plans and I didn't really know who to ask and I was like 'you know what I'm going to be brave and I'm going to do it by myself.' And that was the first on my own outing that I ever did and I loved it, to my own surprise.
"I ended up wandering around and I ended up at Copley and there was a book fair going on. I was just so proud of myself and that was the start of my independent exploring and now I actually really love being alone. I still love people, of course, but I have a new appreciation for alone time.
"Bucketlistboston encourages me to get out of the BU bubble as often as I can," Weiser said.
Since coming to Boston, Weiser has fallen in love with the city. As a BU tour guide, Weiser said she has described Boston as a "cleaner, quainter, cuter version of New York." However, she now thinks it's not even a version of New York.
"It's its own great place. It's more green, it feels like there are more neighborhoods."
"Even being on Bay State, I've lived there my whole BU career, I feel like I'm in a neighborhood and then the second I walk a block over I'm on Comm. Ave and that feels like a bustling city," she said. "That combination is really special and I feel like it's hard to get in a lot of cities.
"[BU] is a great place, it's really dynamic. It has a really diverse group of students from all over the world and also with different perspectives and beliefs and religions and I think to have a school where so many different types of people come together and are excited to learn, I think that's a big part," she said. "I think seeing people you know on Comm Ave is great and making smaller communities by joining clubs and other organizations is the way to go. And also making it bigger and just getting out there and learning more about the place that you're living."
As for where bucketlistboston is going, Weiser has big plans for next semester.
"I'm going abroad to Sydney in the Spring and I already created the account bucketlistsydney, stay tuned. I would love to kind of create a blog series that include bucketlist blank city account in multiple cities. That would be really cool. For now, just looking to grow bucketlistboston and in the spring, work on bucketlistsydney."
Finally, for advice to incoming students stuck on campus, she encourages them to explore.
"Don't be stuck in the BU bubble, that's lame, get on the T, buy a Charlie card, walk around. It's easy to just walk off campus," she said. "It's a shame if you don't take advantage of this awesome city while you're here."
A sample of Kate's favorites:
Favorite scenic view: Brookline in Autumn when all the leaves are on the ground
Best Mexican food: Lolita's on Dartmouth street
Best indian food: Quality India on Comm. Ave
Best Ice Cream: FoMu