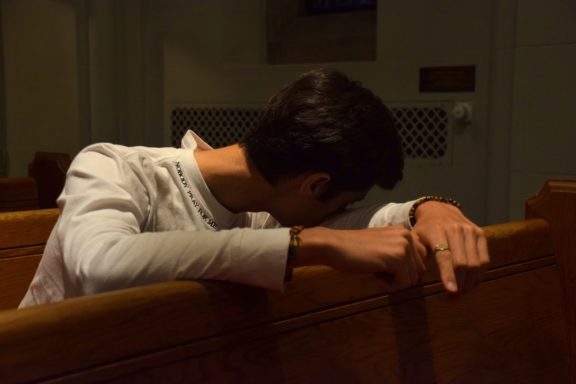 I met BlankOddest (CAS '19), a rapper from Los Angeles and a junior at BU, on a chilly Wednesday night to get dinner at the GSU and talk about his experiences with rap, his present artistry, and his exciting future. Thanks to Cheeseology running out of tortillas for quesadillas (sigh), we started a little late, but he was happy to jump right in.
Since Blank's extraordinary performance at FYSOP 2017, his name and music have increasingly earned him recognition across campus. This past July, he released his debut mixtape Breath Love and Death., his first project as a solo artist and a thoughtful, emotional take on the psychological challenges of mortality, the trials and tribulations of personal relationships, and more.
When Blank and I first met our freshman year, he was an economics and English double major, but that has since changed. "English was to practice the craft, to sharpen my tools. That's my weapon, that's my language," he explained. "But now, English is my minor, because I don't wanna be putting my nose down in books written by 18th century British guys. F*** that noise," he joked.
Why is Blank not in Questrom if his goal is to learn how to manage money?
"I'm not trying to be a businessman like that," he said. "Econ is the study of life, the flow of money. I can play God, man. I mean…if there's a flood in Florida, then I know that orange juice prices are about to jump up. So I should buy two cartons now. So that's cool. You can see what's going on in the world, and that's sick."
Blank added that lots of people ask him why he's not at the Berklee College of Music if he's a rapper. "Because f*** Berklee! That's why!" he said with a laugh.
From Blank's experience, Berklee has a classicalist view on music that limits the type of musical craft he practices. "You're not gonna teach me anything on rap, or how to rap, or what rap is. So I'm not gonna go there and pay an obscene amount of money to get a piece of paper that tells me I know how to use some instrument," he explained.
"I came to college to grow, to better myself," Blank said on his move from LA to Boston. However, his move didn't have anything to do with music. "If anything, it's against music," he mused. "LA is my town, you know? It's my city. But I was looking at Chicago, New York City, and Boston, because I wanted to go to a major city. I wanted to see something different for a few years, see what the other coast is like. I wanted to see if I wanted to move my a** out here."
After two years, does Blank want to move his a** to Boston permanently? His answer is no. "F*** Boston! Okay, I love Boston," he quickly clarified after sensing my confusion (and amusement). "But the winter's got me all shook. So I'm gonna stay in LA."
Blank's relationship with wordplay goes way back to his childhood in LA. He has been writing poetry since second grade, with Shel Silverstein's poetry collection Where the Sidewalk Ends (1974) serving as his earliest inspiration. When he was a sophomore in high school, he saw Notorious, the 2009 Notorious B.I.G. biopic, and that experience sparked it all.
"At the end of the movie, it said, 'Christopher Latore Wallace Jr. was born on May 21st, 1972.' And I was like, 'Shit, I was born on the 21st [of May].' So that was crazy to me. I Googled that man, and [the song] Juicy came up. So I clicked on it, and the song played, and I fell in love," Blank recounted. "Music was everything to me. I loved music. I just didn't know I wanted to make it, you know what I mean?"
In the summer between his sophomore and junior year of high school, Blank started to rap all the time. He would be at parties, and he would go sit on the stairs and put headphones in and start writing. "It was that summer that I realized 'S***…this is it.' And it just kinda hit me. I was so lost in doing it all the time that I never analyzed it."
However, practicing your craft is harder than it seems. Blank explained that the experience is frequently an emotional rollercoaster, especially when self-doubt works its way into the mix.
"One day, you'll feel like you're on top of the world. Like 'Yo, I just killed this.' And the next day you're doubting yourself and everything you are, if you're ever gonna make it and if anything's going to come of it. It's a constant cycle of uncertainty," Blank said.
Blank also revealed the importance of inner reflection in his creative process for inspiration. "It comes from life. It's things that I've seen, felt, experienced…things that get me thinking about something. And I want to write lines that rhyme and hold truth, that reveal something crazy."
However, the idea of inspiration itself holds a different definition for him.
"I put it as a twofold thing. Because someone who inspires you can be someone who you take inspiration from. You attach your style to theirs, or theirs to yours, right?" he affirmed. "But there's also inspiration that just makes you want to rap, right? So for example, Method Man from Wu-Tang [Clan], or Old Dirty Bastard from Wu-Tang [Clan]—they both inspire the hell out of me, but I'm never gonna rap like them. Because that's just them, you know?"
There are rappers who inspire Blank in both ways. "[The Notorious B.I.G.] was my first. [Tupac Shakur.] Nas. Chance the Rapper. And Joey Bada$$. These people are paramount to me," Blank explained. "As for modern rappers…I study Kendrick [Lamar]. I'm not necessarily inspired by or influenced by him, but I definitely study him. Because he's so goddamn good."
Although the creative process comes naturally for Blank, real-world difficulties occasionally get in the way of his attempts to bring his songs to life. He recently went to Berklee to record his newest song, "Hard2Tell," and that situation illustrated a lot about his experiences as a rapper. "Yeah, I hate Berklee, but I'll exploit its resources. You gotta do what you gotta do."

For our over-dinner chat, Blank ordered orange chicken from Panda Express. The accompanying fortune cookie said "if your work is not done, then blame it on the computer." Funnily enough, that fortune turned out to be relevant to his experience at Berklee with "Hard2Tell."
"That right there I think is one of the truest themes to my work ever. Period," he stated. "Recording takes me an hour max. Usually I take six to ten takes, and with one of those takes, it's like, 'there it is.' But I spent a disproportionate amount of time on the mixing process, which is just the physical computer side of it. We booked a two-hour session from six to eight p.m. But we had to extend it to 10 p.m. because that wasn't enough time. Because from six to 9:15 p.m., we were fixing technical problems."
"So I'm on the sixth take, and I really f***ed with the fifth one. I was feeling it. I definitely had parts where I was like 'yo, that was bomb. Let's get it this time.' Halfway through, the beat cuts out," Blank said. "The program dropped out, the session crashed, and when we opened it back up, it was all gone. I had to bring myself out of the digression of the technical issue to put myself back into the right emotional spot to rap. And the s*** just wasn't the same.
"But there's a silver lining in that I managed to go into the files and find almost everything that I recorded. So it wasn't all for naught."
Considering how much time Blank spends perfecting his music, such as with "Hard2Tell," does he make his music for himself or for others? He thoughtfully explained that his music is for other people to enjoy, not for himself to listen to.
"The things that I see and feel—I can't help that. And I want to express it," he said. "I express it through my music. But my music isn't for me. I don't listen to my songs. I listen to them when I'm mixing them and making them, to try to get them as perfect as I can. But I don't listen to them after that."
He knows artists who listen to their own music, and he believes that artists who do so make music for themselves. He wants to serve as a contrast from those artists; he wants his music to help others experience their humanity in their own fulfilling ways.
"I make it for hopefully every single goddamn person on this planet," Blank stated confidently. "I want my music to pick someone up. To inspire someone. To get someone through something. I want it to even save someone. I want you to hear it, and I want you to feel human. I want you to feel love, pain, anger, happiness, ready to get it on, or whatever it is. That's what I want to do. That's the whole point."
Blank's mission for his music showed through in his FYSOP performance, which was his third performance in his career as well as his largest crowd yet. His friend Andrew was involved with FYSOP, and they were looking for people to perform for the FYSOP meeting. He asked Blank to send him any songs he was working on. He sent him two songs, and everyone at FYSOP liked them. So they decided to have him perform. "It was anywhere from 750 to 900 people. It was a lot of people," Blank said.
With the exception of "Inhale," Blank performed selections from each song on Breath Love and Death. at FYSOP as well as two verses from the song he recently recorded at Berklee, "Hard2Tell." The reaction he got for his final song, "Last Wordz," completely blew him away.
"I got people up out of their seats, all of them. I got them waving and dancing," he recounted excitedly. "In 'Last Wordz,' the hook is chanting 'Blank! Blank! Blank!' So the room chanted 'Blank! Blank! Blank!' with me. I had two friends come out and chant 'Blank' with me. We were all jumping and getting hype, and everyone in the room was chanting 'Blank!' It was f***ing insane, dude!" he exclaimed.
Blank elaborated on the artistry that fueled the experience, revealing just how much thought he puts into his music to change his audience's experience.
"It was why I made the hook. I made it sound like that to set up a huge room of people chanting my name," he explained. "That song is supposed to be performed live. It's meant to create an 'alright, let's go' feeling. And to have so many people who don't know my music and have never met me before chant my name—WHOO! I was on one," he said with a huge smile. "One day, I'm gonna be able to cut the music out one day and just have everyone chant 'Blank! Blank! Blank!' acapella, you know? And I'll be able to hear it. That's gonna be something else, dude."
As for future projects, Blank currently has stuff in the works. "I know that the single I'm working on right now is going to be a single I'm dropping soon," he said. "Whether that's going to appear on a tape later or not, I'm not sure. But I'm very much ready to move onto my next project."
You can find BlankOddest and his music on his Facebook, Twitter, and Instagram profiles. Additionally, you can find Breath Love and Death. on Spotify, Soundcloud, and Tidal.