Recently, my friend Kimberly and I went on a trip to the North End to find out which cannoli reigns supreme. Six cannoli later and three shops later, we were feeling the effects, but we came out with a winner. To determine that winner, we sampled a plain one to see if each store could do a simple cannoli and one with chocolate to see if each store could do the classic cannoli. This is our story. *Law and Order noise*
3. Mike's Pastry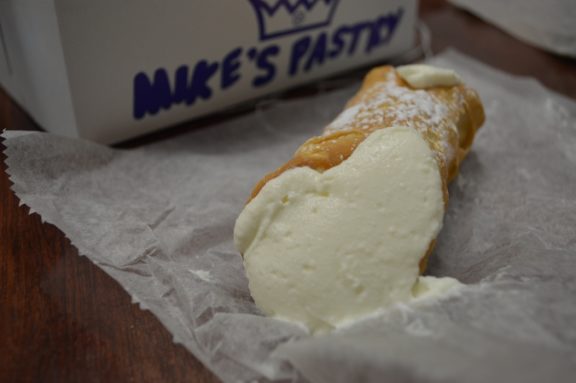 Plain with Chocolate chips:
Kimberly: "This is like dark chocolate though, so I kind of like that. It still has the elements of a cannoli, but it just tastes like chocolate chips. 6.5/10."
Me: "This is so big. The shell is soft. I appreciate what they're doing with the chocolate chips, but I can't taste anything but chocolate, which isn't necessarily a bad thing, but I was going for cannoli. 7/10".
Plain:
Kimberly: "This one kind of died. It's not quite my cannoli-taste worthy. 5.5/10."
Me: "I would give this a 7/10. There are holes in here."
2. Maria's Pastry Shop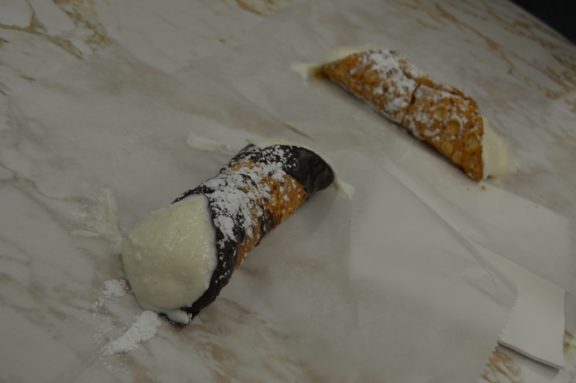 Chocolate Dipped:
Kimberly: "I like the chocolate, I do, but the way my family rates cannoli is by always trying the plain one. 8.5/10"
Me: "I couldn't really taste the chocolate, I just tasted a cannoli, but sweeter. 8/10"
Plain:
Kimberly: "This is some good stuff. It's very creamy but then there's a nice crunch. 9/10"
Me: "It's good, it's surprisingly nutty. It's sort of savory and sort of sweet. 8.5/10"
1. Modern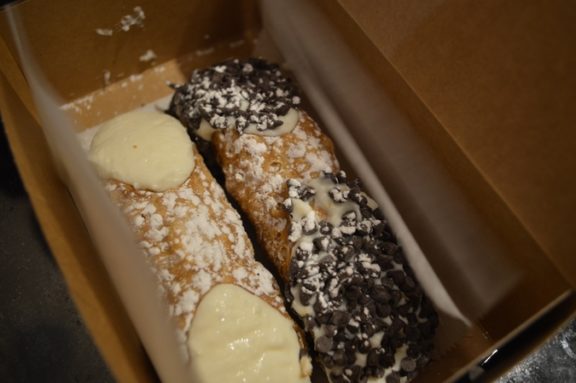 Plain with Chocolate Chips:
Kimberly: "So many chocolate chips. This cream is more cheesy, it's more like ricotta. The chocolate chips add the sweetness. 8.5/10"
Me: "I definitely like these better than Maria's. I love the texture of the chocolate chips. It's better than the chocolate-dipped shell. 9.5/10."
Plain:
Kimberly: "I like the plain better. This place is a hit or a miss but right now these ones are really good. 9/10."
Me: "That's really good. It's more cheesy. 8.5/10"
So in the end, Mike's was not that good. The shell was soft but it still cracked really easily, and the other two tasted a lot better. Although Maria's and Modern were both good, Modern had better cream and an amazing texture. Overall, though, it is a bad idea to eat that many cannoli in the span of one hour. Happy cannoli eating!
photos by Carolyn Komatsoulis