Disclaimer: I can't handle caffeine so I only tried these flavors in frappuccino form. That being said, here are my rankings and thoughts on what Starbucks has to offer this holiday season.
5. The Eggnog Frappuccino
Coming in dead last, this super sweet holiday drink has no taste besides "sugar." It tastes like nothing, like the nothingness you feel at this point in the semester. The only difference is that there's still some sugar left in the drink.
4. The Gingerbread Frappuccino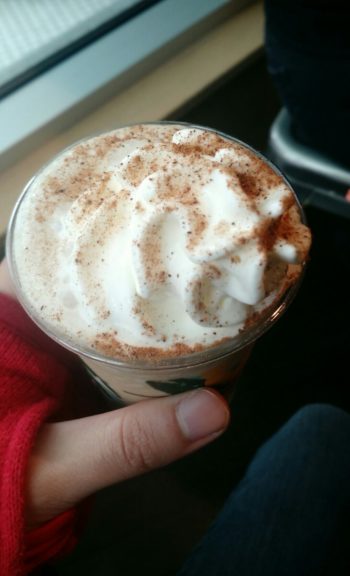 In 4th place, we have the gingerbread frappuccino. An improvement over the eggnog frappuccino, this drink is not too sweet. Honestly, it tastes pretty okay. The only real issue is that there is definitely not enough of a kick. If you are looking for a faithful reproduction of the spice of gingerbread, you will not find it here.
3. Peppermint Mocha 
Disclaimer: I don't like peppermint. I personally hated this drink. You can't taste the mocha and the combination is dreadful. However, other people have informed me that it is wonderful, which is why it is number 3 on this list.
2. Chestnut Praline
This drink tastes like slightly nutty coffee, which means it tasted pretty good. It was definitely better than the gingerbread, and the flavor was nice without being too aggressive like the peppermint mocha.
1. Caramel Brûlée 
This drink tastes like the BU shuttle arriving on time and like all your finals have been canceled – heaven on earth. It was warm and cozy, even though I drank it in frappuccino form. It is amazing and if I still had dining points, I would constantly be ordering this at the GSU. Ignore all the other drinks; just buy this one.
In conclusion, Starbucks needs to do better next year. Happy coffee drinking!!
Featured photo from pexels.com.