It's a debate that comes around every year. The moment that the clock strikes midnight and it becomes November 1st, families are divided, friends become enemies, love ones are tested by the decision of when to start celebrating the holiday season.
Typically, people fall into two categories: those who blast "All I Want for Christmas is You" at 12 am November 1st, and those who wait until Thanksgiving to begin their festivities. Of course you have the outliers, those who would rather scrap the whole holiday shebang all together, but we're not here to talk about them. The question is, when is the right time to start celebrating the holidays and why? And how do non-Christians feel about the presence of Christmas?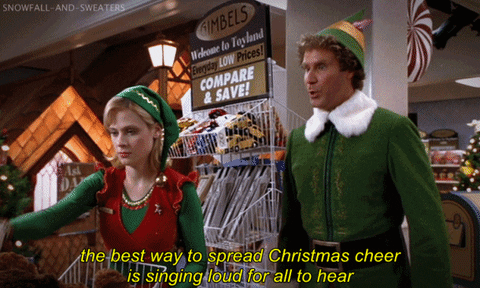 giphy.com
How Early Is Too Early?
Now where a lot of people can agree is that anything before November 1st is typically not acceptable for listening to Christmas music. Sure, the idea of Christmas in July is fun, but no one really wants to hear "Jingle Bell Rock" while driving down the highway and debating between having your windows open or using up your gas by having the air conditioning on.
thefeedbacksociety.com
However, those on the earlier side of the Christmas party hit that play button the first chance they get. Once the Halloween hurrahs are out of the way, these folks are ready to don their Santa hats and run down Comm. Ave., throwing candy canes at innocent pedestrians.
Of course the question for those who wait to celebrate the holiday season want to know why. What prompts these individuals to get festive ASAP?
For some individuals, it has to do with how the holidays make them feel. "Christmas is my favorite time of year, so I like to prolong the experience as much as possible," says Meagan Schwarz (CAS '19).
It's true; for a lot of people, Christmas brings around a sense of happiness. Think of movies like Miracle on 34th Street,  The Polar Express, and A Christmas Story. Even walking into stores and seeing Christmas decorations up puts huge smiles on faces of consumers.
https://twitter.com/tweetlikeagiri/status/659191808740691970
For others, it has to do with their own family traditions. "Thanksgiving was never a huge deal in my family – my parents are immigrants from another country, so the next major holiday for us after Halloween was always Christmas," says Virginia Roa (COM '19).
And how do these individuals feel about those scrooges who look at them funny for listening to Mariah Carey's "All I Want For Christmas Is You" the night after Halloween?
"I think it's all about personal preference and when you start to feel the holiday spirit, but I definitely think they're missing out on some prime Christmas spirit time," Roa says.
broadwaybox.com
What about those who are (fashionably) late to the party?
The other half of Christmas music listeners are those who start "Rockin' Around the Christmas Tree" following their turkey comas. But if they also enjoy the sound of holiday music, why wait? Why delay the fun and happiness that comes with celebrating Christmas?
Some people feel that Thanksgiving matters too much to just be skipped over. "I'm one of those people that won't listen to it until after Thanksgiving, as Thanksgiving is often forgotten way too easily," says Breanne Kovatch (COM '20).
"It takes away from the importance of Thanksgiving which is another major holiday," says Alex Boelhouwer (CAS '19).
And it makes sense, with crucial things like Thanksgiving holiday specials (thanks Charlie Brown) and the classic American staple of the Macy's Thanksgiving Day Parade, how else would we mark the start of the holiday season? Going straight to listening to festive tunes leaves out an instrumental part of getting into the holiday spirit.
dailydot.com
Listening to Christmas music has a time and place. "I like Christmas music to be confined to a certain time frame or there's no point for me," says Akosua Nyamkye (CAS '20.)
People generally agree that Christmas music has a certain feel and appeal to it, but just like anything, too much of something can ruin the effect. Rather than uplift a person and put them in a cheerful holiday mood, listening to songs too early and for too long could result in being annoyed at hearing the opening chords of Christmas classics.
giphy.com
And non-Christians?
There is no doubt that Christmas dominates the American holiday season, but with so many cultures and different religious beliefs in the United States, it's possible for us to forget that there are many out there who don't celebrate the religious aspect of Christmas. 
According to a 2013 Pew Center Research, about 81% of non-Christians celebrate Christmas in the United States. Most non-Christians celebrate the holiday because of American culture.
"My family picks and chooses the essential elements of celebrating Christmas, but we don't attach any religious significance to these traditions," says Asli Aybar (COM '19).
Many people have Christmas trees in their homes and throw up non-denominational winter decoration. It's a big part of American culture for many, so they choose to celebrate without having the religious aspect in it.
So the question remains: When is the right time to listen to Christmas music? At the end of the day, it's really up to you. Whether you want to get started as soon as possible or would rather wait until the turkey is served, someone will always have a reason as to why you're right or a reason as to why you're wrong. But hey, if the mood is right, go ahead, blast the radio, and sing along to your favorite Christmas songs.