This post was co-reported by Meg Prakash and Ronnie Feng.
The first presidential debate this year was a tour de force of interruptions, knowing smiles, and a lot of pointing and emphasizing. Republican candidate Donald Trump came down hard on Democratic candidate Hillary Clinton on subjects ranging from international affairs to her changing views on the Trans Pacific Partnership. Clinton, for her part, managed to barely skim the surface of her vast, encyclopedic knowledge of policy and global affairs, garnered during her time as Secretary of State, while also landing a few solid "zingers" of her own against Trump ("Well, Donald, I know you live in your own reality").
And while both had their shining debate moments, neither candidate had a solid response to moderator Lester Holt's questions about systemic racism and race relations in the country, highlighting one of many major issues that will hopefully be tackled at the next debate on October 9th.
Everyone dances around systemic racism issue #debatenight

— Carly Sitrin (@CarlySitrin) September 27, 2016
Throughout it all, BU students gathered across campus to tweet, text, and make their opinions (and exasperated sighs) heard during the debates.
Room erupts in laughter at Trump's climate change comments "cite your sources" one girl yells #debatenight

— The Quad (@buquad) September 27, 2016

https://twitter.com/Jake_Reiser/status/780591345387900928
I think Donald should get slimed a la nickelodeon every time he interrupts someone #Debates2016

— Ava Marinelli (@admarinelli) September 27, 2016
Donald, how can you criticize NATO countries for "not paying their fair share" when you don't even pay your fair share of taxes in the USA?

— Justin Flynn (@justincflynn) September 27, 2016
Seemingly disparate groups like the bipartisan Common Sense Action chapter and Fox News network joined forces in the Stone Science Center in CAS to host a viewing party, while over at the GSU conference auditorium, the Howard Thurman Center partnered with UMOJA and Omega Psi Phi.
Still, others hosted their own screenings in dorm rooms, basements, and anywhere else they could get a strong BU 802.1x wifi signal.
Though all eyes were on the same event last night, not everyone left with the same takeaways.
Nicholas J. Fuentes (CAS '18) said he's been following the election on his blog since the early days. He's a Trump supporter who attended the Fox News debate screening to see how his candidate would fare.
"I came here to socialize because this is a movement election," Fuentes said. "Donald Trump's candidacy is a movement. I came here to represent and be a part of it in real time, in real life among the liberals. I think it's my patriotic obligation to America."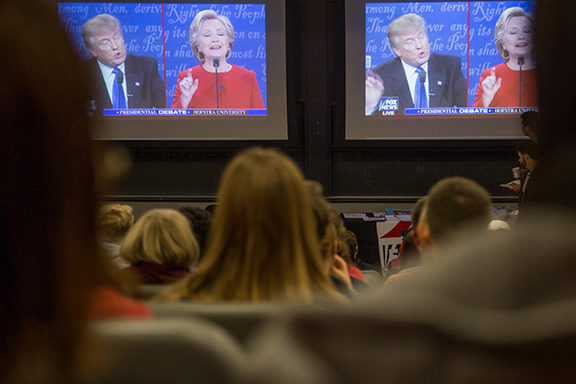 Aaron Whitaker (CAS '17), another student at the Fox News screening, said he hadn't been closely following the election but hoped the debate would be an enjoyable way to bring him up to speed.
"Now that it's down to the wire, I'm actually paying a lot more attention to it," Whitaker said. "There's definitely some surprising elements to it. Donald Trump was specifically pinpointing Hillary's weaknesses and caught her off-guard many times during the debate. There were some good burns."
Matthew Buckley (COM '17) thought Clinton performed "marginally better," though he remains a fervent Trump supporter.
"Though I personally believe [Trump's] foreign policies and economic plans are better, Clinton was in better shape than him today," he said.
Sarah Messina (CAS '18), a Clinton supporter, said she was drawn to the viewing party through the promise of free food and a chance to see the debate in full, and believed that Clinton "kicked ass" in the debate.
"I support Clinton because she belongs to a middle-class background and makes promises to uplift the middle-class segment of the economy," Messina said. "Even Obama came from a middle-class background, but yet, college education did not get cheaper. I hope she lives up to all the promises that she is now making. Trump belongs to the elite 1 percent business minded class, and the maximum he will do is expand his 1 percent to include a few other 'rich' people…I don't see how this will benefit the rest of us in any way."
Some students opted to sit out the fanfare of a group setting and watched the debates from home.
Angelie Gomez (CAS '17) was one of those students. She said she was disappointed that the candidates didn't come out with any new or unexpected tactics.
"I just saw a poll this morning that said [for some people] this debate could definitely convince them to vote one way or the other," Gomez said. "So I'm really interested to see the upcoming likely voter polls and how much or if they even change at all."
Grace Alessi (CAS '17) agreed, saying she would have liked to hear more discussion of policy.
"I don't feel like I learned anything about the candidate's stances really," she said. "I thought it was kind of childish, [there were] a lot of attacks and bickering back and forth instead of talking about the issues."
Read a full transcript of the debate here. 
Featured graphic by Alexandra Wimley. Photos courtesy of Wikimedia Commons.