Last Friday, Chickie Pagano, a student at Berklee College of Music, performed at her recital, showcasing covers of some of pop music's biggest hits.
She performed in Berk Recital Hall along with her band – Mona on the keyboard, Nicole on the synth, Alfredo Morasco and Audrey playing the guitar and bass, respectively, and Jazz on the drums.
The band formed when Jasmine Kayser, Aubrey Harris, and Pagano became close friends at Berklee's five week summer program. They planned to form a band if they all got accepted to Berklee. They all love to perform, and "have certainly grown closer from rehearsing and playing together."
They started the show with a cover of "Domino" by Jessie J. This was an energetic performance and Pagano encouraged the audience to sing along. This audience participation was a fixture throughout the rest of the evening.
Pagano became interested in singing through "a process of elimination." She really wanted to find something that she could do successfully. She knew that her interests were not in sports or anything else, in general. She heard a recent graduate of Berklee sing when she was 12 years old and was inspired. At the time, she was playing the trombone and begged her parents until she finally received private lessons. Even then, the teacher was hesitant to accept her as a student. Eventually, he did, but still had his doubts because there were certain things that he didn't like about her voice. This motivated Pagano and she still practices repeatedly at school.
Pagano's voice was powerful and almost every one of her performances included several runs – starting at a very high note and dropping quickly through the scale down to a very low note in the space of a second or two – especially during the slower numbers such as "Addicted to You" by Avicii. She  showcased the control she had over her voice in the performance of "Comeback" by Ella Eyre by going long periods of time without running out of breath or energy. She presented a tender ballad of "Her" by Christina Aguilera with Mona, the keyboard player, as the rest of the band stood in the shadows of the alternating blue and pink lights.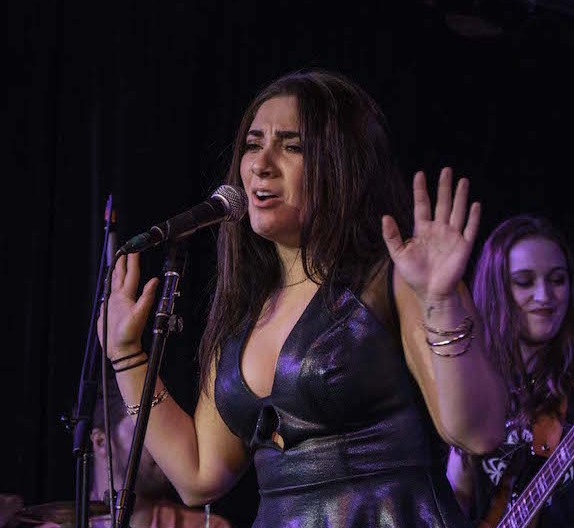 Pagano proved that she was a versatile artist; not only could she sing pop songs but also rap as well, as she demonstrated with, "Hey Mama" by David Guetta featuring Nicki Minaj. She rapped Minaj's part fluidly while going back and forth with the bass guitarist, Audrey, who was strumming deep, loud chords.
After taking a water break, Pagano and the band continued with a cover of DJ Snake's and Major Lazer's "Lean On." The stage lights turned back to purple and there were two solos. One was from the electric guitar and the other from an electric piano. Again, Pagano showed off her ability to sustain her strong vocal performance throughout the entirety of the show.
The conclusion of the show included another Jessie J cover. It was a mashup of the songs, "Ain't Been Done" and "Burnin' Up." They both were powerful performances to close the show with the electric guitar riffs echoing in the hall.
Members of the audience applauded, danced and sang along to many of the numbers. Brittany Chang, a freshman at Boston University and a photographer for the Quad, said she thought the band was great. "It was cool hearing my summer anthems remixed up a bit."
The music culture at Berklee is incredibly diverse offering a plethora of music styles, such as pop, jazz and rock. Also, due to students coming from all around the world, they are able to explore music belonging to different cultures.
In contrast, BU is known as a research institution and the school of music takes a historically informed/research approach to their work. Students study the processes that change over time while maintaining the musicianship of a conservatory. The university is trying to redefine itself and is always leaves room for improvement.
According to Sean Joseph Watland, a master's student studying choral conducting at the College of Fine Arts, the music culture at Boston University looks to develop the "whole musician" compared to Berklee's mission to "educate, train, and develop students to excel in music as a career."
Boston University has many choral and instrumental ensembles. The choral ensembles are split based on major. Undergraduate voice majors are part of BU Singers. The Symphonic Chorus, the non-auditioned choral ensemble that has voice majors from the School of Music, community and staff members. The smaller BU Choral Society is a non-auditioned group open to the BU public.
The instrumental ensembles include the University Symphony Orchestra, made up of 60 to 70 players based on the repertoire, and the Chamber Orchestra made up of 20 to 30 players. There is a regular concert band. There are student-run a capella groups.
BU students mesh with other music lovers at places such as Berklee and Harvard, where they attend concerts. Watland says, "It is good to take advantage of it all."
Pagano is taking advantage of her opportunities and is currently recording an EP of songs that she wrote, as well as gathering new material for her social media platforms to build a fan base. She wants to perform gigs in New York City and start a "mini tour" along the east coast. Her goal is to tour worldwide and become a pop recording artist.
After Berklee, she plans to move to Los Angeles, as does most of the band. However, before doing that she wants to focus on improving her abilities as a performer, as well as producing enough material. She wants to be prepared.  "I won't stop until I make it," she said.