Korean pop culture has become a fixture in the United States via social media and viral YouTube videos. Now, K-Pop is making its way through written word.
But behind the bright colors and glitter, the Korean entertainment business wants to protect the images of their music celebrities, or "idols," from being ruined by the media, creating a cultural challenge for Western news outlets that want to cover K-Pop culture while respecting a heavily nationalistic country.
"I was frustrated about the lack of solid information about things that were happening in the K-Pop industry," said Hannah Waitt, CEO/co-founder of moonROK, a K-Pop fan-based news website. "Not just album noises and new music videos, but like the historical and political context from which K-Pop arose and where it was going."
Originating in South Korea in the 1960s and making its way to the United States in the 1990s, K-Pop is a music genre that blends pop, electronic, rock and hip-hop. K-Pop music videos often depict singers in girl groups or boy bands wearing eye-catching, coordinated outfits and almost cartoon-like makeup. Many of its songs feature both Korean and English words.
"I think the main appeal is that they dance and they sing and they really focus on how they look," said Ndidi Noku (CAS '16), who became obsessed with K-Pop in her early teens. "Americans don't really focus on the full entertainment, and that's what K-Pop does."
The panel discussion "Music & Media: Korean Pop Industry," held at Boston University's College of Arts and Sciences in early February, featured prominent journalists working to bring Korean cultural media to English-speaking countries. The event was presented by Boston University's miXx, BU's first K-Pop cover dance group, founded in 2013. The discussion catered to a niche but passionate crowd.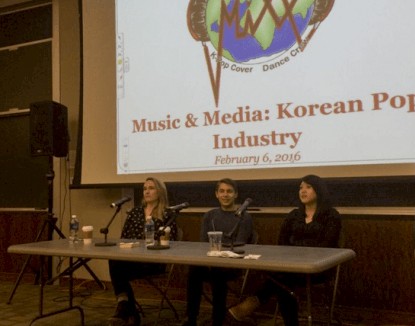 "It's really interesting to see how one subset of culture is spreading out across the world," said Sara Lim (CAS '17), who attended the event. "It's really cool to see something like that, especially since it's something Asian because usually you hear American pop culture reaching all across the world."
Jeff Benjamin, Billboard's first reporter on K-Pop, happened to have been in the middle of it. PSY's "Gangnam Style" was released right after he graduated from New York University in 2012. Benjamin was receiving random assignments from Entertainment Weekly, The New York Times, and Time magazine to report on K-Pop. "I started trying to take ownership of that space of trying to be that person who was knowledgeable of K-Pop [and] who could write about K-Pop," Benjamin said.
The interest in Korean pop culture goes beyond the music videos – fans feel a strong connection with the singers. "I'm really interested in talking about the deeper contexts where this fit in with Western culture and in just trying to go a little bit deeper," Benjamin said.
Aejoo Park, a Korean-American and former senior editor of Soompi, tries to find the balance between not selling out to K-Pop culture and attracting viewers. Soompi, created in 1998, is one of the oldest K-Pop online fan forums. "We want to be the middleman, the fans to industry," Park said. "I used to come and say 'oh I'm noona, like I'm an older sister to K-Pop fans' and that's kind of how Soompi sees themselves."
Those who cover Korean pop culture are writing for a niche audience: die-hard fans of Korean pop culture, which means offending their idols would not be taken easily. "They are so emotionally invested in their celebrity," Park said.
Park told the story of how she wrote an article comparing K-Pop star Kim Hyun-Joong of SS501 to Chris Brown after news revealed that Hyun-Joong had allegedly assaulted his former girlfriend. "The entire international fandom came down on me really hard, and I got like death threats on Twitter," Park said.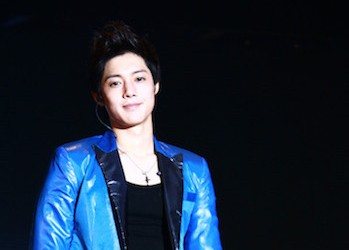 By controlling what is publicly said about the singers, Korean entertainment reinforces the look of "perfection." Fans are more likely going to distrust media that disrupts that image.
"We want to be honest, but we [also] want to represent the industry and the fans" Park said. There is a mutual dependency between the publication and the Korean entertainment industry, according to Park.
Like others, Hannah Waitt got hooked onto Korean pop-culture after watching a YouTube video while procrastinating in college one day. Eventually, the blond-haired, Texan female would write her senior thesis on Korean pop culture at University of Texas-Austin before co-founding moonROK.
Korean pop music, along with films and animation, have been engineered for exportation to foreign countries, according to Waitt. K-Pop idols are trained from a young age to become a "natural-born" talent.
"The moment they decided to start exporting Korean culture was when Jurassic Park came out in the United States." Waitt said. "[Jurassic Park] earned more in the box office than Korea did in exporting Hyundai cars for that year, and that's when the government was like, 'we need to get into this entertainment thing.'"
While Korean music groups are known in the United States, they have yet to "capture their 'white whale' yet," Park said, referring to K-Pop becoming mainstream in the United States. To better facilitate communication with American media, K-Pop groups are beginning to employ American PR agencies.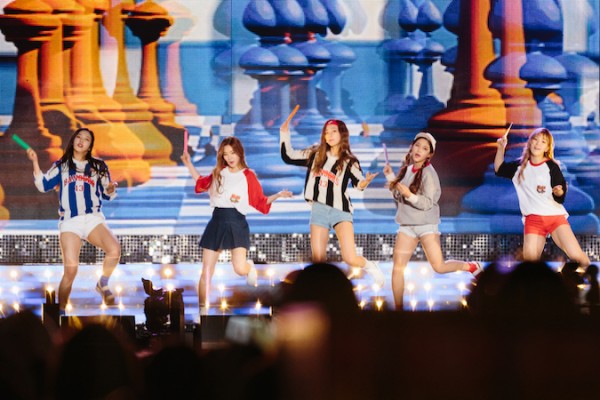 But the problem lies with Korean entertainment wanting to control what Western news outlets report. American journalists strive toward reporting the truth, but Korean media tend to be unreliable, all three speakers said.
Waitt said that Korean music groups expect to see the list of questions and will ask detailed questions about the publication the journalist is working for. 
However, it is not that the artists don't want to talk with the journalists. "Most of the time, they are totally cool to talk about it," Benjamin said. "It's more so the higher ups in this business mindset that are being too cautious about it."
To get around the managers of the K-Pop industry, Benjamin waits to send the questions. "I never want my content to be diluted in any way," Benjamin said. "I still ask questions they said no about."
Feature Photo "2NE1" courtesy of Republic of Korea via Flickr