His real name, age and origin are all a mystery, but Slow Magic's mission is very visible. The masked electronic music producer, who performed at the Royale in the Theatre District on Sunday night, explained the motivation behind his disguise in a phone interview during his tour through the U.S.
"I like the idea of separating the music and the art from a name, place, identity," he said, "people shift their attention just on the music.  I noticed [blogs] focus so much on the details that weren't even the music." 
While it's unknown how young he was at the time, the anonymous Slow Magic said he began producing four years ago after messing around on a Casio keyboard with friends. It was at that point that the "imaginary project" came into fruition; as part of his mission to separate the musician from his or her art, Slow Magic describes his music as, "by your imaginary friend." 
"I liked the idea that there's this music that feels like it's from somewhere else anyways, even though I'm making it," he said. "So I came up with the concept that there's an imaginary friend that's out there making music and we all can listen to it."
Slow Magic released his first album, Triangle, in 2012 and earned enough recognition to tour with the likes of Gold Panda and XXYYXX. 
He describes his production style as a mash between standard and challenging sounds.
"I like the combination of the two," he said, "experimental, forward progression and true pop, simple music at the same time."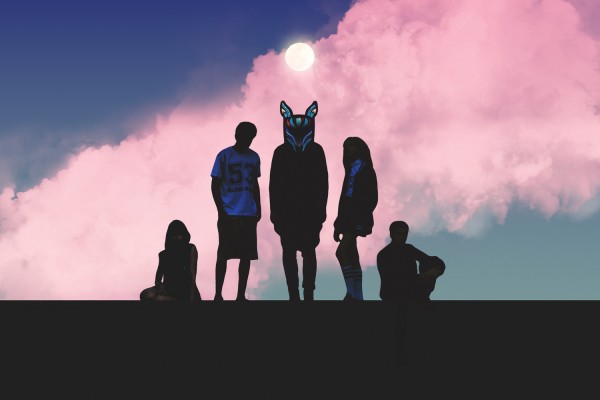 Two years following Triangle, and after signing with Downtown Records, Slow Magic came out with the liberating How to Run Away. The album illustrates his escapist cravings that push him to explore the world. 
"Travel is something that's been really inspiring to me, and I think that kind of helped write the second album," he said.
Slow Magic feels that music should be shared with everyone without being weighed down by an artist's identity, "Even to break down the walls of different music scenes, different regions, because it feels universal already with the internet. It was kind of like [let's] push it out into the internet and let it go."
His mask is a black book-shaped rectangle, illuminated by blue, orange, yellow, and green stripes that outline a wolf's face; two foxlike ears are clipped onto the top. No fan knows what Slow Magic looks like underneath.
"I came to a friend named Jonas," he said, describing the mask's birth. "He made the mask one night, it just fit really well and I thought it was a cool image. Later on we built a more in depth mask with lights and stuff but at first it was just cardboard and paint."
Though it has been a year since his last album, Slow Magic said his tour will feature new tracks, some of which can be heard on his SoundCloud.
Feature Photo: Pitch Perfect PR