By Michael Dratch and Allegra Peelor
Tensions ran high at the Student Government senate meeting on Monday night, one week after the impeachment, removal, and protest of removal of two executive board members: former Vice President of Finance Kimberly Barzola and former Vice President of Internal Affairs Marwa Sayed. 
At the meeting, the senate voted to table for two weeks a proposal, brought forth by a group of students led by Towers Senator Marian "Mim" Eiben, that would dissolve senate immediately and create a task force to write a new constitution. The task force would be open to all students, with the goal of creating a new constitution that reflects the needs of the entire student body. The current senate would be dissolved and E-board would be allotted an emergency discretionary fund while the new constitution was being crafted.
Eiben, along with members of Student Government and Students Against Silence, created the proposal "Calling for a Chance to Change" in an attempt to unite the student body to reform Student Government.
"People were considering bringing together a bunch of different proposals that didn't collaborate, and they're all essentially saying that same thing — that something is wrong, it needs to be fixed," Eiben said.
The group also believes that last week's events revealed the deep-seated problems within student government, especially the senate.
"The impeachment trial brought to light the inadequacy of our student government," Eiben said. "This is our opportunity to prove otherwise."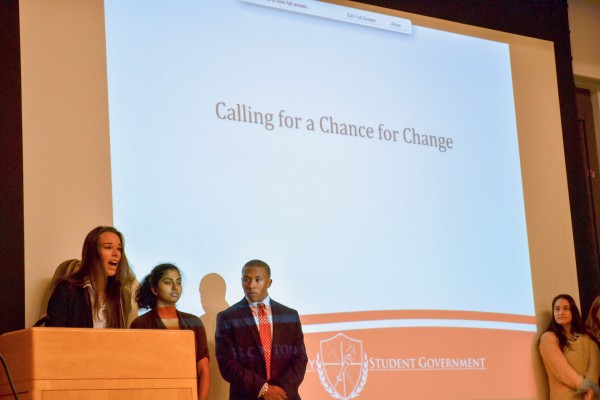 An amendment to the proposal, motioned by CAS senator Daniel Collins, suggested a compromise: the task force to create the new constitution would still go into effect, but senate would remain in session until a new Constitution was ratified. His amendment passed with 24-1, with 14 senators abstaining from the vote.
After voting in favor of Collins' compromise, South Campus Senator Daniel Schwartz motioned to table the proposal for two weeks. This motion passed 26-8, with 5 abstentions.
Schwartz said that the Senators did not have enough time to fully understand the proposal and get constituents' opinions about it.
"[The proposal] left a lot unclear, to the point where if we were to actually represent our constituents or even make an educated vote at all, we'd have to table the thing so that we could get a clear picture of what we're actually voting on," Schwartz said. "It helps no one if the senators, who are the ones voting, don't understand."
Samantha Day (CGS '19), a College of General Studies Senator, said she abstained from voting on the motion to table the proposal because the senators did not have "an adequate amount of time to figure out the stipulations of everything and get feedback from [their] constituents," as the senators had just received the proposal the night before the meeting.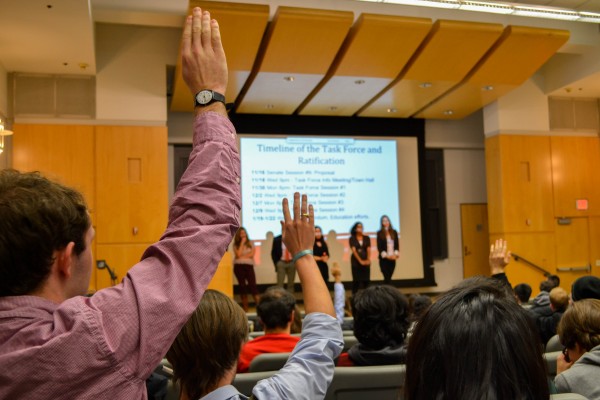 Myles Standish Senator Jonathan Franco (COM '18) also abstained from voting on the amendment Collins proposed, but voted yes on Schwartz's table proposal.
"Time is our friend in this whole fiasco," he said. "Everyone in the room that came tonight wants to find the best, most efficient form of government constitution. That's why I voted to table this — to have as much discussion as we possibly can."
Aidan Donohue, a CGS Senator, abstained from voting on the motion to table the proposal because he would have preferred a compromise between those who wanted the senate dissolved and those who did not.
"I don't think this was the best environment for compromise or hasty decisions," Donohue said. "I think things were just getting so tense and exchanges were getting very disrespectful."
Franco believes that senators must now move on to finding out what their constituents think of the proposal so that a decision can be made in two weeks.
"The first order of business for myself and for every other senator is to talk to as many constituents as possible, whether that's going door to door, polling, or surveying," he said.
Some students, such as Diana Abbas (CAS '18), were dissatisfied with the decision to change the original proposal and wait two weeks before voting on the amended one.
"People have been working 24/7 on this proposal and those people have been concerned students that should be represented in that room," said Abbas. "I hope to see that we work together in creating a student government more representative of the student body."
Abbas said that the senate is "illegitimate" because it does not represent all of the student body, and therefore should be dissolved immediately. Many students believed that letting the senate continue to preside would not result in any real change.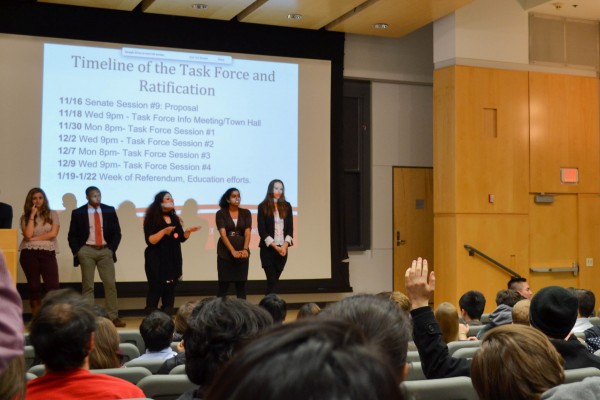 Other students were upset about the results of Monday's meeting because they believed some senators were "quick" to impeach and remove Kimberly Barzola and Marwa Sayed but wanted two weeks to decide on the proposal.
"Unfortunately, what we saw was senators pushing for their own agenda," Abbas said. "We did not see the votes of what the concerned student wants, which is to dissolve senate."
The senators, on the other hand, are trying to fight against the stigma that they do not take their constituents' best interest into account.
"There's massive inefficiencies and massive structural issues, but we're all passionate individuals who care about the students," Donohue said. "That's why we were elected and that's why we ran for these positions."
Overall, senators such as Kilachand representative Josh Smith-Sreen (CAS '19) seem to think that the best solution is compromise, but compromise is difficult when tensions are so high.
"Tonight could have ended in a lot more immediate progress than it did," Smith-Sreen said. "However, I think it also represented the need to focus on issues more slowly and that's why the amendments came up."
Eiben is upset that her proposal was amended and tabled, but is more disappointed that the Student Government was not able to come up with a good solution to their various problems.
"I'm really hurt by the fact that there doesn't seem to be a way for the students on campus to come together," Eiben said, "because I think there's so much opportunity here to move forward and to grow together."