On Saturday night, the glow emitted from Lansdowne Street will not come from Fenway Park's stadium lights.
Illuminus, a "nighttime contemporary art event" that "features installations and performances by artists who manipulate light, sound, and projection to create an immersive, multi-sensory spectacle," is taking over the streets around Fenway Park on Oct. 10 with about 30 works of art. The event drew more than 10,000 people during its first appearance last year in the SoWa Arts District in Boston. 
The Executive Director of Illuminus, Jeff Grantz, said at the Illuminus Preview Party at the House of Blues on Oct. 3 that Lansdowne will be transformed "through the lens of an artist."
"The power that we have with these projectors and with music and sound and immersive environments — that is really incredibly emotive and I think puts Boston on the map in a big way," Grantz said in a presentation.
[vimeo 141234173 w=500 h=281]
Video Courtesy ILLUMINUS
Jutta Friedrichs, one of Illuminus's curators, talked in her presentation about how she was "struck" by the Green Monster and Fenway in general the first time she turned onto Lansdowne. She wanted to make sure that any artists participating in Illuminus would "respond in a very site-specific way" to the architecture.
"I was sending around people's project proposals to each other and thinking, 'How can we curate an experiential landscape that really ties together, creates one experience, thinks about how people enter the space, and how people walk through the space?" Friedrichs said.
In her presentation, Friedrichs highlighted a couple of artists whose work would be on display at Illuminus.
One work Friedrichs talked about is Lime Light by David Kennedy, Benjamin Peek and Jacob Mans. Lime Light is a "curious wooden box" made from the Black Locust tree. The wood, when sanded and put under a blacklight, emits a fluorescent glow. Because it is an invasive species, Friedrichs likened the phenomenon to a "poison inside that's brought out and glows."
"They're really interested in how the ecological aspect of architecture can be visualized in their installation," she said. "It's almost like an evil landscape that Alice in Wonderland would stumble upon."
Also on the upper parking deck at Fenway, Illuminus visitors will be able to visit artist David Nunez's piece Requiem for Rhinoceros: Nabire's Dream.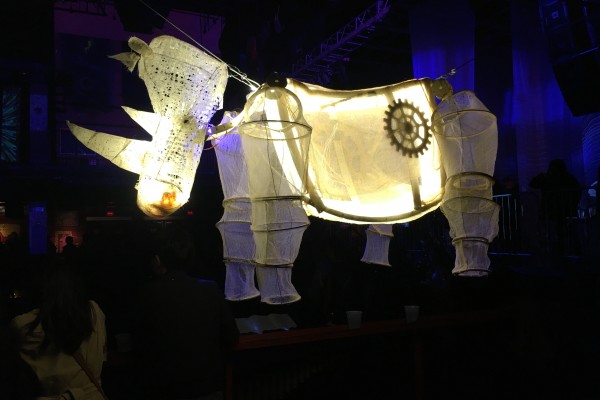 This work will feature four rhinoceroses made out of fabric, gears, and light sources flying around a fifth rhinoceros, Nabire, on the ground. The story behind the work is that of the Northern White Rhinoceros, of which there are only four remaining in the world. A few years ago, Nunez was "struck" by National Geographic photos of airlifting efforts to save the Northern White Rhinoceroses in which the rhinoceroses were hung from the helicopters by their legs. Nunez saw this as a "final act of compassion and respect for the rhinos" who were being moved from poaching hotspots to protected areas.
"This piece is about celebrating the miracle that these rhinos existed at all and celebrating the miracle that we exist at all," Nunez said. "One of these days we're also going to be four left and three left and then none left and I hope that somebody will hang up an effigy for us as well."
One art installation that will be on the stage at the House of Blues is called Flux Perception, a work made out of fabric and light projection in which visitors will be able to disrupt the airflow and see how their movements change the art.
"What we were trying to do with this piece is essentially bring art and science and engineering together," said Nada Tarkhan, one of the designers of Flux Perception and a second-year student at Harvard's Graduate School of Design. "Essentially it's just a house of mirrors with a lot of equations running in the background. [It's a] very interactive, very intimate experience within the flow field."
[vimeo 141449015 w=500 h=281]
 Video Courtesy ILLUMINUS/ Tarkhan and Singhvi
Although many of the installations at Illuminus will be studies in the manipulation of light, there will also be some videos on display, including Mary Ellen Strong's piece called Sloss, Kerr, Rosenberg, and Moore. This video, which features four New York City attorneys, is from a series called Real People that examines the roles people are born into and sign up for. Strong and her team followed the attorneys around, wrote down their daily actions, and presented the actions to the attorneys, then codified the actions and turned them into a "contemporary folk dance."
"It's a way of examining how we become who we become and what we're doing, whether it's liberating or oppressive," Strong said. "It's a way for me as an artist to confront or examine my own biases or assumptions that I would have about these four wealthy white men and maybe look under the hood and try and understand their vulnerabilities and fears, their prejudices, their defeats, their victories."
Overall, Executive Director Jeff Grantz wants to set a new standard and new tradition that will showcase the arts in Boston.
"We are going to intervene, we are going to disrupt, we are going to provoke," Grantz said, "and hopefully create something that we think is both memorable and meaningful for everyone who attends."
Illuminus will take place on Saturday, Oct. 10 from 6:30 p.m. to 12:30 a.m. on Lansdowne Street in Boston. Admission is free and open to the public.
Photo by Tina Tian Photography
"Light Beams Dance" by Francois de Costerd