BU's Class of 2015 won't have to wait until the senior breakfast on May 1 to find out the identity of their commencement speaker. The Quad obtained previously secret emails revealing that two-time Teen Choice Award-winner Ryan Seacrest has been chosen to give the address at this year's all-university graduation ceremony.
"The administration wanted to choose someone who really resonates with millennials," explained a spokesperson from BU's public relations department.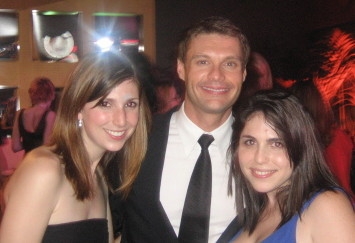 "BU always strives to choose a speaker who has made a real contribution to society," he added. "We look for someone who will inspire new graduates to do great things, like be the next American Idol."
Everyone who's hip knows who Ryan Seacrest is, but for those living under the rock on BU Beach — well, they've probably died of paint inhalation by now.
A source from the Office of the President (who wished to remain anonymous, except to say that he has a really cool mustache) told The Quad that while the administration generally agreed Seacrest was a good choice, some members of the search committee floated other options.
"We almost got Jon Stewart, but he's going to be unemployed soon," he said. "What kind of role model is that? Plus, BU graduates won't relate to that."
"On the other hand, Mr. Seacrest has hosted American Idol since 2001. That's the year I bought my first gold-plated mustache comb," he added.
The Quad learned about Seacrest's selection from an email correspondence between Seacrest and a top-ranking BU official after the official seems to have accidentally forwarded the email chain to the Quad's staff account.
The correspondence included drafts of Seacrest's speech, which reveal the TV personality's plans to establish a new scholarship for incoming BU freshmen who can prove fourteen years of commitment to a club, sport, or activity they didn't like.
"The administration believes this will be a particularly fun commencement," the BU spokesperson said. "For instance, attendees will get to text their vote for which student speakers they want to listen to."
When asked if the administration really thought that was a good idea, the spokesman responded, "Oh, definitely. Several email surveys have led us to conclude that students like using smartphones."
The Quad also learned that Seacrest's speaking fee is the cause for most of the recently announced tuition hike.
"We feel confident students and parents will agree that he's worth it," the spokesman said.
BU students expressed mixed feelings about the news.
"My parents are making me go to commencement, so I'm planning to show up high," said Brody Jenkins (SMG '15).
"High on fun and friendship, of course," he added.
Broadcast journalism major Emilia Sanchez (COM '15) was excited about the administration's choice of speaker.
"I really admire Ryan Seacrest, and he's pretty hot," she said. "I also want to be on TV. Maybe I can give him my business card!"
Michaela Lee (CAS '15), a geology major, wasn't as thrilled.
"I don't know who that is," she said. "Yeah, you can quote me. Whatever."
All-university commencement begins at 1 p.m. on Sunday, May 17 at Nickerson Field. The ceremony will be streamed online, since web streaming is a hot new trend among the college demographic.