Not many punk bands are as iconic as Jawbreaker. The Bay Area group–together from 1986 to 1996–has inspired everything from amazing reggae tributes to the super great but sorta ungooglable group Jawbreaker Reunion. And while many of their early-to-mid-90's emo contemporaries have gotten back together (Braid, Mineral, Cap'n Jazz, The Promise Ring, Texas Is The Reason, The Get Up Kids- the list goes on), Jawbreaker has remained, almost resolutely, broken up. All we have left of Jawbreaker is its music, which has left an indelible footprint on the current "emo revival."
So now, 20 years after its release, Blackball Records have newly reissued and remastered Jawbreaker's third LP, 24 Hour Revenge Therapy. Originally released in 1993, 24 Hour Revenge Therapy has come to be known as the defining Jawbreaker release, the one that most vitally captured the band's combination of gruff pop punk and romantic, strangled emotion. This reissue–which includes some rougher alternate albums tracks and a few outtakes–does nothing but affirm that notion.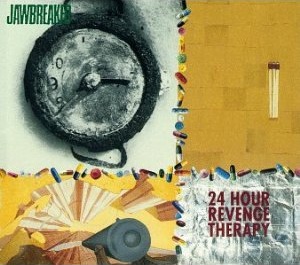 More than anything, Jawbreaker was defined by lead singer/songwriter Blake Schwarzenbach. Known for his raspy, shredded voice and his vivid lyrics, he became–and remains–something of an emo idol both to people who make music and people who just listen to it. Case in point: I'm pretty sure I had him listed under the "inspirational people" section of my Facebook page when that was still a thing. And when a friend of mine went to a Forgetters (one of Schwarzenbach's post-Jawbreaker bands) show, the first thing he told me when he got back was that he bought merch directly from Blake Schwarzenbach.
That sounds weird, and I guess it is, but the guy had a way with words. With other bands, it was the songs you connected to. With Jawbreaker, it was the songwriter. You related to him even though you had never met him; it was what he said that mattered. He opens "Boxcar" with the immortal couplet "You're not punk, and I'm telling everyone/Save your breath I never was one." He smoothly transitions from that denouncement of DIY culture to wailing "Do you read me?/Am I bleeding?/Again?" on "Outpatient." The lines that open "Ache," "I believe in desparate acts/The kind that make you look stupid," might be my favorite lyrics of all time.  Schwarzenbach essentially wrote about his life, and it gave his lyrics intimacy and meaning, a sense of impact that no one else could really manage. He could be funny and cutting and emotional, all while sounding like he meant every last word he sang.
That isn't to say Schwarzenbach was the only reason 24 Hour Revenge Therapy was such a resounding success. The band's low end–drummer Adam Pfahler and bassist Chris Bauermeister–was excellent, perfectly complimenting Schwarzenbach's mix of power chords and spindly guitar lead. This remaster does a particularly great service to Pfahler's contribution. The drums on "The Boat Dreams From The Hill" pound like they've never pounded before, and his simple backdrops to classics like "Indictment" and "Condition Oakland" sound clearer and more propulsive.
It's easy to hear echoes of Jawbreaker, especially 24 Hour Revenge Therapy, in the current crop of emo and pop punk bands that came to prominence in the last few years. You can hear them in You Blew It!'s raspy melodies and in Joyce Manor's tales of relationship failure. Hell, Fall Out Boy covered a Jawbreaker track back in 2003. But none of these bands–pop punk, emo or both–have managed the indelible mix of romantic songwriting and pounding punk that Jawbreaker created. It was and is an utterly singular band, and 24 Hour Revenge Therapy remains its defining document.