By Page Ellerson
Childish Gambino, or Donald Glover, is following the recent trend of surprise music releases, which has been trail-blazed by musicians such as Beyoncé, U2, and even actor-turned-folk singer, Michael Cera. Like Cera, Glover started out as an actor and comedian. His music though is quite different.
"I had a dream I ran Atlanta" opens STN MTN, and though it does not kick in until later in the project, there is a dream-like quality to this music. Gambino takes a contemporary stance with his music, but still has a retro (also the name of one of his songs) feel in spots of this music.
The mix tape garnered more attention, but the best pieces of this project are found in the synthesized beats of the EP.
Though STN MTN does not live up to its hype, there is a stand out track on it, "U Don't Have to Call (prod. Ludwig)", which consists of Gambino's light vocals against soothing raps. It feels like it belongs more on the EP, but the casual ambiance of it keeps it on the mix tape.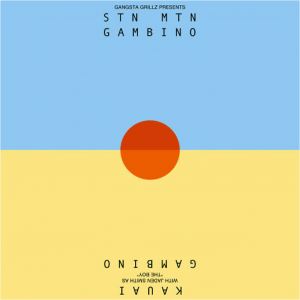 The song that calls the most attention on Kauai is "Sober", which was released as a single in mid-September. Light and simple, bouncy tones saturate the track with surprise chords thrown in. Gambino's voice gives off an effortless vibe as he smoothly hits high notes. The track takes a completely different turn after the deep mutter of "yeah," when it morphs into a cascade of electronic sounds. The song pushes a vaguely Michael Jackson sound in the chorus, but it seems almost accidental. "The Palisades (feat. Christian Rich)" posses this same Jackson vibe, but to a stronger degree.
Though it is presented like a goody bag after a party, the last song on the mix tape has a notable presence. "V. 3005 (Beach Picnic Version)" is an angelic remix of Gambino's most well-known song. The distorted, high female voice and soft sounds give the over-played song a makeover. The presence of this song demonstrates Gambino's goal of tying his music together into one great project. By bringing "3005" back, he pays homage to the song that gave him so much success.
On STN MTN/ Kauai, Gambino creates relatable rap, but for the most part, he strays from the boring patterns other "rap-pop" collaborators repeat incessantly. This EP/mix tape is a worthy follow-up to Because the Internet and contributes to a new field of music artists like Kendrick Lamar are exploring as well.
This is good music, but are people recognizing it more because of its surprise release? Why are these surprise releases becoming so commonplace? Lily Rothman of TIME magazine said that this seems like it should be a terrible idea, "no anticipation equals no sales," but she acknowledges that it has worked great for Beyoncé. She interviewed music-industry consultant Mark Mulligan, who inferred that only the most popular musicians or those with small but strong fan bases could pull this off. Gambino fits the second category, so that may be why the surprise release was a sensation.
This tactic worked for Beyoncé and others, but then U2 took it a step farther, having their album automatically downloaded to everyone's music libraries. For U2's album it worked well enough getting mixed reviews, but as Hugh McIntyre of Forbes said "if Songs [of Innocence] is the biggest CD giveaway of all time, it is also the most deleted record as well." Apparently people do not like having music forced on them; Apple even had to release a tool for people to easily remove the album from their iTunes. Whether this was a success or not has yet to be seen. Childish Gambino and others have succeeded because the music released has not only been great, but also something new. Knowing something novel is coming almost takes away the freshness of it. This may be why a surprise album or song with a new sound, is so enthralling, and why when done right, it will ensure a memorable album.
STN MTN, Childish Gambino's newest mix tape, is available to download for free or streaming here. Kauai, his follow-up EP, is now available on iTunes.