By Andrea Van Grinsven
Everyone is hanging out without you… at 6:30 a.m. On any given Monday, Wednesday or Friday morning, members of the November Project, a free, grassroots fitness movement, are getting their heart rates up before a lot of people are out of bed. Intrigued by the challenge, I showed up to a workout.
The November Project is open to people of all fitness levels, but embarking on my first workout was still intimidating. I went to the Friday workout- running up Corey Hill in Brookline. As I walked to the site, up the appropriately named Summit Ave., in darkness, it was as if Olympians were emerging from the shadows and running by me. Many wore neon workout gear with "November Project" spray-painted across the chest.
But any nerves dissipated once 6:30 arrived. The group, probably around 175 people, gathered around Bojan Mandaric, one of the co-founders.
"Good morning," he whisper-yelled (The group stays quiet until 7 a.m. to avoid causing a public disturbance).
"Good morning," we whisper-responded.
"Are you good?"
"Fuck yeah!"
He congratulated the group for showing up and extended a welcome to anyone coming for the first time, asking them to raise their hands. Next, we were instructed to hug three people we didn't know. Once we were warm from strangers' hugs and jumping in place, we started to run down the hill. Start times were staggered depending on your run, 4, 5 or 6 laps.
The group runs a 0.4-mile stretch of Summit Ave., and the incline of the hill varies from 7-8 percent to 16-17 percent, according to the November Project's website. The workout feels interval-like and turning the corner to head downhill was a blessing after the intensity of scaling the uphill portion.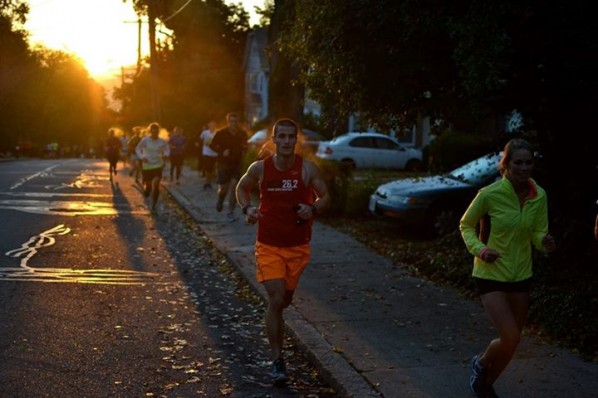 What makes the November Project more enjoyable than running hills alone is the atmosphere. There is equal support for the people walking and the people sprinting, drenched in sweat. You can expect high-fives, photo ops, verbal encouragement and more hugs along your way.
The November Project has more of an authentic community atmosphere than any gym's community fitness class that I've ever been to. The members call themselves a tribe, and they expect to see each other's smiling, sweaty faces three mornings a week. This tribe started in 2011 with two Bostonians, Brogan Graham and Bojan Mandaric, who wanted to stay motivated to workout during the winter months. They eventually opened their workouts to others via social media, and the movement grew from there. Now, it has expanded to 16 other cities across North America.
If you hit snooze, you can expect to find your picture on the "We Missed You" page of the website. This mix of accountability along with the encouragement I felt makes it easy to see why this group has grown so much.
If running up a hill as the sun rises doesn't sound appealing, the workouts vary throughout the week. For Monday's "#DestinationDeck" workout, participants complete a series of sit-ups and pushups, dictated by a deck of cards. Each Monday location is different and is announced on the November Project's blog and social media outlets.
Regardless of location, the November Project workouts are always free. They always start at 6:30 a.m., and they're always on–rain or shine. Even if you're not looking for a new fitness kick, the November Project is worth experiencing at least once.