All photography by Eden Weinberg.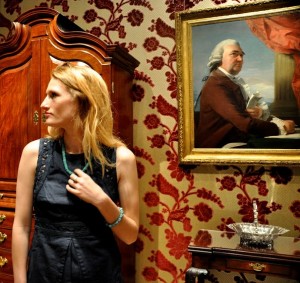 Boston University senior Taylor Aube embodies the meaning of "free spirit." Aube, a public relations major who also studies French, began her Tumblr Stop, Drop and Vogue in 2011. The blog covers a range of content, including both original, like personal outfits, and reblogged, such as photographs of work by her favorite designers–namely, Alexander McQueen, Dries van Noten and Miuccia Prada. Her perhaps most notable posts are from her four months spent in Paris through BU Study Abroad last semester, which brought her to Paris Fashion Week. In her About section, Aube writes, "Welcome to my fantasy."
Stop, Drop and Vogue, when viewed holistically, is certainly reminiscent of one, filled with dreamy, fairytale-like images. Aube was even discovered by CEO and founder of Tumblr David Karp, and his team, to be a fashion tag editor. As a tag editor, she determines what blog posts in the Tumblr world are #fashion worthy. I was able to talk to Aube about her blog, her love for fashion, and her experience in Paris.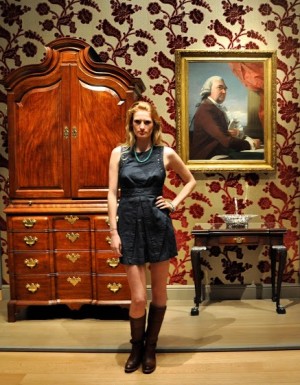 The Quad: How would you describe your personal style? And the style conveyed on blog?
Taylor Aube: My personal style, to put a brand with it: Free People, Anthropologie, Urban Outfitters. Sort of easy going, comfortable, but at the same time really chic and boho. Lot of florals. I'm from Cambridge—there are a lot of hipsters over there so sometimes I'm just wearing rusty, beat up boots and corduroy pants and a shirt I'll roll up. It really depends on how I feel during the day. It's like a fun game. There are so many things that you can do with your wardrobe so I try to keep an open mind. As for my blog, I'm really inspired by fairytales and that's just not the happy ending—it's the in-between. I'm inspired by the darkness, as well as the light. I try to keep that contrast in my blog. If you look at the archives of my blog and take a macro view of it, it looks like some sort of twisted fairytale.
Q: Clearly your blog has grown in popularity. Can you speak to its progression over time?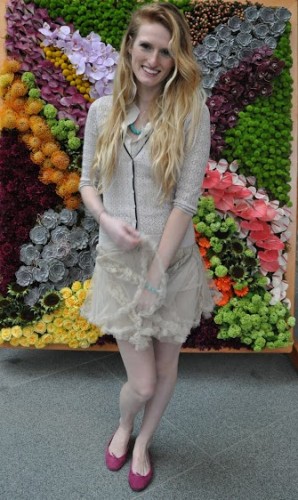 TA: When I first started my blog, I would reblog things. I was never really uploading original content. At first it was really just things like Yves Saint Laurent advertisements. It progressed into an aesthetic. I like to blog through color aesthetics—right now I'm really into lavender, probably because it's springtime. Then I went through a grungy phase with archives from the '90s with Maison Martin Margielia, Comme de Marson and Comme des Garcons, Yohji Yamamoto, underground hip designers. From there, I took a writing class in COM and it inspired me to start writing on my blog. That's kind of where I am now.
Q: What designers are you most inspired by?
TA: I definitely admire Alexander McQueen the most. That's just a given—I think anyone who really is interested in fashion knows the name. He was an out-of-this-world genius when it comes to fashion. He transformed it into something that evokes emotion. I really like Dries van Noten. His designs are very wearable yet they're very out there. Obviously it's super expensive and very nice material so not everyone can get their hands on it, so it still has that exclusiveness about it. I also like Miuccia Prada in Miu Miu because there aren't that many women designers in fashion, but I think Miuccia really empowers females with her clothing. She really has made a name for herself and her brand. I really like the Prada woman that she makes because she doesn't target one specific person. I think the Prada girl could be anyone—it's always innovative and creative and never really the same thing. Like Alexander McQueen, she finds inspiration through different things. Those are probably my top three favorites.
Q: Tell us about Paris. What was that experience like? Paris Fashion Week in particular?  
TA: Paris was amazing. I miss it so much, and I reflect on it so much. When I was there, I was enjoying myself and really having the time of my life, but I never really appreciated it because it became a lifestyle for me. I was living as a Parisian, learning their language, adapting to their culture and their way of life. I can't wait to go back—it's not a question. I went to Paris Fashion Week and I met up with some other bloggers that are well known on Tumblr—Caroline Levy Bencheton lives in Paris and Giacomo Cabrini lives in Milan. We were running from every show, from Christian Dior to Acne. That was my first fashion week, too—the big bang. It ends in Paris. I was very star struck and seeing everything. The Tuileries [Garden], everyone's dressed so nicely, there are camera people everywhere. You dress nice, all these photographers are taking your picture, and I actually made it to Vogue UK's website. I felt like a superstar.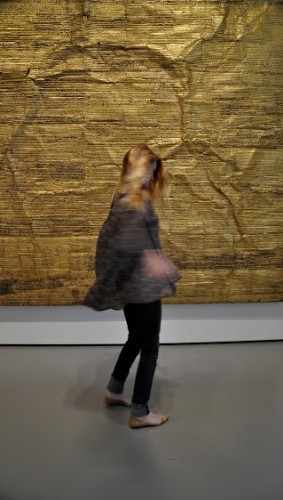 Q: We realize you also went to Vogue's Fashion's Night Out in Paris. What was that like?
TA: I was at this store called Tara Jarmon. I fell in love with it. They liked me and invited me to the Vogue's Fashion's Night Out. I went to the event and got me in as a VIP. There were all these beautiful French girls who looked like models. It was a garden party, it was so pretty. There was champagne, cocktails, I was just mingling with all these French people. There's a couple I still keep in touch with today. The husband actually gave me a tour of Paris on his Vespa. That's one thing you should do when you're in Paris. And I went [to the event] by myself, which was a pretty bold thing to do, I'm glad I went by myself because that forced me to reach out to people and practice my French. I wasn't expecting all that from this one little shopping trip.
Q: Sounds like a dream. So you're back at BU now, about to graduate. What are your aspirations?
TA: I have really wild and crazy dreams. But something I would love to do is be a writer for a magazine or maybe even start my own magazine one day. I actually wrote a post about it on my blog about not following the system. I always want to feel like I'm in control of my life decisions, not that I am being pushed through life by this system—get an education, get a job, get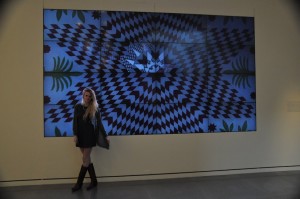 married, have kids and voilà, you're the perfect human being. What I mean by that is there's no formula for success. I don't want to settle anywhere for a job, that's why I'm interested in freelance writing and blogging so I can be located anywhere. I'm just looking to graduate and then enjoy life, find a job that will pay the bills—and for some nice dinners and some nice clothes, too.
Be sure to follow Taylor at Stop, Drop and Vogue.
Interview was shortened for length.