Last Wednesday, February 26th, the promotional team for the USA original television show Suits stopped by Boston University as a part of their college tour aimed at promoting the show's upcoming season 3.5 premiere. Masses of students and diehard fans of the show stood in line outside of Metcalf Hall in the GSU for hours before doors finally opened at 7:00 pm. Once having been admitted to Metcalf, those waiting were greeted with an assortment of Suits-related activities that kept them satisfactorily entertained up until the advanced screening of the Season 3.5 premiere.
Not only did the premiere garner much adoration and approval from the massive crowd, but to make the evening even more worthwhile, the screening was followed up by a Q&A panel discussion with two of the show's leading actresses: Gina Torres, who plays tough Pearson-Specter managing partner Jessica Pearson, and Meghan Markle, who plays ambitious paralegal Rachel Zane.
Students at the premiere may have been satisfied with their Q&A with Torres and Markle, but The Quad was actually able to sit down with the two actresses to ask them what they think about their characters, the show's many relationships, and what they think could happen moving forward into the second half of season three.
The Quad: You both play very empowered, driven, ambitious characters, who almost always have to exist in a dog-eat-dog world. Rachel and Jessica often have to keep walls up and rarely show vulnerability—well, Rachel shows more than Jessica, but even so. How is it spending so much time in these kinds of characters' shoes?
Gina Torres: It's interesting that you mention "in their shoes." [Laughs] It's fantastic playing these kinds of women. I've been very fortunate to play powerful, strong women throughout my career. I learn a little something new every time I get into the skin of these women, and it only helps to inspire me. These women don't just have to be written that way, they are based on some kind of reality. There are women like this who are running their own companies in their own part of the world. So, I just try to give them a life with as much respect and adoration as I can.
Meghan Markle: I love playing Rachel. She could be written on paper as this lowly paralegal who only just does that job and wiggles around in a pencil-skirt and calls it a day. I'm glad that the writers have crafted her in a way that is relatable, in that she's vulnerable. But yes, for the most part, you know that she means business. We've been able to see more of her personal life, which has been fantastic. I do love just being able to go to work everyday, and maybe it's crazy to say it or not, but I feel like Rachel is a bit of a role model for young women, because she's balancing it all, and she's doing it with grace. It's nice to have writers who really honor the strength of these women, because all the men at the firm, as tough and as strong as they are, would not be where they are without the three women, specifically, on this show—Sarah [Rafferty], who plays Donna, included. All three of us are the anchors for these men—and also the propellers—the catalysts—that get them to actually take initiative and do things.
The Quad: Going off of Rachel, at the end of season three's first half, she got into both Columbia and Stanford, but she chose Columbia, even though there was a bit of a conflict with Mike (played by Patrick J. Adams) in that respect. Is that going to come up again in some way?
Meghan Markle: Oh, of course it'll come up! [Laughs] Real life or TV! Those sorts of things never just stay slipped under the rug. It'll come back in a pretty big way. Let's start with the fact that, as an actress, when I read that she could potentially be going to Stanford, I said… Am I being written off the show if I go to California?! [Laughs] I'm, like, rooting for her to go to Columbia. So, I'm glad that ended up being the case. But more than that, with Mike having this fraudulent thing of having gone to Harvard… that's always going to be an Achilles heel for Rachel and a thorn in her side, because he has everything that she's been working towards, and he didn't earn it. So, of course, in their relationship, it will continue to fester. Her dad went to Harvard, there will always be that fear of him discovering the lie. And in the back six episodes, as they're trying to progress with their relationship… [Pause] What can I say without revealing too much…? [Laughs] I really do think that Rachel tries to go back to the girl that she was in the pilot that we met. She was really about business, she really knew her place, she goes back to that same drive and Mike just has to keep up. So, it's really nice to just reintroduce that Rachel that I fell in love with so much from the beginning. So, we shall see how it all works out.
The Quad: Speaking of Rachel having Mike, what about Jessica? We haven't seen any kind of romance for Jessica since her ex-husband showed up in the first season for a little bit…
Meghan Markle: [Laughs]
Gina Torres: Damn shame.
The Quad: … Besides that one time, what do you think keeps Jessica going? She has her self-preservation, of course. Will we see anything more personal for her in the future?
Gina Torres: You know, hopefully. That is certainly my hope, as we go into season four… that we'll see more of her personal life. I think it's time. I've talked to Aaron [Korsh, Suits showrunner] about it, Aaron has talked to me about it. And it's not even just a love interest… it's that she has no people. [Laughs] I remember just talking to him [Aaron] and saying, you know, there's a problem here—she doesn't have family, there are no pictures, there are no parents, there are no siblings. She has no people. She has the firm, and that's incredibly disturbing. I mean, I wouldn't trust anybody who has no people. Whenever family anecdotes come up, they're sort of couched in these little morality tales that I impart to Mike, which really started to get infuriating. [Laughs] My first car… the little bitch that beat me at tennis… you know, there's always something. So hopefully that will change, because I think the audience wants it.
The Quad: I want it. Bring it on.
Gina Torres: I think the audience is really curious about it, because it makes no sense. And when you open that can, as an actress, I'm incredibly excited, because, why hasn't she had somebody all this time? Is there a trauma we're not talking about? [Laughs] Or has she had somebody all this time, and she just hasn't talked about it?
The Quad: That would be something.
Gina Torres: Yeah, so let's just see what happens. Everybody's up for it.
The Quad: Absolutely. As for Jessica's dynamic with Harvey Specter (played by Gabriel Macht), half the time you guys are trying to kill each other, and half the time, there's a level of mutual respect between you two. Jessica helped him pay tuition at Harvard, for instance. So how is it playing those scenes with him [Gabriel] and balancing those dynamics? 
Gina Torres: Well, season three… that was dicey, because there was a level of betrayal there. And we've been dealing with betrayal since season two, when I found out what Mike's secret was. But these relationships are complicated, and they go far beyond what the audience has seen. I mean, these are relationships that are many years in the making, and are far deeper and mired in things that have yet to be revealed and that we've only alluded to. So, when you've been in a long-term relationship with complicated people, you kind of have to meet them where they are… there's a little life lesson. [Laughs] You do have to meet them where they are, and that is certainly the case with Jessica to Harvey. She sees him, she sees his brilliance, she sees whatever it was that she saw ten years ago and has watched him evolve, and she's rooting for him. There's a level of maturity and foresight that she has that he doesn't have, and so she's able to forgive things that somebody, like a peer, or somebody else, maybe wouldn't be able to [forgive]. I don't think it's so far beyond the reach of understanding that these two incredibly complicated people dance with each other in this way.
The Quad: There was a very interesting little dynamic between Rachel and Louis (played by Rick Hoffman) at the end of the recent half-season, where Louis showed some true vulnerability for one of the first times that I'd ever seen, and made Rachel swear to secrecy about it. Could that change the relationship between Rachel and Louis at all?
Meghan Markle: Yeah, you know, as a cast we're all very close, and I think that the writers have tapped into those personal relationships that we have. My personal relationship with Rick is very close, so I think that they started to cultivate the Rachel and Louis relationship in a way that they knew we could sort of banter off of each other, from the ballet episode in season two to Marco and the cat… [Laughs] But I think, you know, the fact that Rachel loves Mike, and Louis now knows Mike's secret, of course is going to change how she's going to interact with Louis, because he's going to be the biggest threat to the future she's trying to build. That relationship shifts, a lot of relationships start to shift. I definitely think that viewers will enjoy what happens with Rachel and Louis… because it's always entertaining if Louis is in the scene. [Laughs]
Gina Torres: [Laughs] Absolutely.
Suits returns to USA on Thursday, March 6th at 9:00 pm. Catch the trailer for the new season here.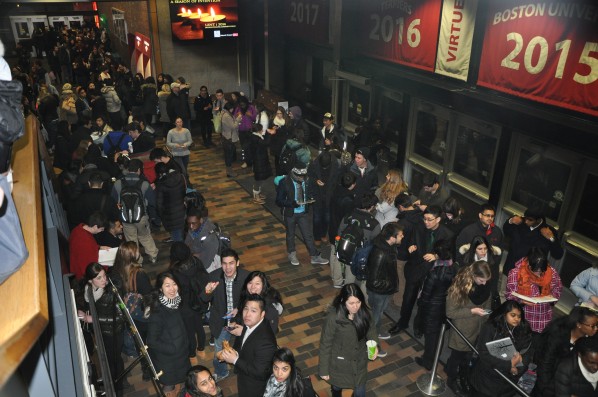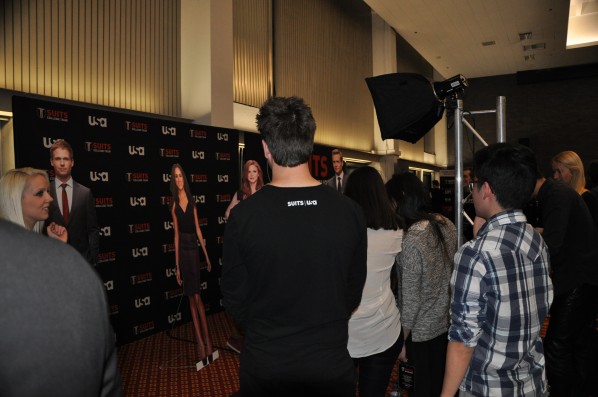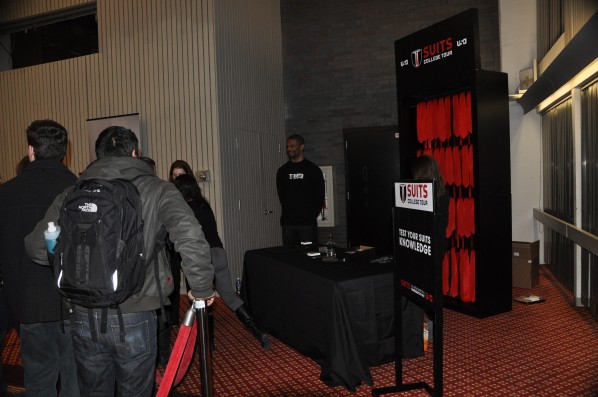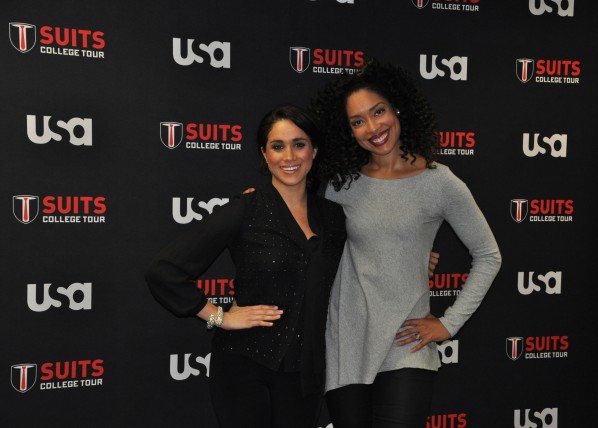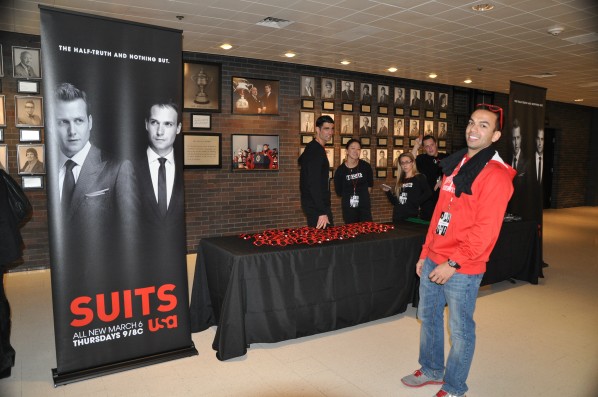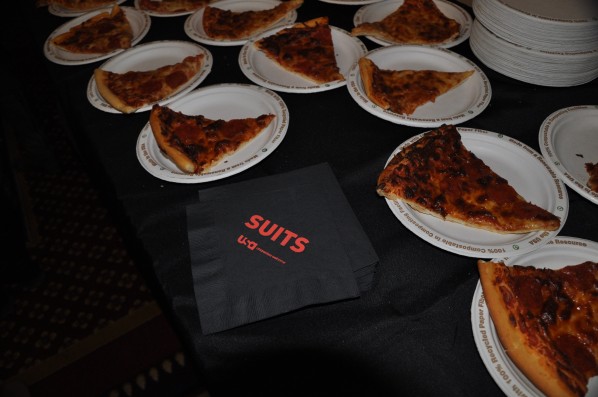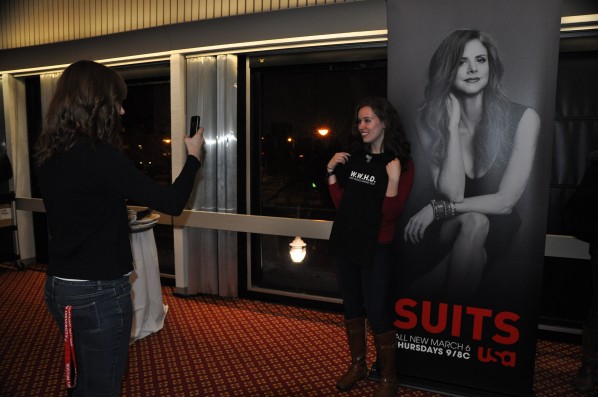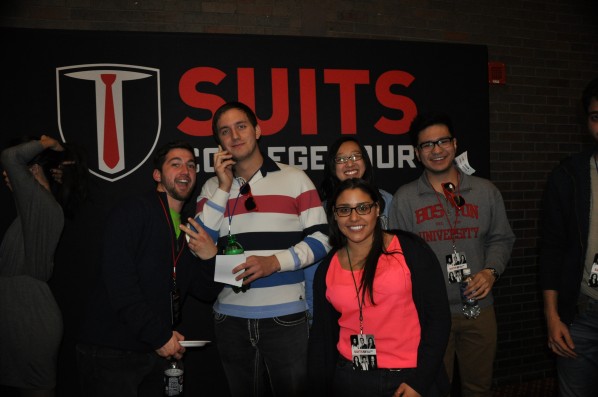 Photographs by Eden Weinberg.