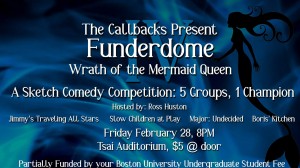 On Feb. 28, two of BU's improvisational comedy groups participated in the fourth annual "Funderdome," a competition in which groups from local colleges competed for the "Mermaid Queen" trophy and, of course, comic prestige. The competition took place in Tsai Performance Center to an audience of students and parents from BU and other nearby schools.
The Funderdome featured four different comedy groups from Boston-area colleges: BU's "The Callbacks" and "Slow Children at Play," Brandeis' "Boris' Kitchen," Tufts' "Major: Undecided," and Emerson's "Jimmy's Traveling All-Stars." Major: Undecided was crowned the victor for the fourth consecutive year, as decided by audience applause. Junior Ross Huston, a member of another BU comedy group, "Liquid Fun," hosted and moderated the event.
Huston opened the event with a humorous monologue about his family life, his time thus far at BU and an anecdote about his participation in the 2011 "Occupy" movement. Huston has ample hosting experience, as he hosts bi-weekly shows at BU Central. The Callbacks asked Huston to host after seeing his shows, as it is Funderdome tradition to have a stand-up comedian act as host. Huston is grateful for the experience and feels the show was a success.
"The crowd was open and responsive, the groups were fantastic, and I was just glad to be up there telling some jokes," Huston said. "The show is always really fun and hilarious."
A disastrous school talent show, a complicated love triangle between a detective and his clients and a marriage proposal gone-wrong were the themes of some of the night's best sketches. The audience roared with laughter during each performance. While many of the sketches were rather abstract, their main ideas often derive from the performers' everyday lives.
"We draw inspiration from all over the place," Jared Bronen, Major: Undecided's public relations director, said. "From our day-to-day lives, anything funny that happens to us gets written down. Sometimes when we're screwing around we come up with something that we think is really good, and then we try and take a character or a scene and turn it in to a full sketch."
Participating in the Funderdome requires extensive preparation. Groups are invited one month in advance and are asked to prepare three sketches: two for the first round and one in case they advance to the second and final round. The performers view the event as both a means of interacting with other local comedy groups and an opportunity to showcase their talent, which is why The Callbacks continue to host.
"Our goal, as hosts, is to show the other groups some of the best material we have to offer," senior Allie Kolb, president of The Callbacks, said.
Four-time winner Major: Undecided stood out to the audience with their sketches, particularly one in which two actors, facing each other, mimicked each other's actions and spoke in unison. The group tries to write original material that resonates with audiences while incorporating an element of surprise.
"We try to write sketches that both we and our friends would enjoy," Bronen said. "A lot of comedy is about rising above what people expect, so whenever we can work that idea into a sketch, it's usually a good thing."
For upcoming show dates, videos and additional information, check out The Callbacks and Slow Children at Play on Facebook.