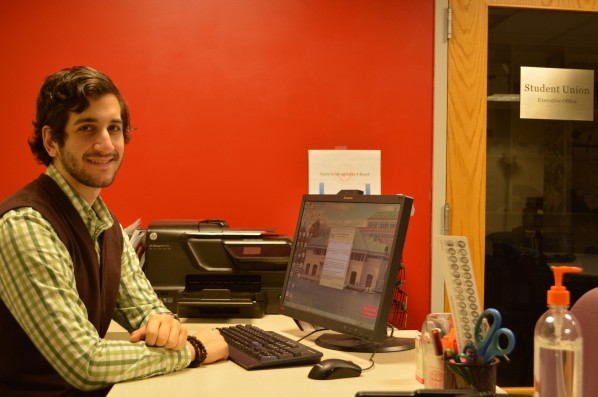 A few days after the annual student leaders dinner with President Robert A. Brown, a group of Boston University students sat in the backcourt of the George Sherman Union and talked frankly. "We need to find a way to get back together as an unified administrative body," said student body president and College of Communication senior Dexter McCoy in his opening words to the group.
While it laid a basis for better communication, the meeting also stirred up longstanding frustrations in student government about the disconnect between its tireless efforts to represent students and its limited success in even making itself known. The reason for that disconnect is multi-faceted, and maddeningly self-perpetuating.
For one, student government is seen as overly bureaucratic, a fact McCoy readily admits himself, and is not properly in touch with the student body, as was made clear by students' comments at the town hall meeting. But, he said, the best way to get student government to change is for students to demand it. "Student leaders have to say we want our student government to be better," he said. However, he said that won't happen if students don't know what student government does and how it works, and the best way for that to happen is for the government to get things done. But, it's a democratic institution, so that can't happen until it's recognized and taken seriously by the same people who McCoy said need to call for change.
"It's the same conundrum we get into every year," he said.
BU's student government called the town hall-style meeting in response to what McCoy described as an unexpectedly pointed student leaders dinner where President Brown took student government to task for its problems. Every year, the president spends an evening with student leaders, discussing students' issues and concerns through the course of dinner and a Q&A. This year, McCoy said the president criticized student leaders for ineffectively representing the student body. In particular, McCoy said the president "blamed much of the issues students were facing on an inefficient student government," which he fired back on at the town hall meeting. "We knew what was being said was untrue," McCoy said. "Rather, there have been—for quite some time—a number of road blocks, not just for student government, but a number of student organizations that prevent us from getting done what we want to get done on campus."
McCoy and other students said they left the meeting upset, and hoped the town hall would help them figure out how to work together better. "The goal was to leave there with a clear plan on how student leaders would communicate with each other on a consistent basis," McCoy explained in an interview a few days after the meeting.
Garrett Moore is a junior in the College of Engineering and one of two undergraduate representatives to the Board of Trustees' advisory committee for socially responsible investing. He was at both discussions, and said later in an interview he thinks the solution to some of student government's issues are completely within their control. Still, after speaking to student government representatives at the town hall meeting, he said he's grown to appreciate some of the difficulties they have to juggle. "They've had a lot of push-back against them, whether it be from the student body or from the administration," he said. In fact, McCoy and other members of student government repeatedly cited "roadblocks" from the administration as major reasons why they are not more in touch with the student body. "The main issue is we don't have adequate access to the resources to reach the student body," McCoy said about efforts to better connect with students, like the one born out of the town hall meeting.
These communication troubles were a centerpiece of discussion at that meeting. In particular, McCoy talked about the difficulty student government's had getting a newsletter out to the student body. Similar to past newsletters, it would serve as one of the few ways for the government to get input from students and communicate information about its initiatives. After a member of the government submitted the letter in early January, the Dean of Students office received a copy and requested she make a few factual revisions. Making the revisions inevitably delayed the newsletter, and McCoy contests it was factual to begin with. Still, they made the revisions and the Dean's office gave it the green light. A month and a half later, the newsletter has still not been sent out.
In an interview, Dean of Students Kenneth Elmore said it has been off his desk and in line to go out since January, so he does not know why it has not been sent. He also said the revision request was not meant to keep the newsletter from being published. "I think it's unfortunate that they think that's a roadblock," he said about student government's view of the situation.
At the town hall meeting, McCoy also expressed frustration about the Dean turning down an invitation to come to a student senate meeting. Elmore later said he, "didn't want to come have nondescript, non-focused conversation," preferring instead to speak to senate about specific issues.
While the town hall meeting revealed communication issues between student government, the student body, and the administration, a big part of student government's troubles could also be explained much more simply. As student government's director of recruitment, College of Arts and Sciences senior Chris Addis is in charge of preparing freshmen to fill in the ranks and continue initiatives when senior members graduate. Part of that training includes visiting other university governments to see what works and what doesn't. At every university, Addis said, student governments have trouble keeping initiatives going strong from year to year. He explained that's because students are constantly working on limited time, whether that be the few hours they have between classes, or the few years they have before they graduate. And, he said, no one has a good answer.
"I don't have a good answer to how we can prevent the limited amount of time each student has, whether that be 'I'm here for four years,' or 'I'm really busy and I have a lot of classes.' We're all trying to figure that out."