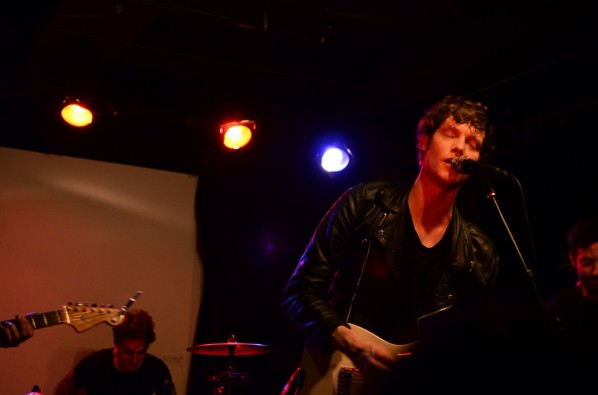 All photos by Kara Korab
Drowners kicked off touring their self-titled debut LP at Great Scott in Allston last Thursday. The New York-based band is fronted by English model turned musician Matt Hitt, with Jack Ridley III on lead guitar, Erik Lee Snyder on bass, and Lakis Pavlou on drums. We were first alerted as to their presence back in September when they opened for Arctic Monkeys at the Paradise and stood out for their upbeat, energetic performance, and post-punk rock style of music. Naturally, expectations were high for their headlining show.
Expectations matched reality. With a set consisting largely of songs from their new album–upbeat musings on love, flirtatious in their own right–the space soon reflected the light-hearted, youthful vibe that the album channels. From the very catchy hooks of "Luv, Hold Me Down," to "Unzip Your Harrington," which Hitt introduced as "a zombie prom song," they were consistent in terms of sound and chemistry as a band. Most of the tracks on the LP are under three minutes. Needless to say, the whole performance was a tightly packed ball of positive energy, only disappointing in that it was short.
One of the most entertaining parts of going to a concert is observing the audience members. In a lot of cases, there is a definite trend in terms of demographic. Upon entering Great Scott for the Drowners show, one didn't have to try to pick out such a pattern, as the amount of estrogen in the room all but bowled us over even as we were coming in through the doors. With Hitt's good looks and endless charm onstage, this was hardly surprising. It doesn't hurt that the rest of the members of the band are also pretty easy on the eyes. If the atmosphere wasn't hormone-laden enough, Great Scott's intimate space meant that members of the band were seen weaving through the crowd at the bar until it was time for them to them to go on. Naturally, they left a trail of broken hearts and abandoned conceptions of true love in their wake.
It's safe to say that Drowners can look forward to good things in the near future. The adoring expressions on the faces of every person in front of the stage were a testament to that. At the start of their career they possess both the talent and the stage presence to garner the right attention fast. While the music itself is catchy and fun, it'll be more interesting to see where they go from here.
To listen to Drowners new album, check out their website.