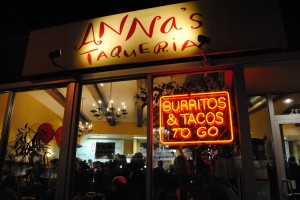 There's only one place in Boston where a ballerina, columnist, Top Chef competitor, lead guitarist, @bostontweet, and RadioBDC personality convene and compete in a burrito rolling showdown. Anna's Taqueria, a famous Boston burrito joint, recently held the grand finale of their Celebrity Burrito Roller series this past Monday night. This in-store event featured local celebrities, representing charities of their choice, racing to prepare Anna's iconic West Coast style burrito. With celeb-rolled burritos for sale at $10 apiece, the competition collected and donated almost $20,000 for local charities in 2013.
Now, after twelve months, 6 alumni from last year's contest returned to compete for the golden spoon, and the title of Celebrity Spoon Ninja. This year's team consisted of: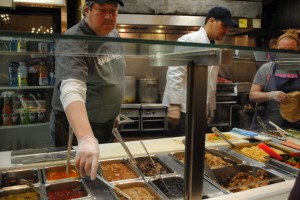 After a brief introduction, the competition was underway with each celeb scooping ingredients, rolling, and packing each burrito as cleanly and quickly as possible. The crowd munched on free chips and salsa as they cheered on the rollers, and a good time was had by all. With times ranging from 18.25 to 38 seconds, even the champion, Tiffani Faison, rolled well under Anna's alleged standard of a mere 7 seconds. Faison said of her win, "I think everyone brings their own strength to the rolling," but "I'm a chef so it worked out well."
Following the competition, the celebrities mingled before returning to the counter to roll for the hungry audience members. Tom O'Keefe, beaming despite his last place time of 38.95 seconds, has been a well-known Anna's addict for 15 years, and has repeatedly promoted the restaurant on Twitter. If he wasn't tweeting, "I'd be rolling burritos" he joked. "It's given me an appreciation for the service industry." Representing The Women's Lunch Place, O'Keefe is a big proponent of helping the homeless and empowering women, "any way I can help". When asked to offer his sage advice, O'Keefe simply stated "eat burritos, be healthy, be happy".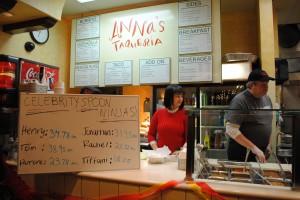 Another strong competitor, Aurore Ounjian took second place, though she was only a mere 5 seconds off Faison's winning time. "Anna's asked us to be involved, and of course we said yes." Mean Creek's lead guitarist was rolling for The Pine Street Inn, which provides services to thousands of homeless men and women in the Boston area, adding, "Our drummer, Mikey, volunteers there, so it's near and dear to our hearts." With a new album dropping in April entitled Local Losers, Mean Creek is a Boston Music Award winning rock band who will be performing at SXSW. "Burritos are the ultimate hangover food and are something we are all very thankful for," the rocker quipped.
By the end of the evening, after the line had thinned and the photo ops concluded, every audience member sat enjoying a delicious burrito and chatted about everything from rock music, to Twitter, to ballet, proving that for an unforgettable mexican food experience, there truly is no place like Anna's Taqueria.