For students at Boston University, there is more to Thursday afternoon "Tea Time" at the Howard Thurman Center than simply a warm pick-me-up on the chilly days Boston is notorious for. Tea Time, rather, is an opportunity to learn about culture on a global scale, tracing the origins of a variety of teas and their cultural significance.
"I really wanted to structure [Tea Time] following tea's progression of history, so people can not only be drinking the tea, but also understanding the culture and the history of the tea. It's a full sensory experience," said Howard Thurman Center (HTC) Ambassador Emily Sheehan (COM '15) who runs the program.
The program originally began with BU graduate and former HTC Ambassador Annie Rupani, who was famously crowned Miss Pakistan World 2010. Rupani focused on the visual aspect of the tea—she would bring in all different kinds of tea sets. Following was BU graduate Tino Bratbo, who was more focused on the sense of community that Tea Time fostered, according to Sheehan.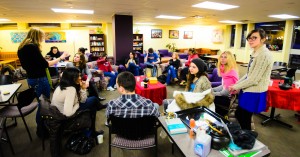 "Emily has taken a new turn with it. She does more in depth explanations of the origins of the tea and the cultures behind those origins. You get to try new things and I like that the most—trying new teas. It's such a popular beverage—it has so many different roots in different countries and all over the world," said Seraphim Osiakwan (CAS '16), who has been attending Tea Time since last year.
"Usually, we start off with a simple icebreaker and from there on out we just go on our own conversations and regroup and talk bout things. It's really easy to talk to people here," Osiakwan said.
Matthew Sean Clarkin (CAS '14) agreed.  "I like to talk. I come for conversation and great tea is a bonus. There's a core group of people who come, then you have people who filter in and out, so there's always new blood—it keeps it interesting," said Clarkin.
"I'm really happy to have found out about it because I love drinking tea," said Zeynep Gurur Akbas, a foreign exchange student from Istanbul, Turkey."I think 99% of Turkish people drink one glass of tea at least in a day. Usually in the morning, at breakfast, we have our tea, especially after dinner too to digest. And people love chatting over tea," Akbas said.
While most of the tea served at Tea Time is provided by David's Tea, the company with which the HTC has a partnership with, it is also provided by BU students from around the world.
"Another fellow ambassador has ties to Central America, so in February she will be brewing Mate for using Yerba. Ryan, another ambassador, will bring in Lebanese coffee and prepare the coffee beans, which are from Lebanon, as they would in Lebanon," said Sheehan.
Sheehan also plans on having presentations by BU professors from the language department to explain the more complex tea preparations, such as those in Japanese culture.
Sheehan suggests Tea Time reflects the values of the legendary Howard Thurman, and further, allows students to talk about global issues in a setting less structured than that of a classroom.
"I'm running tea time [in part] because I very strongly believe in the message of Howard Thurman, which is bringing people together to talk and experience new things and bringing people together to learn. If I prepare a tea for the group, they might not know each other, but they can [create conversation around it]," said Sheehan.
"It's a different kind of student club. In my experience, most student clubs are about majors, sports or the arts, but nothing like this. It's nice," said Akbas.
Editor's Note: The original version of this story said Tino Bratho previously ran the program, not Tino Bratbo. The original version also stated the fellow ambassador is from South America, instead of has ties to Central America. This story has been corrected.