The end of the semester is upon us, meaning it's time to buckle down, study hard for final exams, and tackle final assignments that have been put off since before Thanksgiving.
The decision of where exactly to camp out to work can be a difficult one. Your room is never a good idea, between the temptations of socializing with your roommates and crawling into your bed, which seems to be calling your name to take a nap—just a short one. The dining hall is not a good option either, with friends filtering in and out and endless amounts of stress food within a 30-second radius. Nor is the common room, with your floor mate blasting 2 Chainz, and the five-person study group invading on your elbowroom.
But don't worry. The Quad has you covered with 5 of our favorite study spots on campus (in no particular order):
(1)  100 Bay State Road, 6th Floor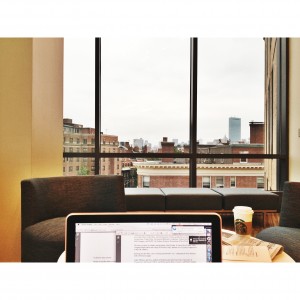 Newly built and opening just last fall for the first time, 100 Bay State Road is not only a great option for dining with Marciano Commons, but also a great option for studying, with its top floors. While the 6th floor hosts the Center for Career Development (CCD), it also hosts an upper and lower level with comfy couches and individual study rooms. Most importantly, it has huge windows that overlook arguably the best view of the city on campus—on one side, Bay State and the Charles, on the other, Fenway and Kenmore Square.
(2)  Pavement Coffee House, 736 Commonwealth Avenue
With delicious café lattes and sweet treats to keep your tummy satisfied, Pavement has a back room with a series of coffee tables ideal for spreading out. Not to mention the twinkly lights, bookcases, and big windows that make it a particularly cozy option in which to sit, work, and watch the world go by, especially with this week's snowstorm.
(3)  Mugar Memorial Library, 6th Floor
If you're serious about getting an "A," study on the 6th floor of Mugar. It is likely the quietest spot on campus—to the extent that crinkling paper will be heard from the opposite side of the room. Plus, the cubbies are pretty big, and there is a beautiful view of the Charles and the BU Boathouse. (Something to keep in mind when the Head of the Charles rolls around…)
(4)  Kilachand Hall, 1st or  9th Floor
Similar to 100 Bay State Road, the 1st floor of Kilachand Hall (also known as "Shelton Hall") is brand new—and hip. The furniture and built-in fireplace have a modern feel, and the bright white walls and bright lighting are sure to keep you awake for those all-nighters. Included is a study room for group study sessions. Another ideal place to study in Kilachand Hall is the 9th floor—the top floor. While it is not renovated (but soon will be), it features a quiet study room overlooking the Charles.
(5) Student Village II, 26th Floor
The top floor of StuVi 2 has the best of both worlds: it, like 100 Bay State Road and Kilichand Hall, is relatively new, and it has a spectacular view of the city.
On that note, pick a place that suites you, get comfortable, and plow through that work! We at The Quad wish you the best of luck on your exams.