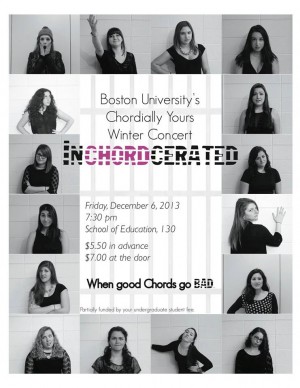 Friday night, the lovely ladies of Chordially Yours hosted their "criminally" acclaimed winter concert, "InCHORDcerated."
The jail-themed concert was held in room SED 130. At 7 PM, the auditorium was empty and the group was just warming up.
"We sound fantastic!" they proclaimed after nailing a particular harmony.
But by 7:30, the room was  packed. All the seats were full– anyone who came in late had to either stand in the back or sit down in the aisles.
With such a full crowd, expectations were high for the Chords' performance.
"I'm looking forward to hearing their new material," said one of the evening's videographers, Laura Goodfriend (COM '16). "They're gonna sing 'Signed, Sealed, Delivered.'"
Her fellow videographer, Pheobe Melnick (COM '16), echoed her excitement. "I'm really looking forward to that," she said.
Once the concert started, it was clear that the Chords were going to bring it that night. They opened with a jazzy version of the Stevie Wonder hit (much to Laura and Pheobe's delight) and went on to nail each of their following songs.
The girls sang 12 songs overall, mixing old and new material throughout the night. Among their new songs was Mumford & Sons' emotional "Reminder," which featured killer three-part harmonies and ensemble sound. Another new song was Emeli Sandé's "Next to Me," which soloist Tori Watson (ENG '17) adorably dedicated to a floormate as a Secret Santa gift before she belted her heart out (way to go, girl!).
Pulling from their past repertoire, the girls sang classic Chords mashups like their delightfully inappropriate mix of 1D's "What Makes You Beautiful" with 90s hit "Stacy's Mom." They also performed their powerhouse mix of Beyoncé's "Ego" with girl anthem "Pretty Girl Rock" (throwing in "rack rack city, bitch" for added effect, of course).
The ladies added appropriately sassy dance moves to each song, which kept the audience laughing and cheering the entire time. Their version of Robyn's "Dancing on my Own" also drew big cheers after soloist Emily Rooker (CAS '15) showed off her range and ability to riff.
For their final song, the Chords performed their winter alumni song, Joni Mitchell's "River." Five former Chords joined them on stage with hugs and smiles to make for an adorable end to the night (shout out to soloist Mia Cross for her unique interpretation of "ice skating" movements).
For jailbirds, the Chords sure know how to put on a show. Nice work, ladies.
Want more Chordially Yours? Like the Chords on Facebook and follow them on Twitter! Their album "A Minor Setback" can be found here.